Historic Seattle's Third Annual Building Renovation Fair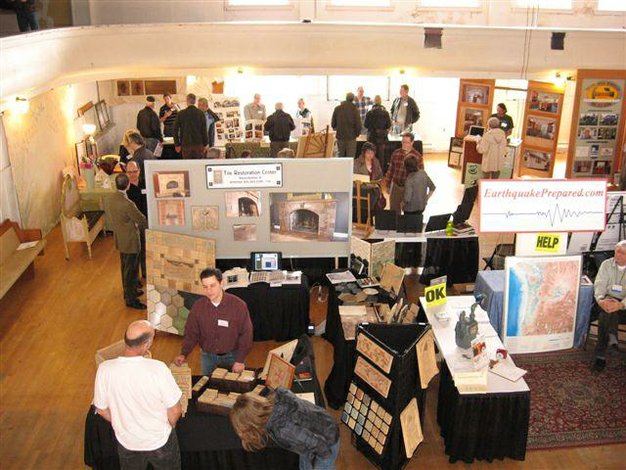 Brian Rich is a LEED Accredited Historic Preservation Architect. He serves on the Washington State Heritage Barn Advisory Committee, The Board of Trustees for the Northwest Chapter of the Association for Preservation Technology International, and the Board of Trustees for the Olympic Manor Community. He is Past Chair of the King County Landmarks Commission and Past Chair of the King County Landmarks Commission's Design Review Committee. He has also served on 4 Culture's Historic Preservation Advisory Committee and is a member of several preservation related organizations. His passionate interest in historic preservation and sustainable design strategies intersect in his work, starting with the restoration of the Oriental and Palace Theatres in Chicago and most notably in the renovation of the University of Washington Guggenheim Hall.
1 pm Preparing your Historic Home for Earthquakes Bruce Schoonmaker, A-FFIX LLC
It's a given that historic older homes are vulnerable to earthquakes and we are guaranteed to experience earthquakes in Seattle sometime in the future. If your house wasn't damaged in the 2001 earthquake, there's no guarantee it will get through the next one intact without some help. This presentation covers the ABC's of securing your home: anchoring the house to the foundation; bracing the pony walls; and connecting the flooring system. It also covers plans available for structural work, including: the Standard Earthquake Retrofit Plan of the City of Seattle; permitting retrofit work; and Earthquake Retrofit Training Classes for Homeowners. Question and answer session follows.
Bruce Schoonmaker organized A-FFIX LLC & EarthquakePrepared.com, a general contracting company specializing in home retrofit and earthquake preparation, in 1999, in response to the great need to secure homes and buildings in Seattle and the Puget Sound region. The company has retrofitted over 400 homes and buildings. Bruce serves as one of a cadre of teaching contractors who lead homeowners in classes on how to retrofit their own homes. He has led earthquake preparation seminars at Home Depot and Lowe's, as well for the Emergency Management Departments of Seattle, King County and Pierce County.
2 pm Remodeling your Vintage Home for your Modern Lifestyle Diane Foreman, CKD, CBD
Interior Designer, Neil Kelly Company
Foreman highlights some of the popular period styles for homes in Seattle and on the West Coast, including Colonial revival, Arts & Crafts, and Mid-Century Modern. She looks at planning for a historic home remodeling projects, examining specific situations and features, including how to integrate an addition, maintaining historic style for kitchens and baths, dealing with details including molding and window restoration, and how to build in energy efficiency..
Diane Foreman, CKD, CBD, is an award-winning kitchen, bath and residential interior designer who has won top honors in several national and local design competitions. She is associated with Neil Kelly Company, the largest and oldest remodeling firm in the Northwest and a co-sponsor of this year's Building Renovation Fair.
3 pm Getting Cozy: Energy Efficiency in Historic Homes Neil Kelly Staff
This presentation discusses the most common energy problems encountered in historic homes and reviews the various techniques used to solve those energy issues for improved comfort and savings. The team takes a look at the most cost effective means of weatherizing older homes, from air sealing to insulation techniques, but will also introduces some of the newer practices in energy efficiency including pros and cons of heat pumps and heat exchangers. Presenters also review available incentives, credits and financing options for hom