Historic Seattle's Third Annual Building Renovation Fair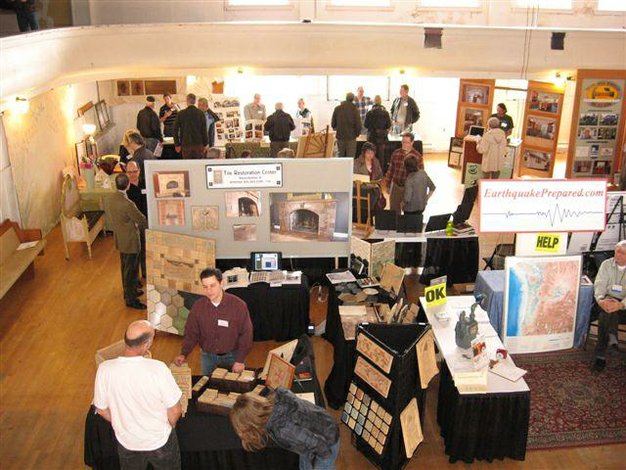 What: Historic Seattle Building Renovation Fair
When: Saturday, April 13, 10 am to 4 pm
Where: Washington Hall, 153 14th Avenue, Seattle, WA (south of Seattle University)
Tickets: $5 Historic Seattle members and general public; students free
www.historicseattle.org or (206) 622-6952
Meet the region's experts in historic preservation, restoration, and renovation. The event offers an ideal opportunity to meet experts, ask questions and get inspired.
At the event you will have the opportunity to meet with architects, contractors and engineers, specialty trades people and suppliers who appreciate working on old houses—glass, wood, metal, tile, plaster, and ceramics, plumbing, electrical, hardware, painting, and wood windows. Learn about foundation and seismic repair and using salvaged materials.
There will be presentations on a variety of topics throughout the day. Presentations include:
Remodeling Strategies for Mid Century Homes by Julie Campbell AIA, CTA Design Builders;
Wood, Stone, and Brick Restoration Basics by Brian Rich, Richaven PLLC;
Preparing your Historic Home for Earthquakes by Bruce Schoonmaker, A-FFIX LLC;
Remodeling your Vintage Home for your Modern Lifestyle by Diane Foreman, Neil Kelly Company; and Getting Cozy: Energy - Efficiency in Historic Homes by the Neil Kelly staff.
The Building Renovation Fair is being held at Washington Hall, one of the city's most valuable community resources and Historic Seattle's current "work in progress." Ongoing restoration efforts on the 1908 Danish Brotherhood Hall are geared to making it a popular location for live performance, dance, rehearsals, classes, and workshops. Visit www.washingtonhall.org for history and rental information.
More information is available at www.historicseattle.org or request the brochure for yourself and for colleagues and friends at (206) 622-6952.
Building Renovation Fair Presentations
11 am Remodeling Strategies for the Mid Century Home Julie Campbell AIA, CTA Design Builders
Seattle enjoys a wide array of older architectural housing types, from early 1900's Arts & Crafts styles to the 1950's and 60's "Mid-Century Classics". You can probably think of many cases where interim home-owners "updated" their homes in ways that were insensitive to the original style of the house, requiring later remodeling once again. Based on experience working on many homes of different vintages, including those designed by mid-century Modern architects of the Northwestl, Campbell discusses how you can enhance your home's historic style, yet in ways that work for today's more open and demanding lifestyle… and in ways that won't look dated or out-of-context in years to come!
Architects Julie Campbell and Buzz Tenenbom, CTA Design Builders, have many years of experience remodeling older and historic homes in greater Seattle. Recently they have enjoyed working on mid-century architectural treasures designed by Al Bumgardner and Gene Zema. Their work has been published in Pacific Northwest Magazine, Seattle Homes & Lifestyle, Sarah Susanka's Inside the Not-So-Big House, and Blueprint Remodel; and receives frequent awards from the local chapter of Master Builders Association.
12 pm Wood, Stone, and Brick Restoration Basics Brian Rich, Richaven PLLC:
Brian Rich gives you a quick and helpful overview of key building blocks. Learn about the nature of wood: its strengths, weaknesses, and other characteristics. Explore the pathology of wood— its modes of failure and techniques for non-destructive testing of wood structures. Review different types of stone building materials, including igneous, sedimentary, and metamorphic stone and learn about the different types of potential stone deterioration and cleaning methods and their appropriateness in light of the Secretary's Standards for the Treatment of Historic Properties. Rich shares a number of stone repair techniques, including consolidation, adhesives and pinning, and other methods of compensating for loss of material. There will also be discussion of the nature of brick and other clay masonry materials, including how they are made, their nature, and modes of failure with insight into repair and cleaning of clay masonry and mortar joints.