WWII veteran receives recognition with pinning ceremony at end of life
Benefits from services offered by Providence Hospice of Seattle
Cynthia Flash | Dec 9, 2013, 8:30 a.m.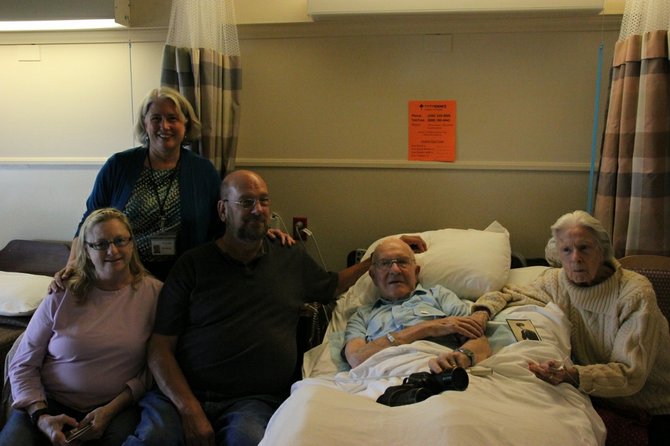 Sometimes the ceremony is simply a nurse or social worker giving a patient a certificate and a pin at bedside. Other times families throw a party with food and display the veteran's memorabilia. "We've had people from Joint Base Lewis McChord come up and be there for the pinning ceremony and present a certificate and pin. We try to fit it to the need. We've had posthumous pinnings for families. It's a vehicle to formerly and publicly honor and recognize them. "
For Stiller, it was also a chance for his son and daughter-in-law to talk about their time serving their country. Tom Stiller, a former hospice volunteer who lives in Des Moines, served for more than 10 years in the Air Force and both he and Sue worked at the VA hospital for 18 years.
Anne Koepsell, executive director of the Washington State Hospice and Palliative Care Organization, said that increasingly, hospice organizations in the state and the VA are working to address the unique end-of-life issues facing veterans. Twenty-seven of the 35 hospice organizations that are members of the Washington State Hospice and Palliative Care Organization have joined the We Honor Veterans campaign.
"The VA identified that veterans weren't getting the quality of care they needed at end of life." Koepsell said. "There's spiritual angst. Can I be forgiven for what I've done? It comes up at the end of life because that's part of the end of life growth and development path - to seek forgiveness for those that we have wronged, to grant forgiveness for those who have wronged us, to express our gratitude for those who have made a difference in our life, to express our love to those that we love."
Deborah Cassity, RN, and clinical liaison with Providence Hospice of Seattle, noted that WWII veterans in general came home to a hero's welcome, deployed with their group, received more support from their wives, and are more prepared to handle the end of their lives. "In contrast," she said, "Vietnam War veterans came back as unwelcome heroes, would serve a term, and be there when others were coming back. It was very chaotic. There was less camaraderie. That molded the way they looked at end of life. At the end of life, not only have they suffered from PTSD, but they came back with additional conditions and diseases than other veterans had."
[Cynthia Flash, owner of Flash Media Services, is a media consultant for Providence Senior and Community Services, which oversees Providence Hospice and Palliative Care programs in Snohomish, King, Thurston, Mason and Lewis counties.]