Dan and Nancy Evans honored for their lifetime of service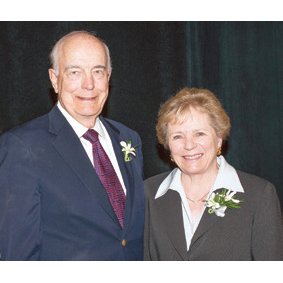 Former Washington State Governor Dan Evans and his wife Nancy were honored by the YMCA of Greater Seattle for their outstanding volunteerism. They have more than 100 years of combined service to our community, our nation and the world. The passion they brought to public service in Washington state as governor and first lady is as vibrant today as ever.
This annual award is given by the YMCA of Greater Seattle as part of its ongoing effort to promote social responsibility and encourage volunteerism in the Northwest and beyond. The ceremony took place on October 31.
Dan served in the U.S. Navy in World War II and the Korean War. His political career spanned five decades, including service in the Washington State House of Representatives, three terms as Washington State Governor and as a Senator in the U.S. Congress. He is a leader in his work with nonprofit organizations, with a deep commitment to higher education and the environment.
Nancy has spent five decades of service as a civic and philanthropic volunteer, with a focus on arts and culture, higher education and health. She has worked with foreign dignitaries, U.S. presidents, students and community activists to ensure that future generations of Washingtonians are educated, healthy and inspired.
Thank you Dan and Nancy Evans!