Child safety checklist: Kiddie-proof your home for maximum safety and minimum boo-boos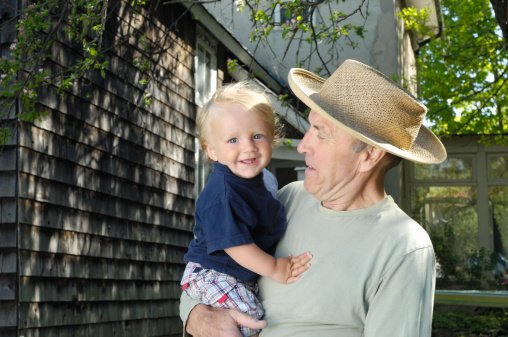 Everyone knows that child safety at home is critical to keeping the little ones safe from harm. Being a grandparent brings some heavy duty responsibilities in this area. If you haven't already, it's important that you put in place some precautions to keep your grandkids from accidentally stumbling into danger's path. To give you a hand, we've created the following home safety check list.
Cover all of your electrical outlets with plates or plastic covers to prevent toddlers from getting zapped if they should decide to get experimental.
Check your windows to make sure they're secure and locked and incapable of being accidentally opened by a child. If hot weather is an issue and you've got to have your windows open, never leave a child alone with access to a window that isn't screened in.
Make sure that every room of your home has working smoke detectors installed. This will ensure that if the worst happens, you'll be able to get the kids and yourself to safety.
Use baby gates, even if your grandkids have graduated out of the crawling stage and into the two-legged stage. These are very effective at keeping them from wandering off and possibly getting hurt.
Have toilet seat lid locks installed in every bathroom of your home, and keep toilet lids closed. Open toilets are a big danger for small children.
Keep all cleaning products locked away where they can't be accessed without a key. You can also child-proof your cabinets to make it impossible for toddlers to access what's inside. Whenever possible, consider moving these kinds of chemicals to higher areas that will be double impossible for them to reach.
While you're at it, use child-proof latches to close off any small spaces -- like freezers or small closets -- where children can accidentally lock themselves in.
When you're cooking a meal for the grandkids, it's a smart thing to keep them clear of a hot stove. But just to make sure there's a lowered possibility of them getting hurt, use your back burners to prepare meals. These are much more difficult for little ones to get to. As an added precaution, be sure to position all cookware handles away from the edges of the stove where they can be easily grabbed and turned over.
Make sure that you've got a cordless phone so that you can answer calls and watch the children, no matter where in your home you are. If you don't already have a cell phone, consider getting one in case of emergencies that occur during power outages, when your cordless phone is of no use.
If you've got a glass table anywhere in your home, you may want to consider moving it into an off-limits room to minimize the danger to your grandkids. Non-glass coffee tables and kitchen tables can also be a serious hazard, however, and it's imperative that you put in place some rubber bumpers on any sharp edges your grandkids could come into heavy impact contact with.
Quite a few things to remember, right? But as you already know, grandchildren are worth every ounce of effort. So what are you waiting for? Kiddie-proof your home today.
Content Provided by Spot55.com