AAA Washington Launches One-of-a-Kind Tool to Check if Medications Cause Driving Impairment
With eight out of 10 seniors taking medications, AAA offers free tool to help keep drivers safe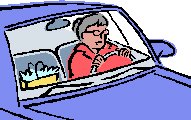 BELLEVUE, Wash. (September 12, 2012)–More than 80 percent of drivers age 65 and older regularly take medications, yet only half have talked to a medical professional about possible safety issues related to driving while on these medications. With 10,000 Americans turning 65 every day, AAA has launched Roadwise Rx to help motorists understand how medications may affect their ability to drive safely.
Developed by the AAA Foundation for Traffic Safety, Roadwise Rx is a free online tool that details common side effects of prescription and over-the-counter medications. The tool generates personalized feedback on how medications, herbal supplements and foods, and their interactions with each other, can impact safety behind the wheel. Drivers are instructed to discuss the confidential results with their doctor or pharmacist to learn how to mitigate possible crash risks.

"Earlier research by the AAA Foundation for Traffic Safety found that nearly one out of five older drivers use five or more prescription medications. Clearly there was a critical need to develop a tool to help drivers understand the safety risks," said AAA Washington's senior manager of Corporate Communications, Jennifer Cook. "Roadwise Rx is the only tool of its kind that looks at medications and associated driving hazards."
It is estimated that by 2020, just eight years from now, nearly one in six people will be age 65 or older and most of them will still be licensed to drive. "As a leading road safety advocate for the past 110 years, AAA continues to provide expert advice and helpful resources for older adults and their families," added Cook. "AAA's SeniorDriving.AAA.com website is free and in addition to Roadwise Rx, offers a driver assessment tool, tips on improving your driving abilities, and resources for both seniors and their children to help understand the changes we go through as we age."
Roadwise Rx is available, at no cost, to all seniors and their families at SeniorDriving.AAA.com.

AAA Washington has been serving members and the traveling public since 1904. The organization provides a variety of exclusive benefits, including roadside assistance, discounts, maps and personalized trip planning, to its 1,050,000 members. In addition, its full-service travel and insurance agencies provide products and services for members and the public. Additional information is available through the company's offices in Washington and northern Idaho, at AAA.com, or by calling 1-800-562-2582.
Established by AAA in 1947, the AAA Foundation for Traffic Safety is a 501(c)(3) not-for-profit, publicly-supported charitable educational and research organization. Dedicated to saving lives and reducing injuries on our roads, the Foundation's mission is to prevent crashes and save lives through research and education about traffic safety. The Foundation has funded over 200 research projects designed to discover the causes of traffic crashes, prevent them, and minimize injuries when they do occur.