'Sharing' Art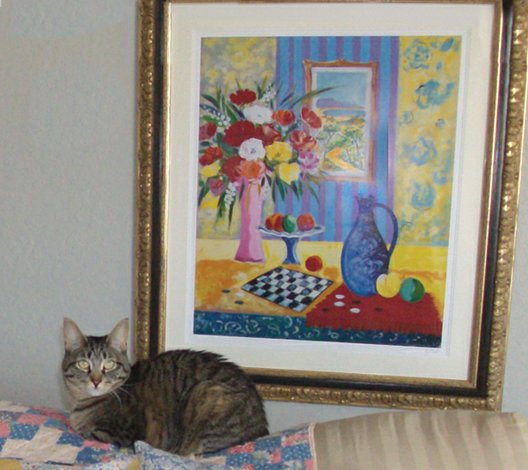 At a Rotary auction last year, I was drawn to a large, gilt-framed seriolithograph of a painting by Jean-Claude Pigot entitled "Le Vase Bleu de Madrid." I wasn't familiar with the artist, but the vibrant, impressionist still life just called out to me. I bid on it, and moved on.
By the time I decided I really wanted this painting, it became evident that someone else did, too. I was in a bidding war, and the table was going to close soon.
It didn't take long to figure out that a pleasant blonde woman was my competition. Our bids had reached the stated value of the piece, so I did something unconventional. I grinned and suggested, "We should share it." We looked at each other, and it was a done deal.
She hangs it in her master bedroom for six months and it brightens up my living room the rest of the year. The best part: she works in the building across the street from my office. We've made the "swap" twice now and are both thrilled with our deal.
Total strangers sharing art. Risky? People we've told about this think so. But we were both at a charity auction, and that built an instant trust. Maybe this could catch on. Think about an art exchange: a co-op of friends that like "movable art" could make art more affordable and artists would sell more. Just a thought.