Local Rock Hound
Oct 1, 2012, 8:34 p.m.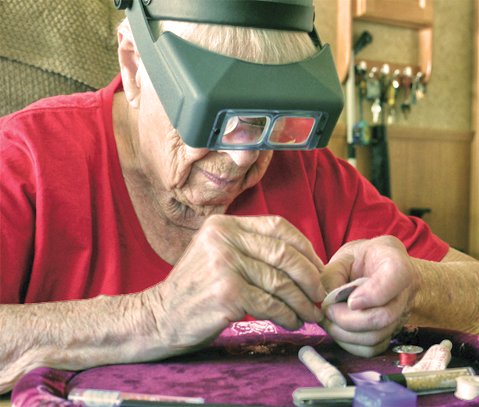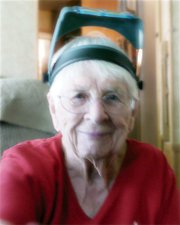 A longtime resident of Snohomish County and an active member of the Marysville Rock and Gem Club for the past 10 years, 96-year-old Gracie is truly an inspiration.
Gracie was born in Port Orchard, Washington in 1916, but spent most of her youth in Bremerton. Gracie's love of rocks started very early at the family picnics on the beach. She fondly recalls being able to tell the difference between agates and jaspers, walking on the beach with her mother and finding arrowheads and even picking up white jade off those beaches.
In the 8th grade Gracie learned to play the saxophone from a traveling musician. He came into town offering to teach people to play instruments, (can anyone say The Music Man?). She played throughout junior high and high school and after graduating in 1934; she played at the WSU orchestra for a year. Upon returning home, she put together an all-girl band and played at some of the local clubs and dances. They wore gold satin blouses with black skirts; it still wasn't fashionable for ladies to wear pants.
In 1940, at a ski club's Halloween party in Hood Canal, she was sitting on a stool drinking a Coca-Cola watching her date get soused, when she spied a guy at the fireplace looking very lonely. Joe was just passing through on his way to Mexico, but by Christmas he gave her a ring and on Valentine's Day of 1941 they were married. They both worked at the Bremerton Naval yard, she as an educational coordinator and he as a surveyor. During this time they started their family and she shared her love of rocks with Joe at those family picnics on the beach.
The 38th annual "Rocktoberfest," hosted by Marysville Rock and Gem Club, includes rock from rough to polished to gem-quality. Look for; minerals, fossils, jewelry, beads, gems, lapidary equipment, and tools. There will also be demonstrations and games for kids, door prizes every half-hour, a silent auction, raffles, and food service. The event runs both Saturday and Sunday – Oct. 13th and 14th from 10am-5pm. It is held in the cafeteria of Totem Middle School, 1605 7th St. NE, Marysville. Free admission and parking.
After the war, Joe got a job as a surveyor in Arlington, WA where they eventually moved. While walking home one day, Gracie passed behind a store that had a 16" rock saw for sale, and for $150, she started a whole new love of rocks. She loved to slice the rocks, while Joe made the cabochons. Later she became an accomplished silversmith; working and fashioning the silver while her husband did the stone work. Together, they made beautiful rings, pins, bolos and pendants using some of their favorite rocks they had collected, such as Montana agate and turquoise.
It was at the age of 18 that Gracie had first learned to bead beautiful necklaces, some of which she still has today. But life happens and she put down her needle for college, music, marriage, and kids. Just eight years ago she picked up that needle and started beading again. This is the talent she is best known for amongst the rock club communities. Her work is outstanding. The use of intricate patterns and beads, designing the colors around many of the cabochons her husband had made all those years ago is truly artistic.
Gracie's work can be seen at the Marysville Rock and Gem Club's "Rocktoberfest" where many of her pieces will be on display.
This article appeared in the October 2012 issue of Northwest Prime Time, the Puget Sound region's monthly publication celebrating life after 50.