Seniors showcase their talents in Seattle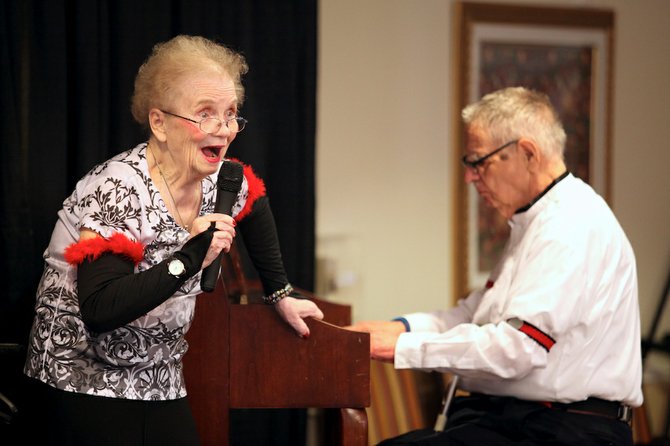 Dozens of seniors and their caregivers sang and danced their day away at the Emeritus Bellevue May 14, competing in a national contest to find America's most talented seniors.
The event was part of non-profit 3in4 Need More's 50-city bus tour to raise awareness about the alarmingly high price of long-term health care, and how seniors and their families can easily plan ahead to help mitigate the potential costs. Spokesperson and author Dr. Marion Somers is traveling across the country in a converted Greyhound bus to share advice and emcee the talent auditions! State Rep. Ross Hunter was also in attendance at the event in Bellevue. The winner of the national contest will get a year's free stay at any Emeritus community in the US for themselves or a loved one, worth $45,000. Those who couldn't audition in person can still enter online at www.FreeRentGiveaway.com.
The Seattle visit also included stops to speak with industry representatives about how to best serve seniors. The bus pulled up to the local headquarters of talent contest sponsor, Emeritus, for a special presentation to employees. Then, Dr. Marion joined Master Builders Association (the nation's largest homebuilders association) in Bellevue. There, she discussed senior home safety and long-term care with area builders who help seniors prepare their homes for aging in place.
Dr. Marion's mission is to educate Americans about the options available for their care. "It's a fact: getting older is expensive. Yet it costs nothing to research your options and create a plan to address your long-term health care needs now. And it can save thousands of dollars in the long run," said Dr. Marion. Her advice is simple - she's sending out an "SOS:"
• S - SITUATION. The reality is that we're living longer than ever before. That means everyone will be impacted by long-term care in some way, but no one is talking about it. Think you're too young? Think again! Even if you won't need it, your loved ones might. Consider the facts and start planning.
• O - OPTIONS. What services are available in your area, and what do they cost? It's important to now what you may be dealing with, and decide what your preferences might be if you have the choice. Average costs PER YEAR in Portland are around $91,250 for a nursing home (private room), $32,760 for a home health aide, and $42,574 for assisted living.
• S - SOLUTIONS. If you wait till a crisis hits, it's too late. Take time now to research solutions. Talk to a financial planner, and to your family. Do your homework on buzz phrases like long-term care insurance and reverse mortgages to figure out what's right for you. Check out what the government and your community may offer as well.
Granger Cobb, President and CEO of tour sponsor Emeritus Senior Living was happy to support the 3in4 Need More mission. "As a provider of senior living, we speak with thousands of families each year and see firsthand the financial struggles they face because they had not planned on needing long-term care."
The tour was also sponsored by Interim HealthCare, the largest provider of community-based home care, hospice, and healthcare staffing services. More information and resources, including a calculator to tally long-term care costs in every state, are available at www.3in4NeedMore.com.