Sandy, Phil and Old Dog Haven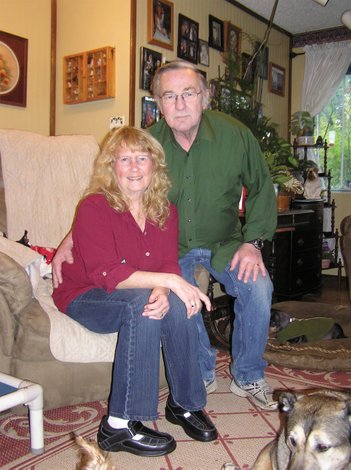 Seattle is famous for love stories, but the 'Sleepless in Seattle' plotline seems like a washed out watercolor compared to the big hearts of Sandy and Phil Krutsinger.
Their love story starts in the early 1960s when the two attended high school in Seattle's Queen Anne neighborhood. As high-school sweethearts, they shared a common bond – they both loved dogs.
When Phil joined the Navy in 1962, the sweethearts found separate paths and married other people along the way. Sandy and Phil lived half a lifetime apart. But these two exceptional people never forgot how much they shared, and life transitions led them to finally marry each other in 2009. Together they have centered their lives around caring for each other and a group of very special dogs.
The Krutsingers are foster parents for the Washington-based non-profit Old Dog Haven. This unique network of foster homes is dedicated to serving the needs of homeless, shelter-bound or surrendered senior dogs. Additionally, with so many dogs needing homes, Sandy and Phil have found room for some younger dogs that are transitioning to a permanent home. The Krutsinger's 1100 square foot house is carefully packed with dog beds, big and small, baskets of dog bones and toys and eight dogs that seem to fit in nicely. Duke, a 90-pound German shepherd-mastiff cross, was eager to climb in my lap during the interview with the Krutsingers, and he willingly shared more than a few dog kisses.
Duke's housemates included a ball-wielding Dachshund, Maddy, and an agile young Chihuahua-cross that notified us to a rogue cat in the front yard. The ranks were alerted to bark and the canine crowd went wild all to the relative delight of Sandy and Phil. In this pack of barking dogs, the Krutsingers saw the joy of canine faces and the long journey that each precious soul had made to get to this safety and comfort.
In 2005, Sandy saw an advertisement for Old Dog Haven (ODH). The group was looking for foster homes for senior dogs that needed either a temporary home until adopted or place to call a 'final refuge'. 'Final refuge' means that the dogs will live out their lives in safety and comfort until they pass on under the tender care of an ODH foster family. During that time, ODH assists with medical costs and some other expenses to care for the special needs of each 'final refuge' dog. Foster families generously pay the costs to feed, house and groom the dogs.
After retirement from 30 years in the Navy, Phil now works full-time on an evening shift as an industrial skills instructor. The couple shares the work to care for the dogs.
"After retirement, fostering a dog can be a wonderful way to bring a lot of joy into your life."
As ODH foster parents, Sandy and Phil regularly review potential adopters for their dogs, and have a final say on the right home for their ODH dogs.
"The dogs really pick their own adoptive homes," explained Phil. "We all just know when it is right."