Jamie Moyer - Baseball's Ageless Wonder Makes History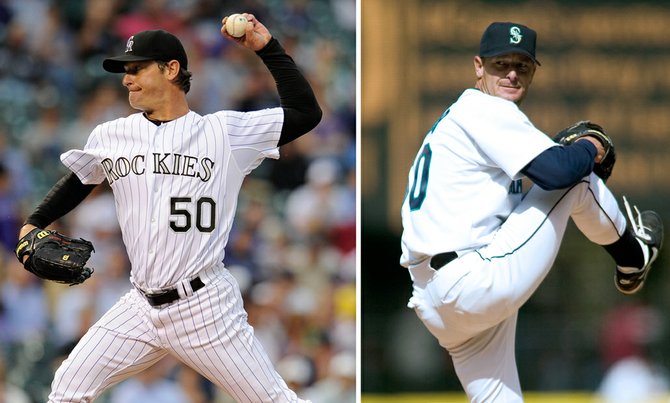 Many dream, few attain, and fewer still surpass. By one very important metric, Jamie Moyer has surpassed them all and, in the process, has made a powerful statement about the limitations of judging people solely by the number of birthdays they have had.
Moyer, who will turn 50 this November, entered his 25th Major League season in 2012. And as baseball fans all over the Pacific Northwest fondly recall, he spent ten of those seasons in Seattle, becoming one of the Mariners' most popular players. In fact, he still has a strong presence in town – six years after he threw his last pitch at Safeco Field – helping children in distress through his enormously successful charity, The Moyer Foundation, still located in Seattle's Magnolia neighborhood.
However, it is Moyer's enduring baseball journey that has captured the imagination of the sports world as he continues to defy Father Time and the athletic Darwinism that has consumed players much younger than he for decades.
On April 17, he started and won a game for the Colorado Rockies, becoming the oldest player in big league history to be credited with a victory. And he did so in spectacular fashion, allowing just two runs in seven innings against the San Diego Padres.
To his credit, it isn't the first time that Moyer has turned conventional baseball thinking and expectation on its ear.
"I've had people tell me for years, you know, 'You're too old, you don't throw hard enough, you can't do this, you can't do that,' " said Moyer. In professional sports, an athlete's career peaks by the mid-20's. Retirement beckons before the age of 40. Perhaps, that fleeting notoriety also contributes to the degree of narcissism in which many players indulge. Better to soak up as much of the spotlight as quickly as possible then to be left in the dark wanting more.
Conversely, when Moyer turned 40 in 2003, he had his greatest season. He won 21 games for the Mariners and made his first All-Star team. And he not only aged with profound grace, he channeled what the game gave to him and shared it with as many others as he could.
As proof, he made a clean sweep of Major League Baseball's most prestigious humanitarian and character awards that off-season: the Lou Gehrig Memorial Award, the Roberto Clemente award, and the Hutch Award.
It was especially fitting that he won the Hutch, since the award was named after Seattle native Fred Hutchinson, a beloved local icon who first starred for the hometown Rainiers of the Pacific Coast League before becoming an All-Star pitcher and respected manager in the majors. As an ongoing tribute, the Hutch is annually given to the big league player who best embodies Hutchinson's passion for the sport and his courage and honor away from it.
That Moyer won the award while pitching brilliantly for the Mariners only underscored his dedication to the game and to the city of Seattle and would have made Hutch proud. click for more...