One Best Hike: Mount Rainier's Wonderland Trail
Everything you need to know to successfully hike all the way around this great mountain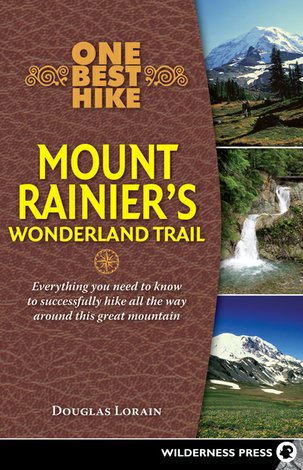 The Wonderland Trail encircles Washington's 14,410-foot Mount Rainier along 92 miles of spectacular terrain. On the trail hikers will experience everything from old-growth rain forests to alpine glaciers, pass by mountain lakes, wander over view-packed ridges, walk beside towering waterfalls, see interesting wildlife, and visit beautiful displays of wildflowers.

Although this trip is outstanding, it is also far from easy. With unpredictable weather, rough terrain, and almost 4 vertical miles of uphill trekking, the trail demands plenty of physical effort and know-how. This detailed guidebook by Doug Lorain includes all the essential information to safely complete this magnificent hike.
Additional information includes:
• Advice on what you'll need to bring, how to get in shape, when to go, and how to snag the right permit
• A complete description of the trail as well as the main alternate routes around the mountain
• The best side trips to turn this already great hike into a "life list" classic
This hike is not to be missed! With the help of One Best Hike: Mount Rainier's Wonderland Trail readers will be completely prepared for this hike of a lifetime.
Douglas Lorain's family moved to the Pacific Northwest in 1969, and he has been obsessively hitting the trails of his home region ever since. Over the years he calculates that he has logged well over 30,000 trail miles in this corner of the continent, and despite a history that includes being bitten by a rattlesnake, shot at by a hunter, charged by a grizzly bear, and donating countless gallons of blood to "invertebrate vampires," he happily sees no end in sight.
One Best Hike Mount Rainier's Wonderland Trail
By Doug Lorain
Wilderness Press –August 2012 –ISBN 978-0-89997-655-6
Lorain is a photographer and recipient of the National Outdoor Book Award. His books cover only the best trips from the thousands of hikes and backpacking trips he has taken throughout Washington, Oregon, and Idaho. His photographs have been featured in numerous magazines, calendars, and books. He is described by the Seattle Times as the "next great Northwest trail guide author."