Issaquah Resident Johann Neethling to walk From Spokane to Issaquah
Jul 3, 2012, 12:11 p.m.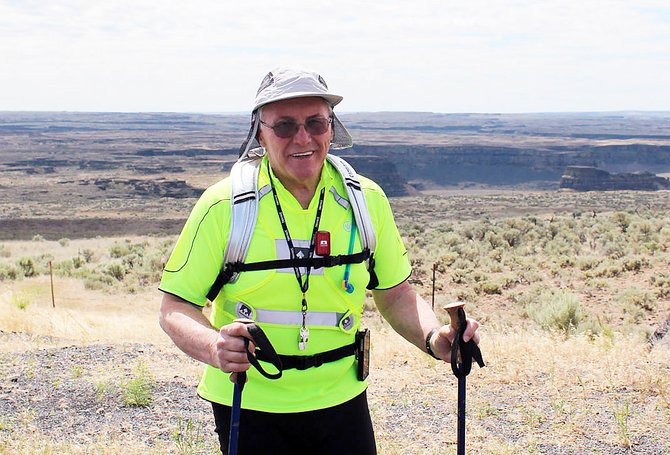 Issaquah resident Johann Neethling is undertaking a huge challenge – walking 300 miles from Spokane to Issaquah.
Motivated by a desire to maintain and improve his fitness after surviving a heart attack combined with his vocation as Chaplain at Providence Marianwood, Neethling is a passionate advocate for the elderly and is planning to add a fundraising component to his walk, which will benefit the residents and staff at Marianwood.
Neethling, 65, will start his walk at Providence St. Joseph Care Center in Spokane early on the morning of July 18, 2012, and plans to arrive at Providence Marianwood in Issaquah on the afternoon of July 25. His route across the state will take him through wide open farmland and rugged channeled scablands, fruit-laden orchards and over many miles of forest and mountain.
Neethling's wife, Anne Neethling (Clinical Manager of the Swedish Issaquah Emergency Department) and his daughter, Maria Henderson, will accompany him on the trip. Anne will drive the support vehicle and Maria plans to walk with her father.
About Providence Marianwood:
Providence Marianwood provides high-quality skilled nursing care, transitional and rehabilitative care, and end of life care, honoring and treating all individuals with respect, dignity and compassion. A division of Providence Health & Services, Marianwood is the only not-for-profit skilled nursing facility in the Issaquah/Sammamish area. For more information, go to www.providencemar...
A resident of Issaquah since 2003, Neethling is originally from South Africa . He has been the Chaplain at Providence Marianwood since shortly after his heart attack in 2007. His doctors convinced him that he needed to make some major changes in his lifestyle, including adopting healthier habits and reducing stress. Since then he has lost 50 pounds and has developed a love of fitness, especially walking. Last month he walked from Issaquah to Whidbey Island (to his daughter Maria's house to visit his grandchildren). He also gave up a job with a long commute and enjoys a short trip daily from his home in Klahanie to Marianwood.
"Johann is a great inspiration to all of us at Marianwood," said Arlene Carter, Executive Director of the Providence Marianwood Foundation. "As chaplain, he is a valued member of the care team at Marianwood every day. This walk proves his dedication to the elderly residents at Marianwood and to his colleagues who put in long days in sometimes stressful circumstances. That's a nice win-win!"
Neethling encourages donations in support of his walk to be directed to the Marianwood Bistro Fund. This money will be used to help fund a small bistro and gathering space within Marianwood that will be used by both residents and staff. Donations can be made online at www.providencemarianwood.org (click on "Donate Now") or by calling 425-391-2895.
For more information, please contact Arlene Carter of Providence Marianwood at 425-391-2895 or arlene.carter@providence.org.