Tips on picking the right travel luggage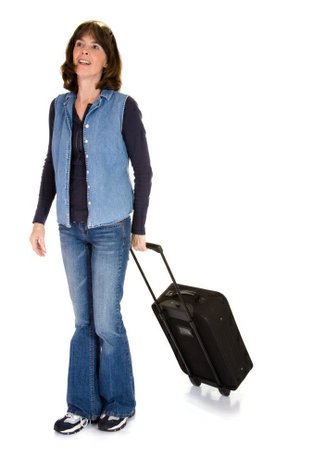 Did you ever stop and wonder who came up with the idea of wheeled travel luggage? That person's name was Bernard Sadow, and his ingenious invention has been making vacations far simpler and more pain free for vacationers the world over for almost half a century. Over the years, there have been occasional equally brilliant improvements made to the Sadow's original idea -- but believe it or not, it's still very possible to end up with a poor quality and supremely unwieldy suitcase. Here are the top 3 things to look for to ensure you get the best travel luggage your money can buy.
Go Compact -- These days with airlines charging more and more for checked baggage, carry on travel luggage space is precious. The last thing you want to do is try to get on board with a carry-on only to discover that it won't fit and you'll have to end up checking it after all. To ensure that doesn't happen, choose the most compact design you possibly can, not to exceed 21 inches in height.
Think About Weight -- It's easy to fall in love with luggage when you're trying it on for size at the store, but consider how much more it'll weigh once you've loaded it up with a vacation's worth of clothes and additional toiletries. Look for suit cases that are much lighter weight in design than others. When you're wheeling your luggage behind you as you move around, you'll discover that weight is the primary concern, much more so than swanky appearance.
Check Your Tires -- When it comes to wheeled travel luggage, the condition of the wheels is as critical as the tires on your car on a long journey. Just as you wouldn't install a set of cheap tires on your car, you sure as heck shouldn't scrimp on the quality and durability of the wheels of your suitcases. Avoid suitcases or carry on travel luggage with plastic wheels that are too close together. The best travel luggage will come equipped with 360-degree swivel wheels that are spaced apart widely for optimum rolling performance.
Content Provided by Spot55.com