Mature adult vacations to Jamaica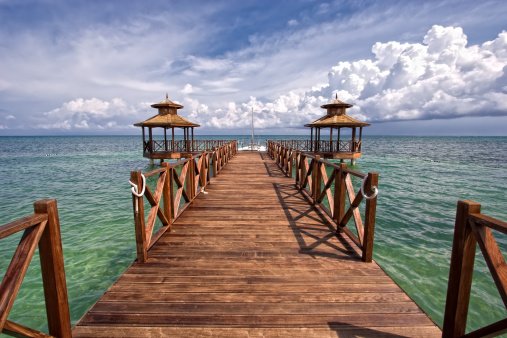 For anyone interested in adult Jamaica inclusive vacation packages, a quick search of the Internet turns up dozens of options. The island nation is divided into four adult-only vacation heavens: Montego Bay, Negril, Ocho Rios and Runaway Bay. Most of the resorts are all-inclusive, meaning there is no need for cash once you've paid for your stay. Well, almost no need for cash. If you want to hire a local -- and there are always locals on site hoping to give you a tour of the island or to take you to the local market -- you'll need some cash. Keep in mind that the Jamaican dollar is seriously undervalued compared to the U.S. dollar. At this time $10 USD is worth about $881 Jamaican dollars. A quart of milk costs more than $175 Jamaican dollars, so be generous with your guides.
Most of the "adult vacations" in Jamaica you'll find on the Internet cater to the guys, some even offering to arrange a female "partner" to visit Jamaica with you. Jamaica seems to be the place to get naked, to get high on some of the world's most potent ganga and to party all night long. Marketers at resorts like the all-inclusive Hedonism II in Negril with its nude beach, nude hot tub and bars that stay open until 4AM then re-open at 10AM, have long ago perfected their resort to appeal to the eternal teenager within every man who seeks some kind of over-the-top romantic experience.
Yet for the ladies, who usually don't equate "adult vacation" with "erotic,vacation" there are no end of choices. According to the Girlfriend Getaway Report nearly one in four women have taken a girlfriend getaway trip (two or more women enjoying time together) while over 60 percent feel that a follow-on trip with women friends is very important. An all inclusive hotel in Jamaica is a great place to let the stress just melt away while the tropical sun shines down on you and ocean breezes keep you cool, relaxed to the max and happy.
And for those ladies who would like to meet a man, the Beaches resorts, one in Negril and another in Ocho Rios, are reportedly good places to make a connection.
No matter what your wishes and imagination might serve up, Jamaica is the place to go. Like the commercial says, "Once you go, you know."
Content Provided by Spot55.com