Behind the Scenes with Lori Matsukawa
Apr 23, 2012, 2:33 p.m.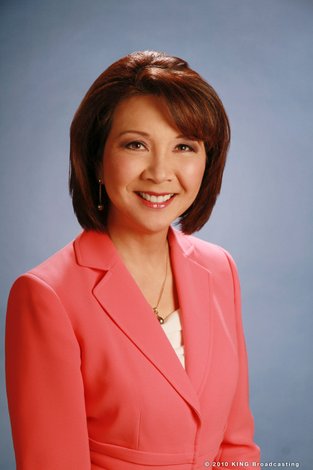 When award-winning KING 5 news anchor Lori Matsukawa was a little girl growing up in the tropical wonderland of Hawaii, she dreamed of becoming a piano teacher.
"Hawaii was a fabulous place to grow up," says Lori. She was raised in Aiea (near Honolulu), along with her two younger sisters. "My parents, being educators, wanted the best for their daughters. They didn't have a lot of money to give us things, but they decided to invest wisely in experiences."
Experiences, however valuable, don't cover tuition and Lori worried about how to pay for college. Little did she know that her life would take a 180 degree turn when at the age of 17 she competed in the Miss Teenage America Pageant.
"I was looking for scholarship money and a friend suggested I try out for Miss Teenage Honolulu. My friend said, 'Hey, if you win you get a scholarship and the best thing is there is no bathing suit competition and so you have a chance!' " All kidding aside, she entered with an eye on that scholarship.
Lori Matsukawa first became Miss Honolulu, and then on November 24, 1973 in Fort Worth, Texas, she was crowned Miss Teenage America.
"It was a terrific experience. I got to meet young women from all over the country. I spent half the time traveling as Miss Teenage America, and the other half was life as normal… go to school, wash the dishes – my regular life."
Becoming Miss Teenage America opened up life's possibilities for Lori.
"I was interviewed everywhere I went and I started thinking maybe this could be a career for me." The job of a reporter seemed like a lot of fun. "They get paid to go to the Kentucky Derby and talk to people!"
Because she was still working as Miss Teenage America, she missed her first quarter at Stanford University and yet still managed to graduate Phi Beta Kappa one quarter early.
"At the time I thought I would become a print journalist," reflects Lori. "I worked at the local paper in the summers." Then her managing editor asked her if she ever thought of becoming a broadcast journalist.
With that encouragement, she applied for jobs at television stations as well as newspapers. "I sent out 100 letters of application and got two positive responses back. One was with a Los Angeles paper, and the other from a tiny station in Redding, California. I went with the TV station because you need to be young and energetic to carry your gear. I was excited to use the gear!" admits Lori. "I thought I would start with TV and move to print journalism when I was toothless and wrinkled," she laughs. "I was in Redding for a year. I met my future husband there."
Her husband, Larry Blackstock, had this to say about meeting Lori: "I was a new director at KRCR-TV in Redding. I had only been there about two months when the News Director invited Lori in for a job interview. She was a bright kid with a big smile… I was in the control room directing when they put her on the set for her interview. To my surprise, a few weeks later, there she was, hired on as the new station anchor/reporter! We started spending time together right from the beginning. It was easy to be with her. She was like a breath of fresh air."