'Needle Brigade' Stitches for the Needy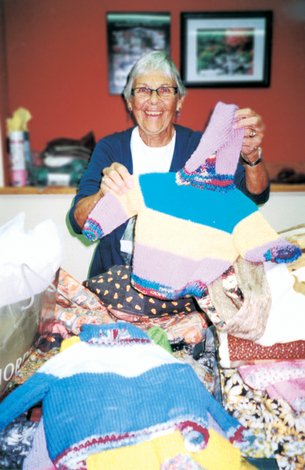 Every Tuesday morning sewing machines are whirring and fingers flying in Peg Petty's home in Issaquah as members of the Needle Brigade are stitching for others. This industrious group of women, up to 12 in number, give of their time and sewing skills to help people in need.
These seniors, with one in her 90's, are busily working, six using sewing machines, while others are cutting squares, turning quilts, knitting, mending or ironing.
Many of them had already started their day by swimming at the local pool from 6:30-7:30, then stopped for a quick breakfast before settling down to their volunteer work for the rest of the morning. Other members of the Brigade choose to sew, cut out material or knit at home.
According to Peg Petty, a tiny woman with the energy of a giant, who started the Brigade, "Each one has her own project. One knits sweaters while another turns quilts or makes baby gowns. We work and produce, whatever needs to be done," she says. "The end results--nightgowns, hats, bibs, wash clothes, quilts, and more, all for worthy causes." She adds, "We are there for others, not for ourselves. Our goal is to supply to those in need."
For example, they make quilts for children with life-threatening diseases who attend Camp Korey in Carnation as well as for underprivileged children who attend the Royal Family Kids' Camp in Issaquah. And they knit hats for cancer patients and preemies at Overlake Hospital.
The women also make quilts for a local battered women's group and make baby clothing and quilts for Eastside Baby Corner in Issaquah and for St. Francis House, a Catholic agency in Seattle. Peg and other members deliver the goods, depending upon where they live.
They also give items to the Issaquah Food Bank to be distributed. In addition, they put together baskets for fund-raising auctions.
When asked how they got started, Peg explains, "Some of us first met at the Issaquah swimming pool about eleven years ago. We got to talking about doing something useful together. We all like to sew or knit."
They first met at Pina Mull's house. "I had a large table in my workroom that my son made in school," she explains. "It was perfect for cutting out fabrics. So we got started here, and like Topsy, it just grew." When Mull sold her house, the women began meeting at Petty's house on Tuesdays and still do today.
It's obvious from the chitchat and joking that the members enjoy their time together. "I just love it," says Jeri Ann Twede. And according to 95-year old Eloise Rause, "I like the people and the projects. It's one for all and all for one."
The women have scrapbooks filled with pictures and thank-you notes from non-profit agencies, grateful to the Needle Brigade for their generous handiwork. It's also a way for them to keep track of all the agencies they have helped these past eleven years.
In addition to their Tuesdays work meetings, the Needle Brigades also work on their volunteer projects during the week at home. When asked if they ever sit back in a rocking chair and relax, they laughed. "What's a rocking chair?"
How You Can Help
The Needle Brigade welcomes donations of cotton flannel, fleece, T-shirt material or other cotton fabrics, yarn and quality sheets and bed pads. Such items can be dropped off at the Cascade Bank, 305 Front Street, (next to the theater) in Issaquah, (425-391-5500). Or contact Peg Petty, 425-392-8173