The best adults-only all-inclusives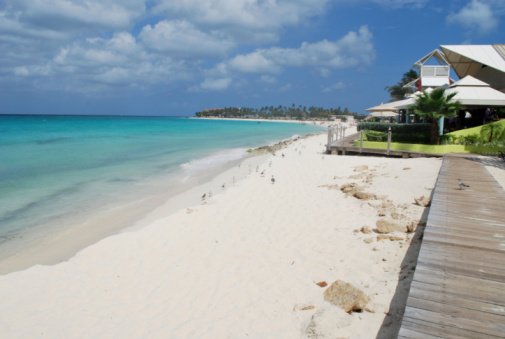 Sometimes you take a vacation to get away from the doldrums of everyday life. Other times, you steal away just to get a break from the ruckus that comes with being a grandparent. But you certainly don't have to have grandkids to appreciate a little bit of peace and quiet. If you're looking for some relaxation time in paradise, take a closer look at these top rated all-inclusive resorts that cater to an adult-only crowd.
Bucuti & Tara Beach Resort (Aruba) -- Some resorts are made perfect by the fact that there are no kids allowed at all. If that doesn't sound like the ultimate blessing, consider trying to get in a romantic vacation for two while next to a family of hollering rugrats and oblivious parents. Although even if rambunctious kids were allowed, your stay at the Bucuti & Tara Beach Resort would likely be saved from ruin by the private 14-acre white-sand beach, on-site day spa, private beach dining, and relaxing lounge.
Couples Negril (Jamaica) -- Dip your feet into the warm waters of the Caribbean or take long walks on white-sand beaches. And then when you've had enough, you can head back to the Couples Negril for even more relaxation by way of the resort's world-class spa. Alas, this resort's not just a place for ambulatory activities (save for all the walking that you did on the beach). There's music and nightlife to be found here as well, and you're pretty much guaranteed to be pleasantly surprised regardless of your tastes; what starts out as a piano bar around dusk morphs into a full -lown nightclub where you can test out those dance moves you've been keeping in storage for far too long.
Excellence Riviera (Cancun) -- There are few resorts that are confident enough in their ability to blow you away that they actually put the word "excellence" in their name, but in the case of the Excellence Riviera there's no undue bragging going on. Unless your idea of excellence is something other than an adults-only vacation destination with 10 bars, eight restaurants, six pools and five outdoor Jacuzzis.
Zoetry Casa del Mar (Los Cabos) -- If you've gone so far as to consider your adult-oriented romantic vacation options, why not go a little further and book yourself a stay in a bona fide, five-star hotel. Here, you'll be put up in one of only 42 suites that overlook the ocean. Once you're done picking your jaw up off the floor of your private balcony, you'll find tons of amenities and activities, including four pools, three gourmet restaurants, three bars, and even a complimentary massage treatment.
Almond Beach Club & Spa (Barbados) -- Located on the west coast of Barbados on five acres of beach, this resort will give you plenty of opportunity to take part in some activities you may not have ever tried, like waterskiing and windsurfing for the more agile, and sailing for those interested in a low-impact adventure. If constant relaxation isn't your thing, you're in luck: You can hop a free shuttle into downtown Bridgetown to get your fill of shopping and wandering.
Content Provided by Spot55.com