Four unexpectedly romantic vacations for empty nesters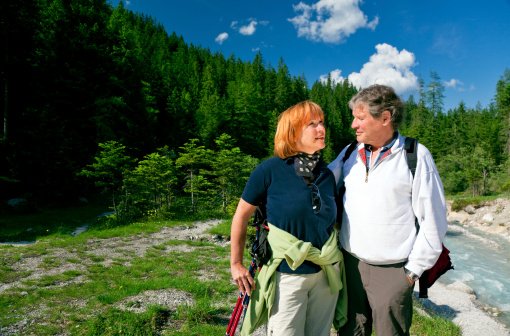 There will always be the stretches of white sand beach in Hawaii, romantic gondola rides along the canals of Venice, and the sparkling lights of grand Paris. These timeless romantic getaways will continue to be the go-to destinations for newlyweds and 50th anniversary couples across the globe. But what if you and your love like to travel off the beaten path? Have you already sipped enough cocktails on the beach and think the Eiffel Tower is a movie cliche? Luckily, this world is chock full of hidden and unexpectedly romantic destinations that would satisfy even the most unconventional sweethearts.
Scenic hiking in Utah
If you'd rather kick off your flip flops in favor of hiking boots, there are few places with as much rugged beauty as Zion National Park in Utah. The endless hiking trails mean you can choose treks that are a challenge, a stroll or almost anything in between. You'll fall in love all over again while experiencing breathtaking canyon views and red rock formations at sunset.
Southern loving in Georgia
If you like your romance with a little Southern hospitality and a side of grits and gravy, you could do a lot worse than St. Simons Island in Georgia. This private island is perfectly remote, allowing a mere 30 overnight guests and accessible only by boat. Because of its loyalty to environmental preservation, these untouched beaches are the perfect spot for couples looking for a different beach vacation. Avoid the kid-friendly resorts and stay in one of the many cozy Bed and Breakfasts to take advantage of the island's Southern charm.
Festivals and sanctuaries in Sri Lanka
If the U.S. just can't send shockwaves though the pulse of your relationship, it's time to venture further. And you can't get much further than Sri Lanka. Wildlife thrives in this unspoiled, tropical adventureland, with Buddhist monks preserving its first wildlife sanctuary of over 232 species of resident animals. When booking travel, try to coincide with one of the ancient civilization's many festivals--which shouldn't be hard since every gorgeous full moon night, or poya, is considered a public holiday.
Historical luxury in Helsinki
A true deviation from your typical tropical getaway is the Nordic city of Helsinki, Finland. While you could snuggle by the fire in almost any hotel for a winter holiday, experience true opulence in the distinguished Hotel Kamp. Frequented by some of the world's most famous artists and thinkers since 1887, this hotel has exuded true romantic luxury throughout history and it remains an important fixture in Finnish culture.
Content Provided by Spot60.com