Programs and Organizations Serving Seniors
Puget Sound Communities Organize with Seniors in Mind South Sounders Say "Yes" to Seniors
Shirley Skeel | May 1, 2010, 1:11 p.m.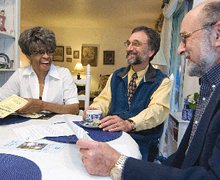 "We need to think about how to respond—in terms of transport, housing, medical needs, caregiver support…quite simply, we need a plan," Mann said.
Quickly, other groups pitched in to help: the Franciscan Health System, L'Arche Tahoma Hope, the City of Tacoma Mayor's Office, Pierce County Health Department, Pierce County Medical Society, and Tacoma Community House. The News Tribune and Tacoma Weekly ran stories on the issue, and KUOW Radio of Seattle discussed it in an hour-long show.
The first step, the team decided, was to gather concerns and ideas from the people in the front lines—those heading into retirement, caring for a senior, or preparing to shoulder the burden of an over-stretched health and social security system. Volunteers would then study the issues, and produce creative solutions for the Pierce County community to explore and adopt.
Dr. William Hazzard, University of Washington professor of medicine, kicked things off with an April talk about "living life to the fullest." Then, Tomlin and 30 others volunteered to form three task forces, which today are exploring quality of life/aging in place, community building, and systems of care.
A few of the early thoughts from the task forces include: senior centers as a place for learning, sharing space with youth programs, working with a seniors political lobby, and learning from other cultures. Concerns raised include providing home medical care, respite for caregivers, mental health issues, and the inevitable, "How do we pay for all this?"
Over the next six to 12 months the task forces will turn their ideas into a draft plan that sets out goals and recommendations. The draft will be discussed at a future public meeting. The group will then issue a white paper called "2020 Vision for Pierce County."
Change on a large scale will not come easily, the participants acknowledge. But their willingness to make a start relies on another well-worn truth, summed up by American anthropologist Margaret Mead: "A small group of thoughtful people can change the world. Indeed, it's the only thing that ever has."
Tomlin puts it her own way: "So many people out here don't know that there is help for them and they become reclusive when there's so many things they could be doing," she says. "Whatever we can do—if in some way we can come up with something substantial to present to the county—that's my hope."
For more information about "Caring for Our Elders; Caring for Our Selves" and dates of future public meetings visit www.pugetsound.edu/csi.
The group is preparing a vision to ensure that all seniors live in comfort, in good company, and with the best health care and services possible.
What Lies Ahead for Area Senior Centers
by Suzanne G. Beyer
The Good Shepherd Center in North Seattle, a stately four-story, 100-year-old brick building featuring stained glass windows, is home to the Wallingford Community Senior Center, which occupies space on the ground level. On this day, a clam chowder and chef salad lunch is served to 25 people. Eric Hughes, a former University of Washington men's gymnastics coach, lives nearby and enjoys the companionship at lunch. Eric has been a member at the Center for nine years.