The Circle of Healing
Jeff Guidry | May 1, 2010, 1:07 p.m.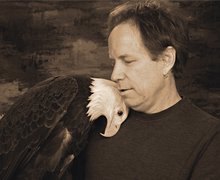 In 2008, Monroe resident Jeff Guidry emailed a friend and told her the story of how, through his volunteer work at Sarvey Wildlife Care Center, he rehabilitated an eagle named Freedom with two broken wings, and nursed her back to health at exceptionally long odds. Though Freedom would never fly, Jeff became her closest friend, and in many ways, her wings. A few years later, Jeff was diagnosed with a serious illness and it was his bond with Freedom that saw him through.
Jeff told his story in an email of less than 800 words. After his friend forwarded it to others, and they did in turn, Jeff's story became an Internet sensation and swept around the world. Jeff, who could never have imagined the power of a simple email, received over 10,000 emails before losing count. And now, in his new book, An Eagle Named Freedom, Jeff shares the full story of how Freedom and Sarvey Wildlife Care Center saved his life. Here is Jeff's story in his own words.
Freedom and I have been together 12 years this summer. It was mid-summer 1998 when a call came in reporting that a fledgling Bald Eagle had fallen out of a nest in Seattle. She was transported to Sarvey Wildlife Care Center in Arlington.
She could not stand. Both wings were broken, her left wing in 4 places, and she was emaciated. But Sarvey made the decision to give her a chance at life and I jumped at the chance to take her to the vet.
Working at the Center, you begin to recognize a look, a look that indicates death is winning. This bruised and broken Bald Eagle was losing the battle but not her dignity. Every chance I got I talked softly to her, telling her to hold on, to fight, to live. She would lay there looking at me with those big, brown eyes. Why I felt such a connection to this particular eagle, I do not know.
Four weeks go by and she is still on her belly. At five weeks we are approaching the end. Sarvey believes in giving every soul that comes in a chance to live; but when it is painfully clear that death is the only way out, the decision is made to let that particular spirit continue on its journey. We were at that juncture; this beautiful baby eagle was given one week to see if she could, or would, stand up. This was a crushing blow. Every day that next week I checked to see if she was up. The answer was always the same... "No."
On the following Thursday I could barely face going to the Center. As I walked in not a word was spoken but everyone wore a huge grin. I raced back to the young Bald Eagle's cage, and there she stood in all her glory! She had won. The eagle had cheated death by a mere 24 hours. She was going to get her second chance.