Ignite Aging Symposium 2023
September 24, 2023 at 1:03 p.m. | Updated September 24, 2023 at 1:06 p.m.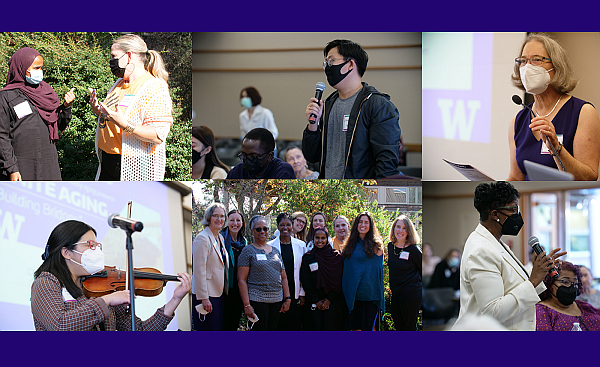 ---
...by Paige Bartlett, de Tornyay Center for Healthy Aging Public Information Specialist
---
How do the first 1,000 days of childhood affect the rest of your life? How do young girls in Kenya feel about medication to prevent HIV? What does reproductive justice look like across the lifespan?

Delve into these questions and more at the University of Washington School of Nursing de Tornyay Center for Healthy Aging's 2023 Ignite Aging Symposium on Friday, September 29 from 10 am to 1:30 pm. 
The sixth annual Ignite Aging event features short healthy aging talks for the public by UW School of Nursing faculty, staff, and students. A Q&A with the audience follows each talk.

This year's symposium examines aging through a new and younger lens, featuring health topics from birth through young adulthood, and explores how our early life continues to affect us as we age into later life. Topics include childhood asthma, STIs in pregnancy, the impact of the UW School of Nursing's nurse camp, food justice in colleges, and more.

"There is a growing body of research that has indicated the long-lasting influences of early-life conditions on later-life health," said de Tornyay Center Director Dr. Basia Belza. "For example, exposures to diseases and low socioeconomic conditions can have an enduring impact on health. As the de Tornyay Center is committed to Pathways to Healthy Aging this seemed a perfect theme for our 6th Annual Ignite Aging symposium. We are fortunate to have passionate faculty and students who research these topics and have agreed to share their work improving health across the life trajectory."

Past attendees have appreciated the brevity of each presentation, diversity of topics, stimulating discussions, and live music.

This year's symposium will take place at the UW Center for Urban Horticulture, located at 3501 NE 41st St, Seattle, WA 98105, near the Union Bay Natural Area. Limited complimentary parking is available at the event.
 
"This is an event you won't want to miss!" Dr. Belza said. "We are also concluding our Ignite Aging symposium with a celebration of a book release containing writing from the Engaging with Aging blog by former faculty Doris Carnevali. Join us to learn more about her work and this exciting new book."

The Ignite Aging Symposium is free and open to everyone. Registration is required, and space is limited, so sign up early! Learn more and RSVP at agingcenter.org/ignite-aging-2023/
To view
Northwest Prime Time's
Calendar of Events
, click this link: 
https://northwestprimetime.com/calendar/
---