Oh, baby! Bok choy!
March 10, 2023 at 9:10 a.m. | Updated March 10, 2023 at 9:10 a.m.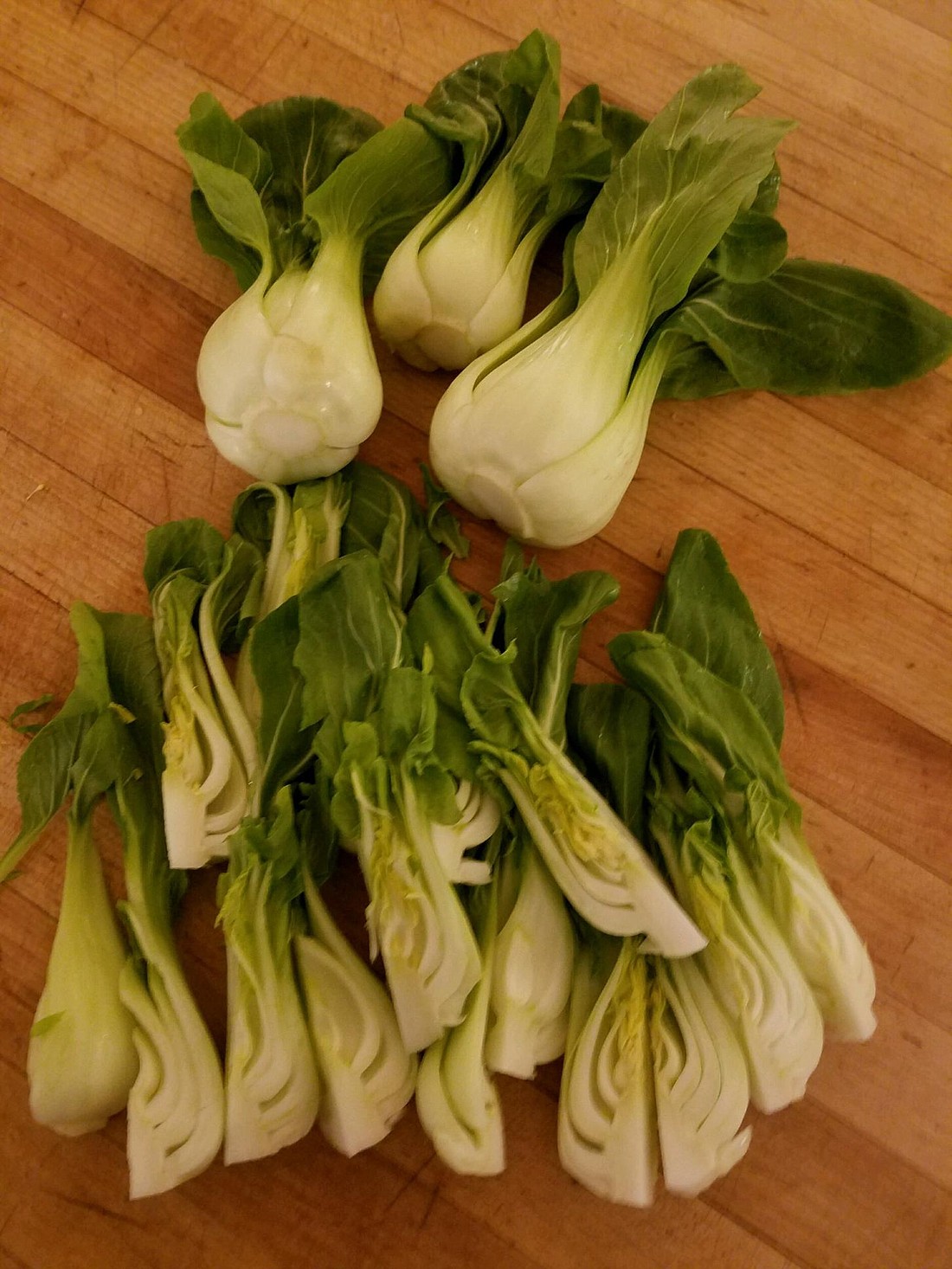 ---
---
Until last year, I had no luck growing bok choy, also called pak choi (white cabbage). Every spring it would send up flowers before I could harvest it. Once it bolted in this way, it wasn't edible.
After reading about this great veggie, I learned that bok choy is perfect for Pacific Northwest gardens. It needs only three to five hours of sun a day to produce leaves high in vitamin C and beta carotene. I moved my plants out of the direct sun to a partially shaded bed and I was rewarded with more bok choy than my family could eat.
If you garden, now is the time to think about planting these great veggies. Start them indoors about a month before your last frost date; or if outdoors, start two weeks before that date. Wait to transplant seedlings until the nights are above 50 degrees or they will flower right away.
If you don't have a garden, Asian produce markets carry bok choy year-round, often fresher and cheaper than you'll find in a traditional grocery store. Choose bok choy or the more tender baby bok choy, and you have the makings for several healthy and delicious dishes.
Bok Choy stir-fry
1 tablespoon olive oil
1 cup onions, thinly sliced
2-3 tablespoons garlic
2-3 tablespoons grated ginger root
1 teaspoon curry powder
1 teaspoon sugar
4 cups (¾ pound) baby bok choy
½ cup sliced red pepper
½ cup white wine vinegar or unseasoned rice vinegar
1 tablespoon sesame oil
Chop baby bok choy in quarters. If using the large type, strip greens off the stems. Heat oil in frying pan or wok. Sauté stems first, and then add greens for 1 to 2 minutes. Sauté onions 2 to 4 minutes and add garlic and ginger. Sprinkle curry powder over onions. Add sugar, bok choy and peppers. Cook 1 to 3 minutes, until bok choy is bright green and peppers are bright red. If using the large bok choy, add tender greens and cover. Reduce heat and let greens steam in their juice until tender, 2 to 3 minutes. Uncover and turn occasionally. Add a little water if sticking. Don't overcook or greens will turn dark. Remove greens with slotted spoon, leaving juice in pan. Add rice vinegar and heat to boiling. Remove from heat and pour over greens. Sprinkle with sesame oil and serve. Serves 4.
Nutritional information: 
Calories: 101, Carbohydrates: 9 grams, Protein: 2 grams, Sodium: 58 milligrams
Grilled baby bok choy
4-6 baby bok choy
3 tablespoons melted butter or olive oil
1/2 teaspoon each dried spice:
oregano
thyme
cayenne pepper
black pepper
garlic powder
onion powder
Heat grill or broiler. Mix spices and butter in a bowl. Cut bok choy in half or thirds. Put on preheated grill or grilling rack in oven. Brush with seasoned butter. Cook 2 to 4 minutes until heads show grill marks and edges of leaves are crispy. Using tongs, turn bok choy over, brush again and grill. Serve with barbecued chicken or pork. Serves 4.
Nutritional information: 
Calories: 89, Carbohydrates: 3 grams, Protein: 1 gram, Sodium 114 milligrams
Baby bok choy ramen salad
4-6 heads baby bok choy
½ cup chopped green onions
2 tablespoons butter
¼ cup sugar
1 package ramen noodles
½ cup whole almonds
¼ cup white sesame seeds
Dressing:
1 tablespoon tahini or sugar (depending on how sweet you want to make it)
2 tablespoons low sodium soy sauce
2 tablespoons sesame oil
2 tablespoons unseasoned rice vinegar
Chop bok choy and onions and put in large bowl. Crush noodles with your hands or a rolling pin; throw away seasoning packet. In saucepan, melt butter and add sugar. Add noodles, almonds and sesame seeds, and then cook until golden brown. Be careful not to burn. Set aside to cool. Mix salad dressing in small bowl or jar. Add ramen and nut mixture to greens, sprinkle with salad dressing and toss. Serve right away. If taking to a potluck or buffet, carry the ramen nut mixture in a separate container and add right before serving. Serves 6.
Nutritional information: 
Calories: 294, Carbohydrates: 24 grams, Protein: 7 grams, Sodium: 280 milligrams
[Contributor Katy G. Wilkens recently retired as registered dietitian and department head at Northwest Kidney Centers. The National Kidney Foundation Council on Renal Nutrition has honored her with its highest awards for excellence in education and for significant contributions in renal nutrition. She has also been awarded the Medal of Excellence in kidney nutrition from the American Association of Kidney Patients.]
Eating Well, Living Well classes
Studies show that working with a registered dietitian can delay kidney failure and postpone dialysis for longer than two years. FREE nutrition classes taught by Katy's former team of registered dietitians are available at convenient times and locations around Puget Sound.
Eating Well, Living Well classes teach people how to eat healthier to slow the progress of kidney disease and postpone dialysis. Learn more at www.nwkidney.org/classes.
---