Building Up in Seattle
A BRIEF HISTORY OF SEATTLE'S TALLEST STRUCTURES
March 7, 2023 at 10:55 a.m.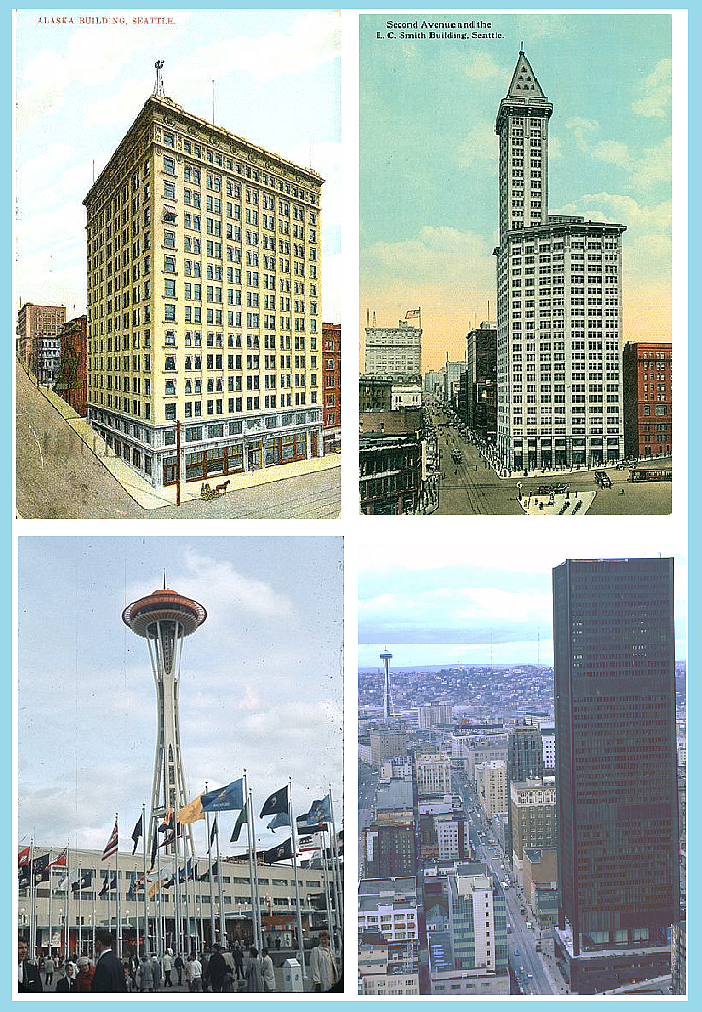 ---
This essay is courtesy of www.historylink.org, the free online encyclopedia of Washington state history.
On March 4, 1885,
Dirty Dan Harris
– founder of
Fairhaven
– and a bunch of his drunken, rowdy pals raised one of the
biggest and tallest flags
ever seen in the Northwest at that time. Planted in front of the Fairhaven Hotel, the 110-foot flagpole was so tall that it had to be made in two sections. It took the boozy bannermen most of a day to raise the 50-pound flag aloft, at which point they toasted themselves with a round of congratulatory drinks.
Just shy of a century later, Seattle's
Columbia Center
became the tallest structure in Washington when it opened on March 2, 1985. Topping out at a whopping 997 feet, the new skyscraper's dominating presence on the Seattle skyline led to a 1989 voters' initiative to establish
growth limits
downtown. Even though it passed, new zoning laws have effectively repealed the cap on heights, but no building has risen higher than Columbia Center … yet.
Seattle's first steel-framed skyscraper was the 14-story
Alaska Building
, built in 1903. In 1910,
work began
on the
Smith Tower
, which
opened in 1914
. The pyramid-capped edifice was twice as tall as
King Street Station
, the city's erstwhile highest building. For almost 50 years many heralded the Smith Tower as the "tallest building west of the Mississippi," even though in 1931 a Kansas City skyscraper topped it by 19 feet.
Seattle's skyline remained relatively unchanged until the opening of the
Space Needle
for the 1962
Seattle World's Fair
. Even though it stood north of downtown, the space age structure immediately became the recognized symbol for Seattle, so much so that when the
Seattle First National Bank Building
claimed the crown as the city's tallest structure in 1969, it was often referred to as "the box the Space Needle came in." Since then, Seattle's skyline has changed dramatically, and these days the
South Lake Union
neighborhood has become home for the next wave of tall buildings.
In addition learning more from the links in this article which provide essays on the topics mentioned, for more Washington state history, visit 
historylink.org
---