Senior Women Go 'Over the Edge'
July 31, 2023 at 10:08 p.m.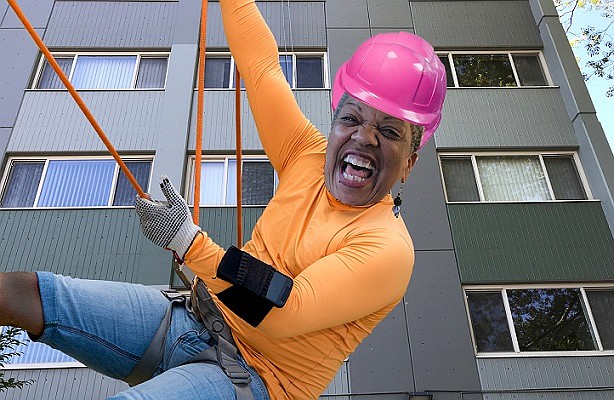 ---
Northaven—an affordable retirement community in Seattle's Northgate neighborhood—usually hosts an annual gala to raise funds for low-income senior housing.
But this year an exciting new event,
Over the Edge
, ditches the gala in favor of rappelling down Northaven Independent Living's 10-story building – all in the name of supporting seniors, having fun, and delivering a batch of inspiration.
The inspiration comes in part from eight women residents in their 70s and 80s who have signed up to "go over the edge." Bill Dorn, director of development at Northaven, wants people to come out and support these bold women in what promises to be a fun, street-fair type atmosphere with music, food, and drink.
Meet some of the senior women who are stepping up to go over the edge:
Learn what inspired these women to participate in this unique event. Keep in mind that these 70- and 80-somethings have never rappelled down anything before!
Donna Mell – 
Not only has Donna never rappelled before, but she also had a fear of heights in her younger years. "I did the ropes course and became more comfortable with heights, but [rappelling] is definitely out of my comfort zone. I am excited to give it a try! When I heard about this event, I thought 'what a great way to celebrate my 80th birthday' (which is in November). It just seemed like a fun thing to do, and I wanted to support Northaven. I have been living at Northaven for over two years and am so impressed with the respectful, caring, professional, high-quality environment it provides. I am so grateful to be living here and don't think I would be any better off in a more expensive senior independent living residence. Many residents have interesting life stories whose personal resources have led them to Northaven, where they are treated with respect and care by all."
Adrienne McGruder 
(check out her wide grin and pink helmet in the main photo) 
- 
"I'm rappelling for the fun and excitement of it, along with helping raise funds so my neighbors and I can continue to live in a thriving senior community. When I moved to Northaven I immediately felt a sense of community, with lots of activities to be a part of and floors and floors of new, friendly neighbors. Northaven Senior Living is a great group of residents that care for each other and share a common sense of community."
Carolyn Waters – "[Rappelling] sounds very exciting and challenging at the same time. Northaven has been a safe haven for me. I have been basically homeless for the last several years, living with friends in their homes with all of my belongings in storage for seven years. This is the first time in my life that I have lived alone without kids, grandkids, and partners. I would never be able to live anywhere else with my dog and afford the rent. I'm very grateful to be here and am so happy to call Northaven my home. The people that live here and the staff are like family."
Marian Olivares – 
"I'm always up for trying something new!" says Marian about rappelling. "I know there are some residents here that have financial problems, so I want to support them any way I can!"
 June Saty –
"I enjoy staying active and trying new things. Northaven has made it possible for me to live in Seattle, and that means a lot to me. Rappelling will be fun and exciting, but more than that, it will be one small way for me to say thank you. I have lived in Seattle for most of my life. Living at Northaven has made it possible for me to stay in Seattle without breaking the bank. I am able to live a full and active life with few worries. The folks at Northaven also provide many activities that enrich our lives, keeping us active and engaged. I am forever grateful."
"Over the Edge" works just like fundraising events where people walk and bike to raise funds for their organization except, in this case, participants get the chance to rappel down a building. The first 92 participants to raise a minimum of $1,000 will earn a spot to go over the edge and rappel 10 stories down. You get the thrill, says Northaven, and low-income seniors get a safe, affordable home.
Of course, you don't have to rappel down the building to participate in the event. A simple check is most welcome. At any rate, "Over the Edge" should be fun to watch. If you come, be sure to cheer for the senior women who are rappelling for the first time ever while raising funds to help support their neighbors.
MORE INFORMATIONOver the Edge:
Northaven is one of only two organizations in the greater Seattle area licensed to host an "Over the Edge" event, which takes place on September 16
th
(with a VIP reception the day before). "It's totally safe!" they say. The Over the Edge organization provides the equipment and expertise: professional staff tie in participants and guide everyone down safely. To learn more about Northaven and the Over the Edge experience, visit this link:
Northaven Senior Living
. Perhaps you will be one of the lucky 92 participants to "catch your breath, step up to the edge, and RAPPEL 10 STORIES DOWN!"
 Northaven:
Residents at Northaven have worked hard all their lives but have outlived their resources. The community provides a place to thrive with dignified housing, nutritious meals, and supportive services that keep residents engaged and connected. The event takes place at Northaven Senior Housing, located at 11045 8
th
Ave NE in Seattle.
---