The I Can't Chew Cookbook
February 14, 2023 at 10:26 a.m.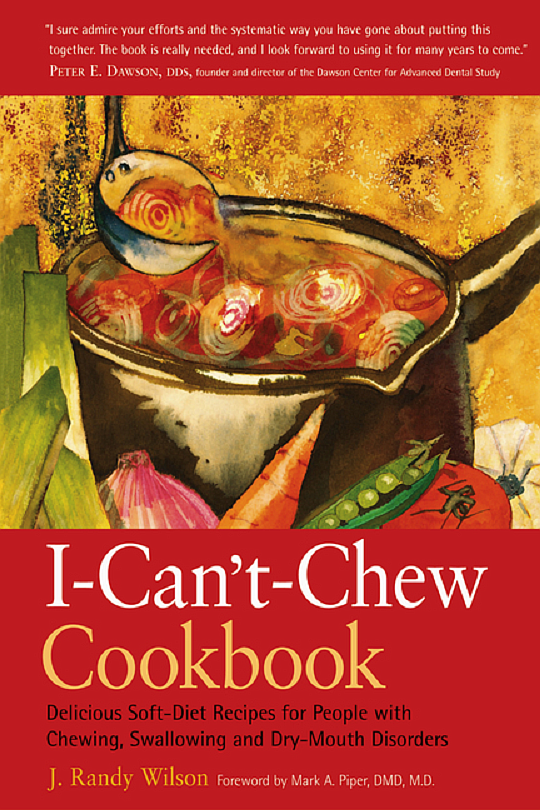 ---
 "I Can't Chew Cookbook: Delicious Soft Diet Recipes for People with Chewing, Swallowing, and Dry Mouth Disorders" has become a best-seller. Originally self-published in 1985 (as the Non-Chew Cookbook), the book sold 33,000 copies. The author decided to reach a larger audience, and the book has been newly re-published, with updated information and additional recipes.
The impetus for the book came when the author's wife was diagnosed with TMJ (temporomandibular joint) problems and needed surgery. The oral surgeon told Randy Wilson that his wife would need to eat soft foods for six months.
The author took this as a challenge and developed 200 meals that were soft, appealing, nutritious, and that could be enjoyed by the entire family. These recipes are not all made in a blender – they include soups, shakes, puddings, casseroles and more. The recipes also include nutritional analysis.
The recipes were developed with input from dental, nursing and dietary specialists. The I Can't Chew Cookbook has been endorsed by oral surgeons, exhibited at conventions of the National Oral Surgeons, the American Dental Association, and the Registered Dietitians Association. The publisher states that many medical professionals use the book in their daily practice.

More than 40 million people in the U.S. have chewing, swallowing, and dry-mouth disorders. Some are recovering from surgery, cancer, stroke or have other medical issues. One review cautioned that not all of the recipes are suitable for all people with chewing and swallowing difficulties, and they caution that anyone with medical conditions involving neurological or cognitive impairment often require a formal evaluation of drinking, chewing and swallowing from a health professional.
 
---