COVID News Updates
February 14, 2023 at 11:59 a.m.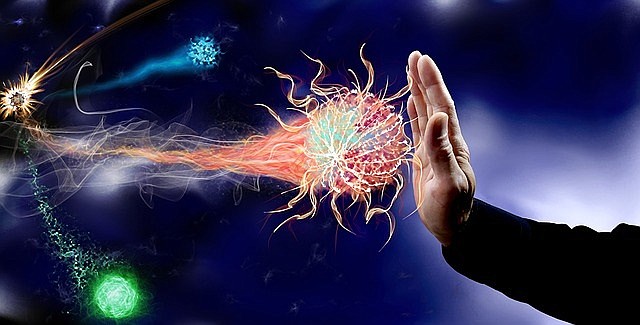 ---
---
Hybrid immunity may be the best protection against COVID-19
Analyzing data from controlled studies throughout the world, researchers discovered people with hybrid immunity are the most protected against severe illness and reinfection. Hybrid immunity occurs when someone has had at least the full series of vaccines and has a prior infection, in any order. The study published in The Lancet Infectious Diseases now is helping public policymakers understand the optimal timing of vaccinations.
"The results reinforce the global imperative for vaccination," said study first author Dr. Niklas Bobrovitz. "A common question throughout the pandemic was whether previously infected people should also get vaccinated. Our results clearly indicate the need for vaccination, even among people that have had COVID-19."
The global emergence and rapid spread of the Omicron variant of concern required scientists and policymakers to reassess population protection against Omicron infection and severe disease. In the study, investigators were able to look at immune protection against Omicron after a prior SARS-CoV-2 infection (the virus that causes COVID-19), vaccination, or hybrid immunity.
"Protection against hospitalization and severe disease remained above 95% for 12 months for individuals with hybrid immunity," said senior author Dr. Lorenzo Subissi, who is a scientist for the World Health Organization (WHO). "We know more variants are going to emerge. The study shows to reduce infection waves, vaccinations could be timed for roll-out just prior to the expected periods of higher infection spread, such as the winter season."
The systematic review and meta-analysis revealed that protection against Omicron infection declines substantially by 12 months, regardless of whether you've had an infection, vaccinations, or both, which means that vaccination is the best way to periodically boost your protection and to keep down levels of infection in the population. In total, 4,268 articles were screened and 895 underwent full-text review.
I Can't Smell Anything
The inflammatory mechanism may help explain other long COVID-19 symptoms. Some individuals fail to recover their sense of smell after COVID-19 and this appears to be linked to an ongoing immune assault on olfactory nerve cells and an associated decline in the number of those cells, scientists report.
The findings, published in the journal Science Translational Medicine, provide an important insight into a vexing problem that has plagued millions who have not fully recovered their sense of smell after COVID-19. While focusing on the loss smell, the finding also sheds light on the possible underlying causes of other long COVID-19 symptoms, including generalized fatigue, shortness of breath, and brain fog. It appears all these symptoms may be triggered by similar biological mechanisms.
"One of the first symptoms that has typically been associated with COVID-19 infection is loss of smell," said senior study author Dr. Bradley Goldstein, an associate professor at Duke University in North Carolina. "Fortunately, many people who have an altered sense of smell during the acute phase of viral infection will recover smell within the next one to two weeks, but some do not."
In the study, colleagues at Duke, Harvard and the University of California-San Diego analyzed olfactory epithelial samples collected from 24 biopsies, including nine patients suffering from long-term smell loss following COVID-19.
This biopsy-based approach revealed widespread infiltration of T cells engaged in an inflammatory response in the olfactory epithelium, the tissue in the nose where smell nerve cells are located. This unique inflammation process persisted despite the absence of detectable SARS-CoV-2 levels. "The findings are striking," said Dr. Goldstein. "It's almost resembling a sort of autoimmune-like process in the nose."
Learning what body sites are damaged and what cell types are involved is a key step toward beginning to design treatments. Dr. Goldstein said the researchers were encouraged that neurons appeared to maintain some ability to repair even after the long-term immune onslaught. A loss of taste and smell is a common symptom of COVID-19 infection.
Researchers at the University of Utah report that some individuals experience a change to their sense of smell about three to four months following infection. The number of patients who experience a loss of smell and taste during or after COVID-19 infection varies widely. The loss or change of taste and smell during COVID-19 infection impacts about 50-75% of individuals.
Utah researchers report that individuals usually improve slowly with time. About 65% of people with COVID-19-induced symptoms regain these senses by about 18 months, while 80-90% regain these senses by two years. 
COVID-19 booster may increase durability of antibody response
New research is showing that getting regular booster shots may be more important than previously recognized. A new study is showing that mRNA boosters (both Pfizer and Moderna) affect the durability of antibodies to COVID-19. A booster, the researchers report, made for longer-lasting antibodies for all recipients, even those who have recovered from a COVID-19 infection.
"These results fit with other recent reports and indicate that booster shots enhance the durability of vaccine-elicited antibodies," said senior researcher Dr. Jeffrey Wilson, of UVA Health's Division of Asthma, Allergy and Immunology in Charlottesville, Virginia.
Dr. Wilson and his collaborators looked at antibody levels following a booster in 117 volunteers and compared those results with the levels seen in 228 volunteers after their primary vaccination series. Antibody levels one week to 31 days after the primary series and booster were similar, but the boosted antibodies stuck around longer regardless of whether the person had previously been infected with COVID-19.
"Our initial thought was that that boosters would lead to higher antibody levels than the primary vaccine series, but that was not what we found," said researcher Samuel Ailsworth, the first author of a new scientific paper outlining the findings. "Instead, we found that the booster led to longer lasting antibodies."
Antibody levels naturally decline over time after an infection or after vaccination, but higher levels are thought to be more protective. It is believed that longer-lasting antibodies would be expected to provide more sustained immunity against severe COVID-19.
The researchers found that the antibodies generated by the Moderna booster proved longer lasting than those generated by the Pfizer booster. Moderna's antibody levels exceeded Pfizer's out to five months, the end of the study period. Although the findings were statistically significant, Dr. Wilson noted that both mRNA vaccine boosters provide enhanced and fairly similar levels of protection against COVID-19 in recently published large epidemiologic studies.
Because the frequency of COVID-19 infections in the community was relatively high when the boosters were being given, the authors also studied the effect of COVID-19 infection on antibody levels. The new results are the latest from Dr. Wilson's team tracking the antibody response to the COVID-19 vaccines over time.
The researchers previously found that after the primary vaccination series the antibodies generated by Pfizer's COVID-19 vaccine rose more slowly and declined more quickly than those generated by the Moderna vaccine. That study also found that older recipients of the Pfizer vaccine generated fewer antibodies than did younger recipients. However, this was not the case for Moderna, where age did not appear to be a factor.
In the latest results, younger booster recipients initially generated more antibodies than did older recipients, but this difference disappeared with time. Dr. Wilson notes that this study adds to the accumulating evidence that boosters are an important of protecting the community from COVID-19. "Although only about half of the U.S. population that is eligible for a booster has received one, it is increasingly clear that boosters enhance the protection that is conferred by the primary series mRNA vaccines alone," he said.
CDC launches website for free COVID-19 testing
The CDC has just established the COVID-19 Testing Locator website, which will allow consumers to search for free COVID-19 testing sites near them. The locator is part of the CDC Increasing Community Access to Testing (ICATT) program, which provides access to COVID-19 testing, focusing on communities at a greater risk of being impacted by the pandemic, people who do not have health insurance, and surge testing in state and local jurisdictions.
Tests offered may include laboratory-based nucleic acid amplification tests (NAATs), including polymerase chain reaction (PCR) tests, and rapid antigen point-of-care (POC) testing. Results are typically provided within 24–48 hours. Testing is available at pharmacies, commercial laboratory sites, community sites, and retail locations.
COVID-19 testing is available at no-cost at ICATT sites to adults with or without health insurance who are experiencing symptoms or have been exposed to someone with COVID-19. The tests are billed to third-party payers, such as Medicare, Medicaid, and private health insurers. People without health insurance do not have to pay for COVID-19 testing at ICATT locations. Consumers can access the Testing Locator at testinglocator.cdc.gov. 
John Schieszer is an award-winning national journalist and radio and podcast broadcaster of The Medical Minute. He can be reached at medicalminutes@gmail.com.
---