Homesharing Turning into Golden Opportunities for Older Adults
September 27, 2022 at 10:33 a.m.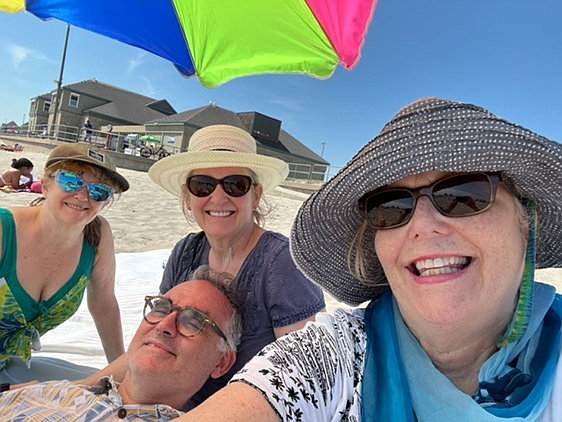 ---
---
There is a host of scientific evidence showing that social isolation has a major impact on a person's overall health and survival. One statistic suggests that social isolation has the same health impact as smoking 15 cigarettes a day. Now, to combat social isolation, many older adults are turning to homesharing. In most cases, it is a matter of finances, but the benefits stem far beyond the monthly costs of living.
Mona Kessel, who recently retired from working at NASA for more than 30 years, has been planning homesharing with her two sisters for more than 40 years. Kessel, who is 66 years old, lives in Maryland and her little sister Becky, who is 65, lives in Georgia. Her oldest sister Rachel, who is 68, lives in Kansas. While having drinking toasts to this plan decades ago, the group would say, "Here's a toast to Toast Ranch." Over the years, the plans have evolved and become much more solidified.
"The name Toast Ranch comes from the fact that there is nothing you can do with old white bread except toast it," said Kessel. "Until the last couple of years, it was only a concept. It is a little more than that now with a likely location of Kansas City. Climate change hasn't greatly affected that region yet, but the models have recently changed to show it will be heating up a lot over the next 30 years," said Kessel.
Over the past 24 months, several other cities were under consideration. However, climate change has somewhat curtailed their choices. "I have a very rough sketch of a central common area with a large kitchen, dining room, living room, exercise room, library, music room, patio/porch, greenhouse and plenty of bathrooms, surrounded by private living space connected by indoor/outdoor walkways. Several separate guest spaces are also envisioned for friends and family to visit" said Kessel.
Gayle Slentz has lived in Alaska for more than 30 years. Now, she is moving from Craig, Alaska to Tucson, Arizona, to live with her sister Kris and brother-in-law Ken Howell. Slentz, who is 67 years old, cannot manage her home on her own and the rental market in Craig is virtually nonexistent.
"Craig is smaller than it used to be. It now lists 1,036 people, a drop from 1,200 just two years ago," said Slentz. "When I was looking for a rental, there was nothing.  The availability isn't here. I am not able to run my house myself.  The utilities are too much." Slentz said she will miss Alaska a great deal. However, she said even if a rental unit became available in Craig, the cost of a two bedroom apartment plus utilities is simply too much money.
HOW CAN I HOMESHARE?
Rebecca Scanlan is with Silvernet, an online roommate-matching platform, and she said it is estimated that 10,000 people a day are turning 65. The mantra for a majority of older adults is to age in place. Most own their homes but they now are faced with skyrocketing living costs and they are on fixed budgets.
Scanlan said there is a significant number of adults over the age of 50 who are underprepared financially for retirement. These new economic realities are leading many older adults to the sharing economy. They are able to leverage their home, which often is their biggest asset. This can allow them to generate extra income for mortgage payments, home improvements, taxes, and other living costs.
Silvernest links retirees, empty nesters, and other older adults with compatible housemates for long-term homesharing. Scanlan said through homesharing homeowners can earn $850 a month on average in extra income. It helps renters pay far less than market rent, saving an average of $750 a month compared to a one-bedroom apartment. "Both enjoy companionship and the efficiencies that come with sharing a space," said Scanlan.
Silvernest provides the technical tools to match housemates based on behavioral profiles and demographic preferences. The site allows for homeowners to conduct full background checks, and communicate securely without sharing personal details.  It also helps generate state-specific leases and manage automated payments.
Silvernest was launched in late 2015 and while it is designed to help those 50 and older find housemates, it supports most anyone's needs. "Post-pandemic, we have seen the most significant growth and new interest. Silvernest has mainly grown through word-of-mouth and some advertising in a couple cities. We have also seen growth through incredible partnerships with Area Agencies on Aging and other non-profits that help spread the word to their communities," said Riley Gibson, who is the president of Silvernest.
A SENSE OF SAFETY AND SECURITY
Scanlan said the average age among those listing their homes for share is 60, but the average age of the housemates is around 40. Qualified housemates can be any age that a homeowner desires. It's up to both parties to decide what works best for their situation. "We're actually seeing quite a few intergenerational pairings across all parts of the country," said Scanlan.
While extra income is the driving force, there are the added benefits of companionship, connection and the ability to stay in your own home. There's also the safety and security that comes with sharing a home with someone else. Scanlan said homeowners can choose to offer reduced rent in exchange for home maintenance, cleaning, and other around-the-house help from their housemate.
"This site was started to help older adults gain greater financial stability, stay in their homes, and to help reduce social isolation. On many fronts, it has been successful but we always want to do more. Homesharing is still relatively new and unfamiliar. We are working to normalize the idea and improve the experience every way we can," said Gibson.
IMPROVING HEART HEALTH
Social isolation and loneliness are associated with about a 30% increased risk of heart attack or stroke, or death from either, according to a new scientific statement from the American Heart Association. Currently, one-fourth of U.S. adults ages 65 and older are socially isolated.
"Over four decades of research has clearly demonstrated that social isolation and loneliness are both associated with adverse health outcomes," said Dr. Crystal Wiley Cené who is with the University of California San Diego. "Given the prevalence of social disconnectedness across the U.S., the public health impact is quite significant."
The latest studies show that a lack of social connection is associated with increased risk of premature death from all causes, especially among men. Additionally, isolation and loneliness are associated with elevated inflammatory markers, and individuals who are less socially connected are more likely to experience chronic stress.
Evidence is most consistent for a link among social isolation, loneliness and death from heart disease and stroke, with a 29% increase in the risk of heart attack and/or heart disease death, and a 32% increased risk of stroke and stroke death. "Social isolation and loneliness are also associated with worse prognosis in individuals who already have coronary heart disease or stroke," said Dr. Cené.
John Schieszer is an award-winning national journalist and radio and podcast broadcaster of The Medical Minute. He can be reached at medicalminutes@gmail.com.