Washington State Nurses Hall of Fame
September 24, 2022 at 6:29 p.m.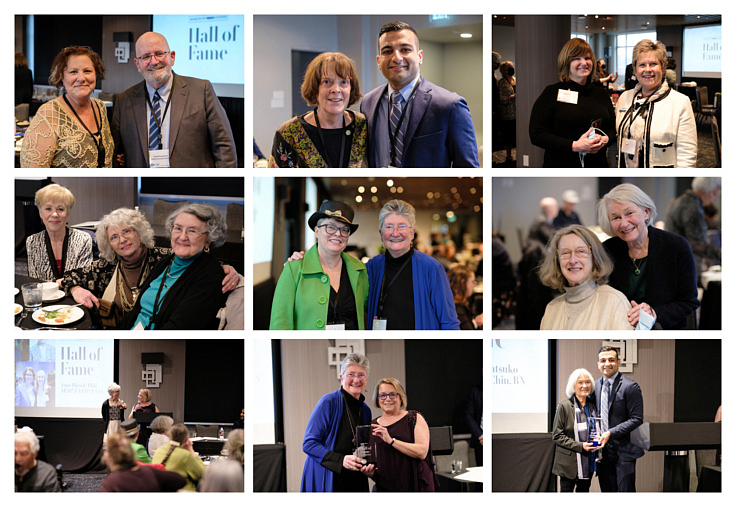 ---
For more than 100 years, the Washington State Nurses Association (WSNA) has championed issues that support nurses and improve the health of individuals and families in Washington state. The membership is dedicated to advancing professional nursing standards, defending social justice, and promoting respect and economic value for registered nurses.

Every two years since 1996, WSNA welcomes a new class of inductees into the Washington State Nurses Hall of Fame. WSNA created the Hall of Fame to recognize the dedication, achievements and vision of Washington state registered nurses who have made significant lifetime contributions to the profession of nursing. Nurses inducted into the Hall of Fame have demonstrated excellence in patient care, leadership, education, public service, advocacy or clinical practice.
The 2022 inductees are:

Sofia Aragon, JD, BSN, RN:  Sofia Aragon is executive director of the Washington Center for Nursing and has shown a deep commitment to building a diverse nursing workforce. In 1975, Sofia immigrated from the Philippines to Seattle with her parents. Her mother was one of the many hundreds of Filipino nurses recruited to practice in the United States. She credits her mother for her journey in nursing. Sofia's desire to be a stronger patient advocate led her to pursue a law degree and engage in health policy at the state level. She worked in Olympia for a decade to advocate for access to affordable health care and other policies.

Catherine Natsuko Yamaguchi Chin, RN:  Catherine Natsuko Yamaguchi Chin was a remarkable nurse who spent her career caring and advocating for patients from 1942 through the 1980s. Catherine was born in Seattle to immigrant parents from Japan. After graduating from Garfield High School, she pursued a degree in nursing even though few Asian American women earned their nursing credentials. Despite the odds, Catherine gained admittance to Seattle College (now Seattle University), in the fall of 1938. After the U.S. entered WWII, Catherine's family was forcibly displaced to concentration camps, along with other families of Japanese descent. Catherine voluntarily joined the first group of Japanese Americans to be removed from their Bainbridge Island homes so that she could provide care to residents in the Minidoka, Idaho camp. Following the war, Catherine worked at the King County Health Department.

Sarah (Sally) Herman, RN:  Throughout her more than 60 years of being a registered nurse, Sally Herman's compassion and care for others has always shined through. A home health nurse for most of her career, Sally is known for always going the extra mile and doing something unexpected for someone who needs it. When she was a young girl, she knew her calling was to become a nurse. In 1965, she and her husband moved to Washington state, where she eventually began her focus as a home health nurse. She remained in that field until her retirement. Another of her accomplishments is her mentorship of students and new nurses.

Anne Hirsch, PhD, ARNP, FAANP, FAAN:  Anne Hirsch has improved the quality of life for thousands of people in Washington as a nurse practitioner, nurse educator, administrator, scholar and nurse advocate. Anne began her nursing career as a critical care and charge nurse in Anacortes. She later moved to the intensive care unit at Providence Hospital in Seattle. By 1978, Anne realized she had a special role to play as a nurse educator and mentor. She is a highly respected collaborative consultant with multiple universities as well as community and technical college nursing programs. Anne currently serves as an associate professor at the UW School of Nursing, where she also serves as Associate Dean for Academic Affairs.

Pamela Mitchell, PhD, RN, FAHA, FAAN:  Since 1969, Pamela Mitchell ahs been a dedicated leader and faculty member at the University of Washington. She was a tenured professor, and has filled numerous leadership and research roles at the university including serving as executive associate dean of the UW School of Nursing until her retirement. Pamela received her bachelor's degree from the UW in 1962 and went on to earn her master's and doctorate degrees. Pamela is respected throughout the national and international nursing communities for her innovative practice and advances in nursing care for patients with intracranial pressure, such as those with head injury and stroke. She expanded her expertise to include post-stroke recovery.

Sally Watkins, PhD, RN: Sally Watkins has been a tireless and committed role model and champion for registered nurses and the nursing profession for more than 30 years. She is a proven leader and patient advocate. As a registered nurse since 1976, Sally has a rich background in nursing as a staff nurse, head nurse, educator and administrator. She earned a doctorate degree, a master's and a bachelor's degree. After first entering the profession, she spent many years at the bedside as a perinatal and labor/delivery nurse. She was head hospital administrator at Tacoma General and vice president at MultiCare in Tacoma. She has also served as a nurse educator. She has been executive director of the WSNA since 2017.
The information for this article was taken from the www.wsna.org website