Maude's Awards
Local recipients receive the annual award recognizing innovation in Alzheimer's and dementia care
September 20, 2022 at 8:34 a.m.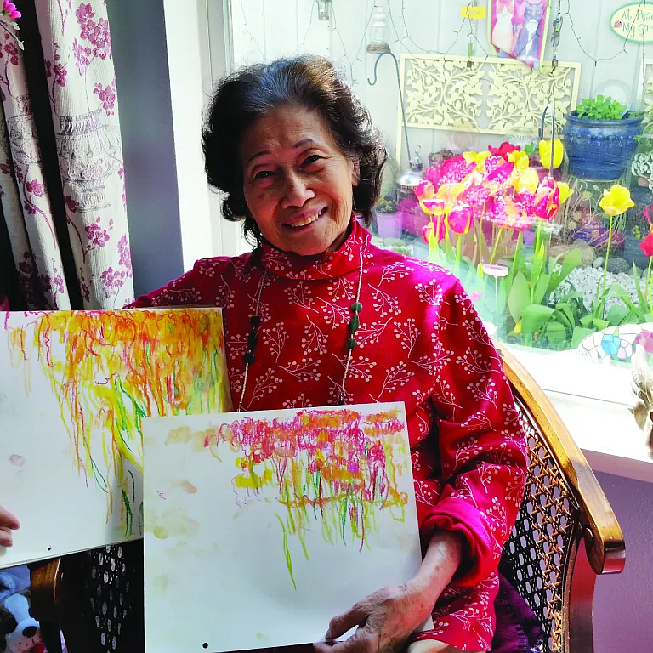 ---
Maude's Awards was created to reward innovations that enrich the quality of life for persons living with Alzheimer's disease and related dementias and their care partners.
Award Categories for this year's recipients include Making Connections – Connecting people with dementia to the world and people around them and Supporting Care Partners – Providing education, training or support for care partners of persons living with dementia.
Seattle's
Elderwise
was one of the organizations winning a $25,000 award. Elderwise received the award in the "Supporting Care Partners" category. The Elderwise mission is to enrich the lives of caregivers and adults living with dementia through teaching and demonstrating the Elderwise philosophy and practice of Spirit-Centered Care. The values of Spirit-Centered Care are working from one's own essence to connect with the essence in others; deep respect for equality; an understanding that roles can change instantly; and deep listening. When Elderwise began, people with cognitive frailties were often viewed as less than whole by their caregivers and society - resulting in the person living with dementia feeling less than whole.
Elderwise has been devoted to meet this need by expanding on the adult day social program model to include a deeper and more meaningful level of engagement. Elderwise's aim was to bring societal normalcy for those with dementia; to develop programs that treated participants as whole with the capacity to grow.
Elderwise adult day program was chosen as a collaborating member of the Memory Hub. Elderwise has embraced caregiver education: "Our philosophy and practice are documented in our book,
The Elderwise Way: A Different Approach to Life with Dementia.
"
Pam Nolte
 of Seattle was one of the $5,000 individual award-winners. She won the award in the "Making Connections" category. 
"My mother passed away in 2003, at age 73, with Alzheimer's Disease. In 2010, the facilitator of North Seattle Senior Center's program, The Gathering Place, reached out to me personally to inquire as to whether Taproot Theatre, the company I co-founded in 1976 and continued to work with, would be interested in beginning an improv class for individuals experiencing Early-Stage Memory Loss. I have taught, continued to develop and guide the Dementia Friendly improv program for Taproot Theatre without interruption since then. The theatre's work is unique in its commitment to the education of professional actors with specific brain science related to memory loss to assure the best classes possible for both those experiencing memory loss and their care partners.
The improv classes are called "Re-Ignite the Mind with Improv" and "Re-Ignite the Mind with Imagination." During the pandemic years the classes quickly moved to Zoom and were renamed Z-IMPROV. Those classes have continued to serve individuals experiencing memory loss without interruption throughout the pandemic. We use a simple measure number of 1 - 3 to quantify outcomes, measuring individual's ability and desire to enter into improv both before and after class. The numbers show an increased enhancement in the quality of life of all participants." 
- - - - - - - - - - - - - -
Maude's Awards was created in 2019 by Richard Ferry in honor of his beloved wife of 65 years. In 2013, Maude was diagnosed with dementia. As a loving care partner and tireless advocate, Richard continues the journey by discovering and sharing innovations that speak to the challenges and needs of persons living with dementia and their care partners. 

 
Maude's Awards are for achievement, as opposed to grants for future programs. The intent of Maude's Awards is to reward programs that have demonstrated success. The nominated program must have been active in 2020 or the year prior. If the program is currently active or recurring, it must have completed 1 year of operation, or enough time to demonstrate success.
 
For more information, visit: https://maudesawards.org/2022-awardees/