A whole book!
Don's Heart
Sharing Stories
September 19, 2022 at 8:00 a.m.
---
---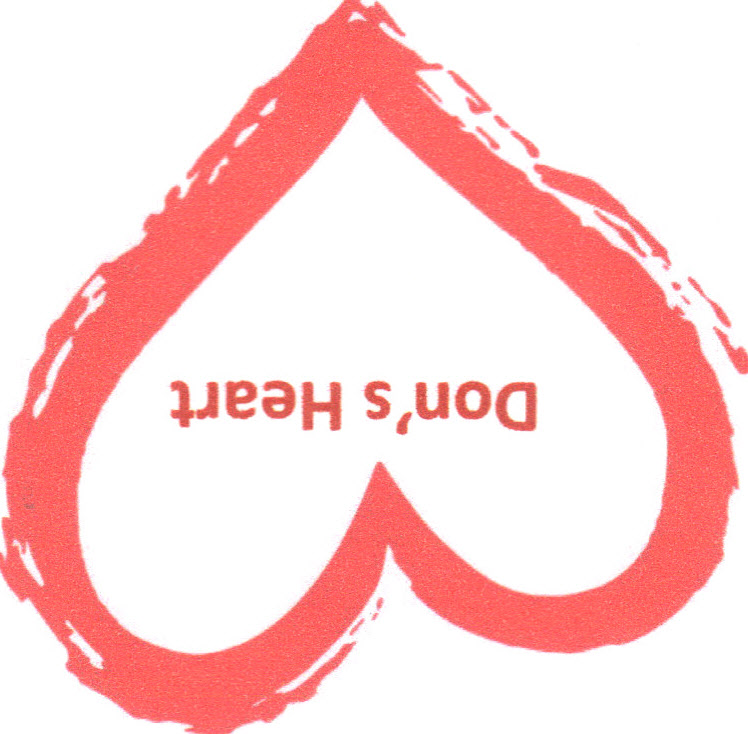 Medical Marvels Happen at All Ages
By Don Sivertsen
Dear Reader: 
This book is about my heart and from my heart to you. Although I know nothing about medicine and have no intention of influencing anyone to do as I did in any way, I do hope my story encourages those who are discouraged about health issues in their later years. I'm 90 now (2017) and had these wonderful experiences this year! Again, I know everyone and every situation is different. I hope for all of you that you have as good a doctor as I do and that you will see and listen to that doctor. 
With a full and grateful heart, 
Don Sivertsen
AWARENESS
One day, I went to the library and saw three people sitting at a table in the lobby. I asked if they were giving health tests, and they said, "Yes. Would you like us to check your blood pressure?" Why not? I thought. A woman put the cuff on my arm and I felt the pressure as it tightened. My blood pressure was ok, she assured me, but I had an irregular heartbeat. She wrote on my test that I should see my doctor immediately.
I shrugged it off, told her it didn't surprise me as I'm ninety years old. People don't live forever. I was worried, though and didn't tell my family doctor about it for two months. Then he gave me an electro cardiogram test.
"Don! I'm referring you to a cardiologist." Now, I really was worried and made an appointment immediately, and, as you'll see, this was the right thing to do.
These health stations with their volunteers are all around us, even at the summer street fairs, available to all. The free basic tests can make us aware of health conditions and warn of problems. I'm certainly glad I stopped that day and had my pulse and blood pressure checked.
I SHOULD HAVE HEART PROCEDURES MORE OFTEN
The idea that I will not be able to do very much after my heart procedure has given me impetus to get busy painting a panel on my house, hiring a carpenter to do some work for me. Wash all my clothes so I will have clean sheets. Stock up on bread and TV chicken pies—enough for at least a week. I plan maybe to sort and organize my papers. Clean off my tables. I do want to go to the Fisherman's Festival on the twenty-third, only three days after my trip to the hospital. I may have to have someone take me there.
This is Sunday, and I have to work on filling my yard waste container for Tuesday. I'll be fasting for Wednesday when my niece will take me to the hospital. I may have to stay overnight. I'll bring a change of underwear, my toothbrush, my radio, a tablet, a pen, and my cell phone so I can call my friends to let them know I'm still among the living. Hospitals worry me, make me more active to get everything done. Let's do it more often, Hospital.
ONLY THREE DAYS LEFT
On Wednesday, I go into the Virginia Mason Medical Center for a heart procedure. I will go in at 10 am and out at 6 pm, then back home. Will I be ok? I think so. I think the real danger is possibly bleeding afterward. The irregular heartbeat may be corrected. I could live years longer in good health.
This is what the reason is for this heart procedure. It may reduce the possibility of having a stroke. I made my decision. I would like to keep active, live in my old house, drive, and continue to write. I would like to publish another book, sort out all my papers, organize them and then finish my book, publish it…then retire in luxury on the proceeds. Maybe I better take all my friends on a goodbye cruise to Alaska or the Caribbean. Maybe six people in all. Wouldn't that be fun. A one-week trip on a cruise with some of my good friends.
                                 A DAY TO REMEMBER  
September 20, 2017—this was a big day for me. I had been planning and anticipating it for several weeks. I was going to the hospital for a heart procedure that would help my heart. This procedure is called Catheter Ablation. I was able to go home the same day. All went well. We called my sister Carol (sixteen years younger than I), in Albuquerque New Mexico to let her know I was all right. We asked her husband where Carol was, so I could give her my good news. "She is in the hospital," he said. Carol had fallen and hit her head on the shower glass. "She is all right now and will be going home soon." I found out later she had been under observation for three days and had been tested for a possible heart problem. The words I heard from my sister were very familiar to me. She had been tested and told of a possible procedure that sounded like the same as what I had on the same day. Now isn't that a coincidence…or maybe it was just having similar genes?
That same day I heard my first wife (the mother of my only son) died and a good friend's father also died.  September 20, 2017 is a day I'll never forget.
MY HEART PROCEDURE IS OVER
I think I am better. I can tie my shoes now without losing my breath. Take it easy, Don, for the next few days, I tell myself. I am driving again and spent the whole day with friends at the Annual Fisherman's Festival, something I didn't want to miss. I'm back on schedule again on my Sunday morning round trip to Bremerton. This is one of my favorite places to write. The surroundings are tranquilizing birds, water, a friendly Washington ferry boat crew making it a wonderful experience. I get to sit and contemplate what is going on in my little world. I ride on one of the new ferry boats with very little vibration. We just glide along so effortlessly. I have a full week ahead.
This is the way I like it: keeping busy.
CARDIAC ABLATION
This is what I had, a heart procedure to stop an unwanted electrical circuit. I was in at ten am and out at ten pm, all in one day. Everything went well. I finally was allowed to eat at four pm. Oh, it tasted so good—codfish with a side of green peas and a slice of butter on top. For some unknown reason, every time the doctor zapped my heart with energy, I felt it in my sore right shoulder…but not in my heart. My shoulder ached, a normal reaction I was told. I feel better already, I could tie my shoes today without losing my breath.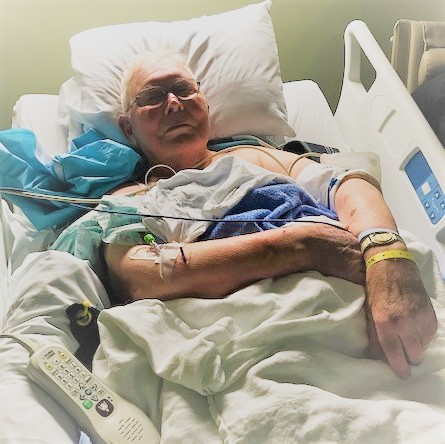 Patti took my picture in the hospital, surrounded by hospital gear. I thought it was hilarious. We were told not to laugh—it might cause my puncture to bleed. When we were ready to leave, the nurse called for a wheelchair and my friends took me home.
ABLATION
This procedure took care of a problem in my heart—an electrical circuit in my heart that didn't belong there. I had no idea how long I had it. The procedure took two and a half hours. I had to lie still on my back for another six or seven hours before I was released to go home. I call it just a ninety-year tune up for an old man. These doctors today can do almost anything.
When I talk to people about the heart procedure, I just had, others come up with similar stories, but the stories are all somewhat different. These people survived heart surgery and procedures. I would not even know unless I was told. One person has a pig valve, another had a leaking heart that was sewed up. It's remarkable what the medical profession can do today. I had a problem I wasn't even aware I had. Now, I have a normal heart, I am told. Medicine can heal.
LIFE
Maybe my life has been extended with the improvement in my heart. I better appreciate this, to do more with my writing and my lifestyle. I think three or four years more could be possible. Will I be able to drive, maybe? I know many people who had heart procedures, all were different, and they are still living. It might be the attitude. I did it to see if I could improve my health. I already feel better. I'm having a slight improvement in mobility. Doing yard work. I'll know more on Thursday after I see my doctor about my 90-year-old tune up.
MY FAVORITE BUFFET
Today I ate at my favorite buffet. I eat here all the time. Each person takes the ladle or tongs, picking out the food to put on their plate. There was a pretty lady with long flowing black hair in front of me. She was taking her time, so much time I could contemplate…will she pick out the shrimp, the cauliflower, or the Brussel sprouts? She was so slow; maybe she was doing it to annoy me or to get my attention. I didn't mind too much because I was secretly admiring her from behind, while I waited. When she was ready to move on…suddenly, she turned to look me in the eye and said, "Here is the spoon." A thought came to me as I took the spoon from her hand, I think I'm in love, but just for a moment…I felt a spark from my heart that made me feel so good. Maybe that heart procedure did some good after all!
Notes from friends
Speedy recovery!! Patti
September 20 at 7:39pm
Marlene Koltin Thank you for posting this, Patti. How long will he be there? Up for visitors?
Like
· Reply · September 20 at 8:13pm
Tanja Jinx Pineda Hugs!!!!!!!
· Reply · September 20 at 8:20pm
Patti Lozano Hopes to be home late tonight.
Tanja Jinx Pineda Please give him a hug from me. He was a sweetie when I once lived in Seattle.
· Reply · September 20 at 8:31pm
John Roberts He told me he was having a procedure on his heart. He didn't give the impression it was a big deal. Good to know.
Beth Seren Get well soon ❤️❤️❤️
· Reply · September 20 at 10:36pm
John Roberts Look at those cheekbones. I wish I will look so good if I am in a hospital bed! And no wrinkles, too.
Maryallene Arsanto Feel better, Don! Hope you're home soon.
Patti Lozano Don is home and doing well!
Omar Al Obiedy Wish you a fast recovery, Don.
· September 21 at 6:42pm · Edited
Rick Pannemann Just bumped into Don at the Fisherman's Festival. Looking good!
I'M 89 TODAY
Sometimes I didn't think I would make it this far. I think I'll set a new goal now. I'll try to reverse those numbers and change them to 98. That is only ten years away. I always set my goals high. If I reach it, fine. With the recent progress made in medicine and with all the pills I take to keep my blood tests near normal, who knows? The odds might be with me. I'm retired living alone. I don't have any stress except what I do to myself like insisting on climbing ladders and then falling occasionally. I have always been able to get up again.
I think that taking several prescribed pills and vitamins has helped me. I go to see my doctor once every three months. He has watched me recover from many illnesses. I even had whooping cough after I retired.
I break all the rules on my diet at least one time every day. I like to have a simple dessert vanilla ice cream with some chocolate syrup and crushed nuts on top.
My only exercise is mowing the lawn and walking around in the store while shopping for groceries. Sometimes, I go to the hot tub, but that isn't really exercise.
I do have a social life. I belong to two toastmaster clubs and two writing classes. I have good neighbors that stop and talk to me once in a while. One is a captain for an airline and tells me about his latest trip. Another friend is a builder who constructs houses. I like to follow the progress he makes while he builds a house. He always has time to talk to me. It's amazing the talents that people have, the diversification of how each person I know makes a living. I always wanted to be independent. Now, at 89 and after 23 years of retirement, all I can say is, it has been a good life.
MY TEACHER WILL BE MOVING
 I must get busy on my books. Ariele is the key to me publishing my books. I could not have done it without her help, without her skill and knowledge of publishing, editing, and her follow through determination. This means get on with it, Don. I don't mind typing. My health has stabilized. I feel good. My heart treatment is over. Now I can concentrate on what is in my heart: writing stories, self-publishing. Share some of my thoughts so I can share some of my life experiences, successes and failures. 
With a positive attitude, failure can be turned around. I really believe this. Don Sivertsen's stories attest to that. When you are down, get up and try again. Failure can lead to great success. Just believe in yourself.
About the Author:
 Don Sivertsen's first book,
Laughs, Luck & Life
is about an earlier Medical Marvel he experienced. Miraculously regaining his ability to speak, think, and write after a debilitating stroke, the author presents a uniquely life-affirming series of funny and/or poignant anecdotes characterized by their humble yet self-confident messages. His words—gained by accessing the "spare, unused brain cells" that weren't damaged—are a bright ray of hope served up as warmhearted humor and sprinkled with some modestly offered advice.
 Link to
Laughs, Luck & Life
https://www.amazon.com/dp/B01IFN4DD8
.
 This book...Don's Heart was published on Amazon too. It's given to you here as a gift from Don and Ariele to help people feel more hopeful about health and wellness...at any age.    
About the Editor:
Ariele Huff has 30 books of her own on Amazon and specializes in helping others create eBooks and publish-on-demand paperbacks. Her publishing brands are Candy Bar Books and Band-Aid Books. Editor of a dozen magazines and periodicals and hundreds of books, Huff leads ongoing writing groups, teaches at Washington State colleges, and helps people all over the world with her online classes and individualized services. Contact her for further information: ariele@comcast.net.
SHARING STORIES is a weekly column for and about the 50 plus crowd living in the Puget Sound region. Send your stories and photos to ariele@comcast.net. Tell local or personal stories; discuss concerns around aging and other issues; share solutions, good luck, and reasons to celebrate; poems are fine too. Pieces may be edited or excerpted. We reserve the right to select among pieces. Photos are always a plus and a one-sentence bio is requested (where you live, maybe age or career, retired status, etc.).
SHARING STORIES is featured on www.northwestprimetime.com, the website
 for Northwest Prime Time, a monthly publication for baby boomers, seniors, retirees, and those contemplating retirement. For more information, call 206-824-8600 or visit www.northwestprimetime.com. To find other SHARING STORIES articles on this website type "sharing stories" or a writer's name into the search function above.