Graham Nash is Coming to Town!
September 2, 2022 at 6:18 p.m.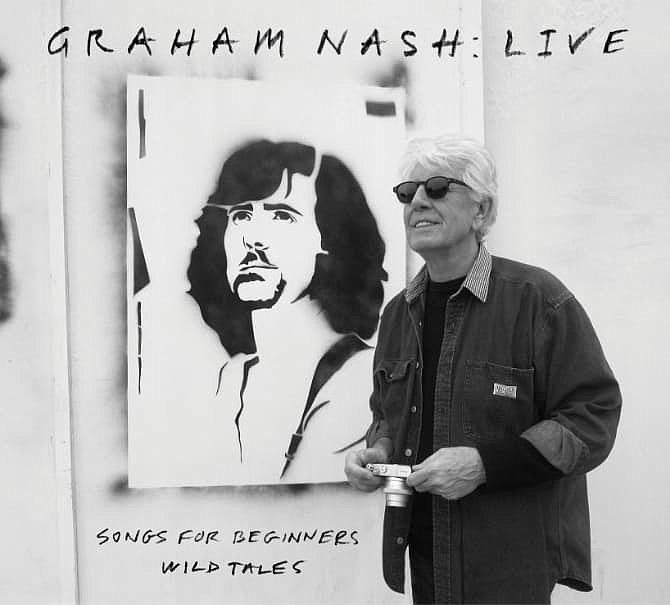 ---
Graham Nash, of Crosby Stills Nash & Young fame, will be spending several days in the Puget Sound region.

The legendary singer/songwriter will be performing at Tacoma's Pantages Theater, Edmonds Center for the Arts, and Vashon Center for the Arts in late September and early October.

I found myself intrigued that this superstar—who was inducted into the Rock and Roll Hall of Fame as both a member of Crosby, Stills & Nash and as a member of The Hollies—would be playing at such an out-of-the-way location as Vashon Island. 
It seemed an unlikely pairing.
I called the Vashon Center for the Arts and spoke with Joe Panzetta, Production & Operations Director, about how they were able to sign up Graham Nash to perform at their intimate venue.
Joe confirmed that my instincts were correct. While Vashon Center for the Arts (VCA) has booked some well-known bands and other performers, Graham Nash is of a completely different caliber than the typical artist who plays at VCA.

"One of the ways it works," reveals Joe of the booking process, "is that you form a relationship with booking agents. Oftentimes the agents work with several different artists." Joe had been in contact with Graham Nash's booking agent several times over while signing up other artists that she represented. "Communication is key," discloses Joe.

"The second thing required is patience and negotiation," he adds. "When it's an artist of this size, he can play larger arenas. We are 'small potatoes' as a 300-seat theater on an island. We were in communication for four months before the stars aligned and we could make it work."

The experience has been a thrill for Joe. "I've been a huge fan of Crosby, Stills, Nash & Young my whole life. That's one of the fun parts of booking the theater. Every once in a while, it's someone you have idolized." On both a professional and personal level for Joe, "It's going to be super fun being able to host him here!"

Graham Nash will be performing on Vashon Island for two nights. "At first, we had one evening booked, then we added the second. Tickets went on sale a week or two apart," says Joe. "When the first night went on sale, it crashed our ticketing system. But we were ready for it the second time…it sold out in less than an hour."

As of this writing, the Pantages Theater performance on September 29 and Edmonds Center for the Arts performance on October 4 still have seats for sale. And while Vashon Center for the Arts has sold out both shows, Joe said that sometimes tickets will become available at sold-out shows, whether at VCA or at other venues.

"If artist comps [tickets] are not used by Mr. Nash, there is a possibility that a handful of tickets may become available the day of each performance. If this is the case, they will be for sale when the VCA Box Office opens at noon on both October 1st and 2nd. The VCA Box Office is open Wednesday through Sunday noon to 5pm and can be reached at 206-259-3007." For more information, you can also visit Vashon Center for the Arts' website.

Another interesting thing about this experience for Joe was communicating with Graham Nash's tour manager about the superstar's plans for hotels while he was in the area. "When dealing with ferries, it could be tough having to scurry out," Joe explained, especially because Graham Nash is playing two nights. "Also, Vashon is such a beautiful place, and I encouraged her to book evenings on the island so he could wake up in this magical place rather than trying to skedaddle."

Joe talked them into it. Graham Nash will be waking up to the beauty and magic of Vashon Island. 
---