Tour a city of the dead beneath a city of the living in the Paris Catacombs
Travels with Deb
November 21, 2022 at 6:00 a.m.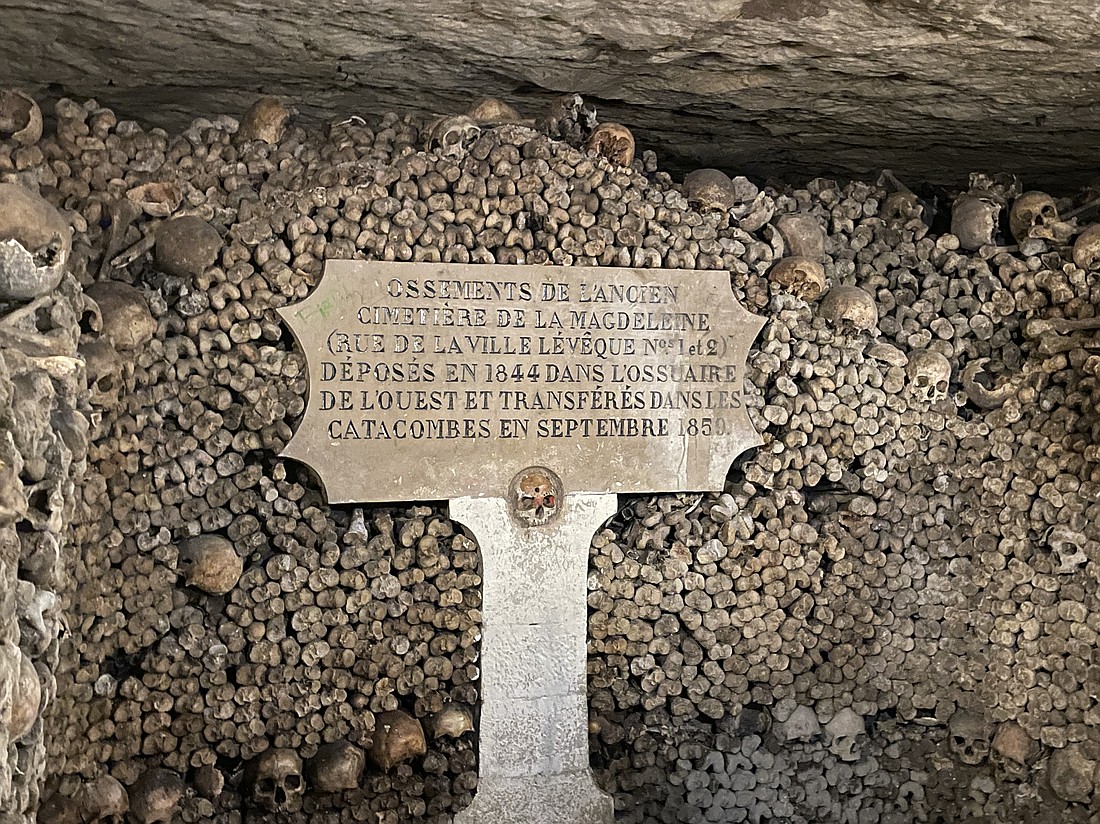 ---
---
I'm typically not drawn to ghoulish or gruesome attractions, even on Halloween. But morbid curiosity got the best of me during a recent trip to Paris. It was there, in the magnificent French capital, that I learned of the Catacombs and immediately knew I had to explore this "Empire of the Dead."
---
---
The Paris Catacombs has a fascinating history, which I discovered during a self-guided audio tour of the place. It all began in the late 18th century when public health problems and overcrowding issues connected to the city's cemeteries necessitated the decision to transfer the remains from several large graveyards to an underground site.
The authorities selected former subterranean quarries that at the time were located just outside Paris. They proceeded to move thousands upon thousands of bones five stories underground into the quarries. In this manner, they actually achieved a more hygienic and efficient method of dealing with human remains.
---
---
The site was officially denoted as the "Paris Municipal Ossuary" in 1786, but it became better known as the Catacombs. The name was most likely attributed to public fascination with the earlier discovery of the Roman Catacombs. In 1809, the city opened its Catacombs to visitors and it eventually became a tourist attraction. There was a period of time, though, that it was "lost" and forgotten about, only to be rediscovered when the Paris Metro was being constructed. 
There are over six million people buried in the Catacombs, in a vast maze of limestone tunnels and old caves. The part that's open to the public consists of about a mile. This only represents a tiny section of the entirety of this extensive network.
---
---
To reach the Catacombs, you'll go down a long spiral staircase leading to the quarries. As you pass through the tunnels, many which are dark and narrow (those with claustrophobia take note), you'll see multitudes of skulls with gaping eye sockets and grinning teeth, human femurs and other bones, tightly packed in and around the sides of the walls. They line the walkways and some form mosaic patterns, while others appear to be lumped together in stacks. Sometimes they're behind metal grates and if you look up, you'll see some under the ceilings.
Along the way, you'll come across signs that state the source (the cemetery) of a certain set of remains and the date they were exhumed. And in true French artistic fashion, there are poems and philosophical sayings about death and mortality, helping to narrate your journey.
---
---
It's a bizarre and definitely macabre spectacle, but also oddly fascinating. I wondered about the people and who they were, knowing nothing beyond the fact that many were victims of the plague. The anonymity of this memorial, though, made the experience impersonal for me. And I was able to view it from more of an archaeological perspective, instead of some creepy, disturbing scene. Thankfully, I've had no nightmares as a result!
Debbie Stone is an established travel writer and columnist, who crosses the globe in search of unique destinations and experiences to share with her readers and listeners. She's an avid explorer who welcomes new opportunities to increase awareness and enthusiasm for places, culture, food, history, nature, outdoor adventure, wellness and more. Her travels have taken her to nearly 100 countries spanning all seven continents, and her stories appear in numerous print and digital publications.
---