Big edible bouquets for winter
November 16, 2022 at 9:00 a.m. | Updated November 16, 2022 at 9:00 a.m.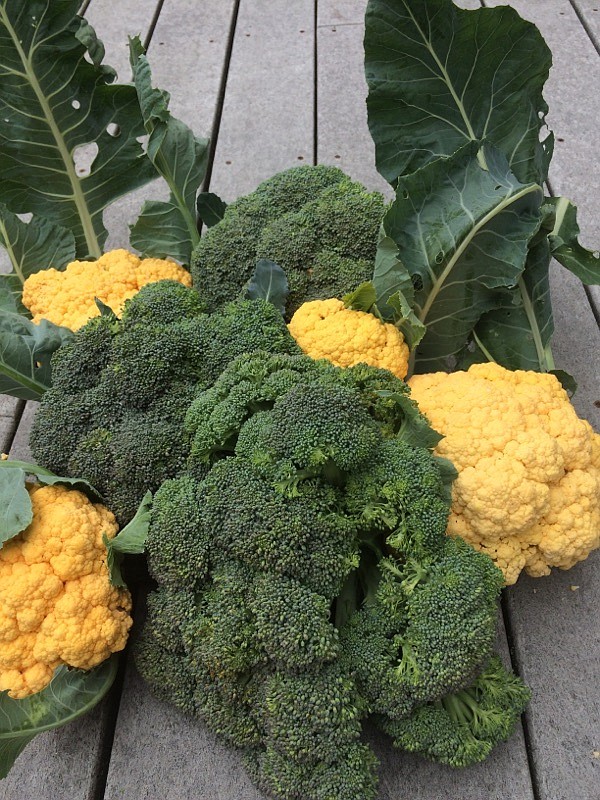 ---
My garden is growing bouquets. Not flowers, but bouquets of broccoli and cauliflower. These edible flower buds are full of vitamins, fiber and flavor.
I've had good luck growing cauliflower over the years, but my breakthrough came when I discovered colored varieties – orange, purple and bright green, not just plain old white. Colored varieties have a lot more vitamin A than the white types. I also think they are sweeter, with a nuttier flavor when roasted.
I grow an orange variety of cauliflower called Cheddar, and that exactly describes its vibrant golden color. A friend serves the purple and gold varieties with veggie dips for University of Washington sports events.
Don't count on pickling these colorful flower buds. When I tried it, all of the beautiful colors washed out, leaving me with jars of pinkish fluid and not-quite-white florets.
To bring out the best in your cauliflower, roast under high heat. It gets a sweet, nutty, caramelized flavor that is delicious and nutritious. Or serve it fresh and raw in a green salad or make it the base for a veggie salad.
Mix fresh broccoli in a salad made with leftover brown rice and save yourself cooking a meal on a hot summer night.
My broccoli continues to give me nice secondary florets until late winter. If you carefully cut them above the new shoots, you will get second, third and maybe fourth crops.
Quick Curried Cauliflower
1 head cauliflower (orange variety if available)
¼ cup olive oil
1 tablespoon curry powder or garam masala
Preheat oven to 450 degrees. Cut cauliflower into small florets and cut larger florets into bite-sizes. Put cauliflower on tray. Sprinkle with oil and curry powder or garam masala. Toss until cauliflower is covered with oil and spices. Bake for about 10 minutes. Stir and return to oven for about 5 more minutes until fork tender, watching so it doesn't burn. 
Nutritional Information:
Calories: 108, Carbohydrates: 5 grams, Protein: 2 grams, Sodium: 30 milligrams
Cauliflower Broccoli Salad
1 cup cauliflower florets
1 cup broccoli florets
1 large cucumber, sliced thick
1 red pepper
½ cup mayonnaise
¼ cup fresh basil, chopped fine
¼ cup fresh parsley, chopped fine
½ teaspoon curry powder (optional)
½ cup unsalted hazelnuts, coarsely chopped.
Cut broccoli and cauliflower into florets. If large, cut in half. Cut cucumber in thick slices and then quarter. Dice red pepper. Add fresh herbs and nuts and then stir in mayonnaise. Keeps well for picnics or potlucks.
Nutritional Information:
Calories: 276, Carbohydrates: 7 grams, Protein: 4 grams, Sodium: 112 milligrams
Broccoli Brown Rice Salad
2 cups cooked brown rice
1 cup grated carrots
1 cup broccoli florets, cut small
2 tablespoons diced onion
½ cup mayonnaise
1 tablespoon lemon juice
¼ teaspoon Worcestershire sauce
¼ cup parsley, chopped fine
Use rice left over from a previous meal. Mix ingredients and serve chilled. For an entree, add a can of salmon, shrimp or tuna, or any cubed meat, chicken or seafood. Serve with crusty French bread for a meal that doesn't require cooking.
Nutritional Information:
Calories: 329, Carbohydrates: 27 grams, Protein: 3 grams, Sodium: 184 milligrams
[Contributor Katy G. Wilkens recently retired as registered dietitian and department head at Northwest Kidney Centers. The National Kidney Foundation Council on Renal Nutrition has honored her with its highest awards for excellence in education and for significant contributions in renal nutrition. She has also been awarded the Medal of Excellence in kidney nutrition from the American Association of Kidney Patients.]
Eating Well, Living Well classes
Studies show that working with a registered dietitian can delay kidney failure and postpone dialysis for longer than two years. FREE nutrition classes taught by Katy's former team of registered dietitians are available at convenient times and locations around Puget Sound.
Eating Well, Living Well classes teach people how to eat healthier to slow the progress of kidney disease and postpone dialysis. Learn more at www.nwkidney.org/classes.
---