Local Seniors Launch a Book about Search and Rescue and Honor their K9 Companion
November 1, 2022 at 12:00 a.m.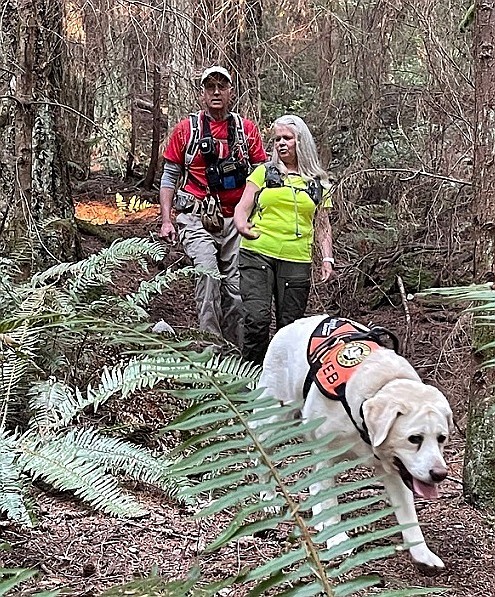 ---
Suzanne Elshult and James Guy Mansfield have been local search and rescue volunteers for over 20 years and have been recognized by state and local agencies for their service. Their team member, a yellow lab named Keb, will be recognized on November 11 as the American Humane Search and Rescue Hero Dog 
From the mud of the Oso landslide disaster, from a deep river valley in Olympic National Park, from high slopes on Mount Rainier, local search and rescue volunteers Suzanne Elshult and Guy Mansfield tell of their missions in their new book:
A Dog's Devotion: True Adventures of a K9 Search and Rescue Team.
This gritty, inside view of a K9 search and rescue team also features the 'principal investigator' – a yellow Labrador retriever named Keb.
Suzanne trains almost every weekend with Keb for her search and research activities, while at the same time having a successful career as an executive consultant. Originally from Sweden, she now lives in Snohomish County with her husband, Scott. Suzanne was inspired to join the world of K9 search and rescue (SAR) in reaction to the 9-11 tragedy. "Little did I know that the attack on my adopted country on that terrible day would be the catalyst through which I would find a cause which grew closer to my heart than anything I had ever dreamed possible," she writes in the first chapter of the book. A month later, "with the leash of my SAR dog, Bosse, in hand and high hopes in my heart, my 20-year journey with Snohomish County Volunteer Search and Rescue began." Suzanne is President of Cascadia Search Dogs, and currently deploys to assist law enforcement on criminal cases, and also to locate unmarked, historical graves.
Guy, who retired from his career in 2014, tells us: "I was almost 60 when I started my participation in search and rescue… Search and rescue has been my almost full-time volunteer avocation ever since." Guy has been climbing and hiking most of his life, "so searching snow slopes while wearing snowshoes and a heavy pack came naturally to me." He became involved in search and rescue in 2008 when he volunteered to help on a search for a missing person on Mount Rainier. He has been active ever since, including serving as director of the Washington State SAR Planning Unit. "With age," he confesses, I gradually transitioned from dashing up into the wilderness on searches to my current role of managing and planning searches – which is very challenging and important." His focus is on developing modern best practices for search planning, and training members to develop their expertise.
The K9 yellow lab, Keb, was recently announced as the 2022 American Humane Search and Rescue Hero Dog and will be recognized at the televised national awards gala on November 11 in Palm Beach, Florida.
"I know Suzanne was absolutely thrilled to learn that Keb had been selected as American Humane Search and Rescue Hero Dog," says Guy, "She could hardly contain herself. At the same time, she was the first to remind everyone that ALL the SAR dogs in the contest were true heroes, for their hard work and dedication. Suzanne is looking forward to being flown out (with Keb) to Palm Beach for the award ceremony."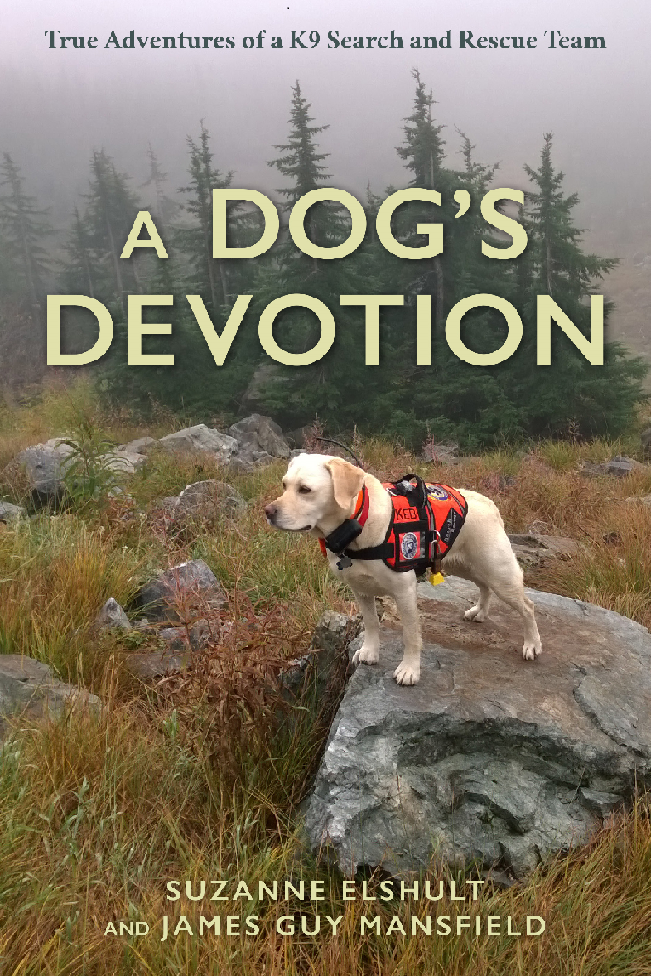 ABOUT THE BOOK:
Join Suzanne, her faithful K9 Keb, and her irrepressible teammate Guy, as they walk in the shadows of crime, disaster, and tragedy, searching for the lost and the dead in the wilds of the Pacific Northwest. Readers will join this intrepid K9 and her teammates as they face the challenges of deep northwest forests, high mountain slopes, and menacing coyotes, to find buried victims of the Oso Landslide, missing hikers, and even the bones of murder victims from long ago. The authors will be donating a portion of their proceeds to local volunteer search and rescue teams.
MEET THE AUTHORS: A Dog's Devotion
is available at local bookstores and online. You can meet Suzanne and Guy at a book signing event on
November 19th at 1pm at Barnes and Noble in Woodinville
.
 They will also have an author presentation and book signing at 7pm on December 8th at Village Books in Bellingham.
FOR MORE INFORMATION: For more information, visit Suzanneelshult.com
---