Meet Mark Bryant, Fitness Instructor and Powerlifting Champ
Senior Fitness Tip Contributor
March 23, 2022 at 10:44 a.m.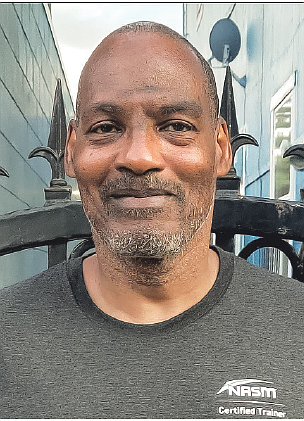 ---
Mark in action: (left) Mark Bryant at the AAU World Powerlifting Championship in Las Vegas on September 16, 2017. He is a Powerlifting World Champion many times over, and also the Master Disabled Deadlift Record Holder in  age group and weight class. He has won numerous championships after a total hip replacement.
(right) 
Mark Bryant with one of his senior students, Dorene Cropley. "This exercise helps with muscle stability and balance. It improves coordination and posture. Dorene is sitting on the Fit-Ball, lifting her left arm at the same time she lifts her right knee. It's harder than it looks!" says Mark.

Mark Bryant is a popular fitness instructor and powerlifting champion who lives and works in Seattle's Columbia City neighborhood. Mark draws on years of experience and expertise to guide people over age 50 through the world of working out. He wrote a monthly senior fitness tip for Northwest Prime Time's long print run, and his fitness tips will continue to appear on our website.  Check out Mark's exercise video! The link to the video appears at the end of this article.
Mark was born and raised in the Queens section of New York City, where he pushed through enormous childhood challenges. At the age of 12, he landed in the hospital after being beaten nearly to death by his stepfather. While recuperating, Mark became fascinated with how the body worked, and began studying the body's bone structures. He soon took up martial arts, which gave him a new-found confidence.
After moving to Seattle as a young man, Mark got a job as a fitness instructor at the YMCA. Inspired by the work, he earned a college certificate as a health and fitness technologist. He has been continuing his studies since that time. "I keep a very full binder of my current certifications and like to consider it equivalent to most university degrees. I just want to ensure, should anyone ask, that I'm ready to go head-to-head on anatomy, physiology and kinesiology!"
A move to Seattle's Columbia City neighborhood proved providential. He met fitness entrepreneur Bull Stewart, owner of Columbia Fitness gym. That is how Mark was introduced to the Southeast Seattle Senior Center. "When I started working with seniors, my life took a turn for the better," said Mark. "I am pleased that many of the seniors I work with are not shy about praising me. They even nominated me for the Enhance Fitness' National Instructor of the Year honor, which I won."  
 After years of suffering from a lingering hip problem, Mark was finally able to get a hip replacement when an orthopedic surgeon read an article about Mark's work with seniors. "He said he admired my selflessness, and offered his services for free. After years of suffering, a hip replacement meant I was finally relieved of chronic pain…I am one of the lucky ones, one of the blessed ones." Remarkably, Mark has earned many powerlifting championships since having had that total hip replacement in 2008.
Mark experienced one of the greatest moments of his career when he was inducted into the Strength and Power Hall of Fame in 2019, after first earning that honor through the Washington State Strength and Power Hall of Fame. He's been the West Coast Director and Chairman of the organization.  
"I have powerlifted for decades, my time in the sport spanning from 1998 to present day, and I continue to marvel at having made it a career. Over the years, I have won more titles than I can count, all accompanied by certificates, plaques, medals and trophies that I proudly display throughout my home. With my induction into the Washington State Strength and Power Hall of Fame, I was given something new to commemorate such an accolade—a Hall of Fame ring!" exclaimed Mark.
Mark hosts a radio show, "Fitness Corner" every Friday from 11:30am to noon on Rainier Avenue Radio (www.rainieravenueradio.world). He also posts videos on the radio program's website. You can watch Mark leading an exercise session in this video – you might consider following along! The video of Mark kicks in at 3 minutes and 12 seconds, so either hang in there, or drag the curser to the 3minute and 12 second mark to see him in action:   https://www.facebook.com/RainierAvenueRadio.World/videos/277891674487958/