AARP's Movies for Grownups
March 20, 2022 at 12:00 a.m.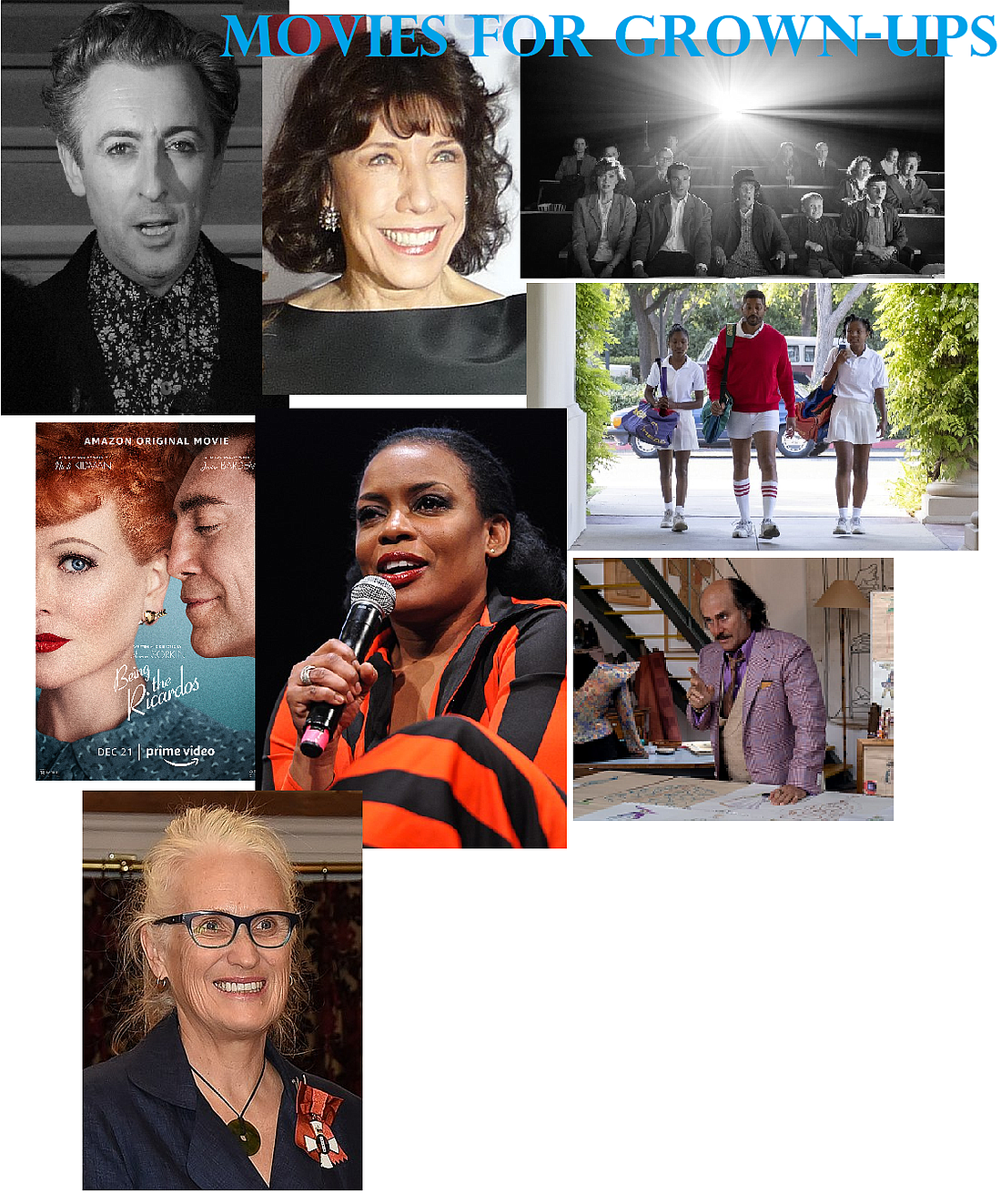 ---
Did you catch the PBS special presenting AARP's annual awards show, Movies for Grownups?

On March 18, Movies for Grownups celebrated 20 years of recognizing the movies, actors and production teams for films that speak to older adults.

The program was hosted by Broadway star Alan Cumming, known for his roles in TV's The Good Wife, the James Bond and X-Men blockbusters and Stanley Kubrick's Eyes Wide Shut.

A Career Achievement Award was presented to Lily Tomlin for her lifetime of creating memorable characters, from the youngster Edith Ann in Laugh-In, to Robert Altman's Nashville to her recent turn in Grace and Frankie, which deals with issues relating to aging with respect … and hilarity, as you might expect from Tomlin. Using the catchphrase from Laugh-In's Edith Ann, Tomlin told AARP, "I feel I am not only a grownup, but I am mature for my age – and that's the truthhhh!"
The list of award-winners is outlined below:

Best Picture: Belfast
This deeply personal project for writer-director Kenneth Branagh explores the life of a boy living in Belfast during the "Troubles" of the late 1960s when rioting and disorder upended communities. It is able to remain affectionate and whimsical despite the difficult themes of violence. Consider turning on the captioning function to capture some of the heavy accented dialogue

Best Actor: Will Smith (King Richard)
The rapper, TV and star of blockbuster movies won for his "towering performance" – a portrayal of the father and coach of Serena and Venus Williams and how he helped them became, against all odds, world champions.

Best Actress: Nicole Kidman (Being the Ricardos)
Lucille Ball's daughter, Lucie Arnaz, said of Kidman's performance that she "became my mother's soul." The film explores one week of the couple behind the groundbreaking sitcom, I Love Lucy.

Best Supporting Actress: Aunjanue Ellis (King Richard)
Ellis plays the subtler, quieter performance as Venus and Serena's wise mom who stands up to Richard's (portrayed by Will Smith) iron will. She also coached the tennis stars, an equally profound achievement as Richard's, who got the lion's share of credit for the William sisters' success.

Best Supporting Actor: Jared Leto (House of Gucci)
AARP described the movie as "The Godfather with sequins." Upon receiving his award, Leto – who portrays Fredo, the family's treacherous black sheep – said, "Creativity and imagination have no age. Dreams belong to everyone, not just the young."

Best Director: Jane Campion (The Power of the Dog)
There is a lot of Oscar Buzz for this movie about a brutal cowboy hanging on to his fading lifestyle in the West of 1925. AARP describes Campion's achievement this way: "In one of the biggest Hollywood comeback stories ever, Campion returned to filmmaking after 13 years of being essentially shut out – despite her Oscar for The Piano – and at 67, she soars higher than ever…"

For the full list of awards, along with links to interviews and other background tidbits, visit 
Movies for Grownups Awards 2022 Winners: The Complete List (aarp.org)
---
---
Raft Horseshoe Bend for an up close and personal experience with this iconic landmark
Draw a circle around Page, AZ and you'll find numerous natural wonders. Among them is Horseshoe Bend, undoubtedly one of the most spectacular landscapes in the state. This near-perfect circular canyon, which is located in Glen Canyon National Recreation Area, was carved into the earth by the Colorado River and is a result of erosion. It was formed by water following its natural path of least resistance, however, in this case, the route was not a straight line, but rather a substantial 270 degree curve.
---
Remembering Bob Harmon
There are some people you first meet for an interview you just know you're in for a memorable treat. Bob Harmon was one of those people.
---
STAND UP FOR YOU
Medical Elder Abuse
"His curt response was, 'Well, that's how it's going to be.'"
---
KILLER BEES?
TERROR AT THE LAKE
"They'd still be swarming around us."
---
Boomerish!
"Writing Boomerish has been great fun"
---