Dick Van Dyke
December 29, 2022 at 8:07 a.m.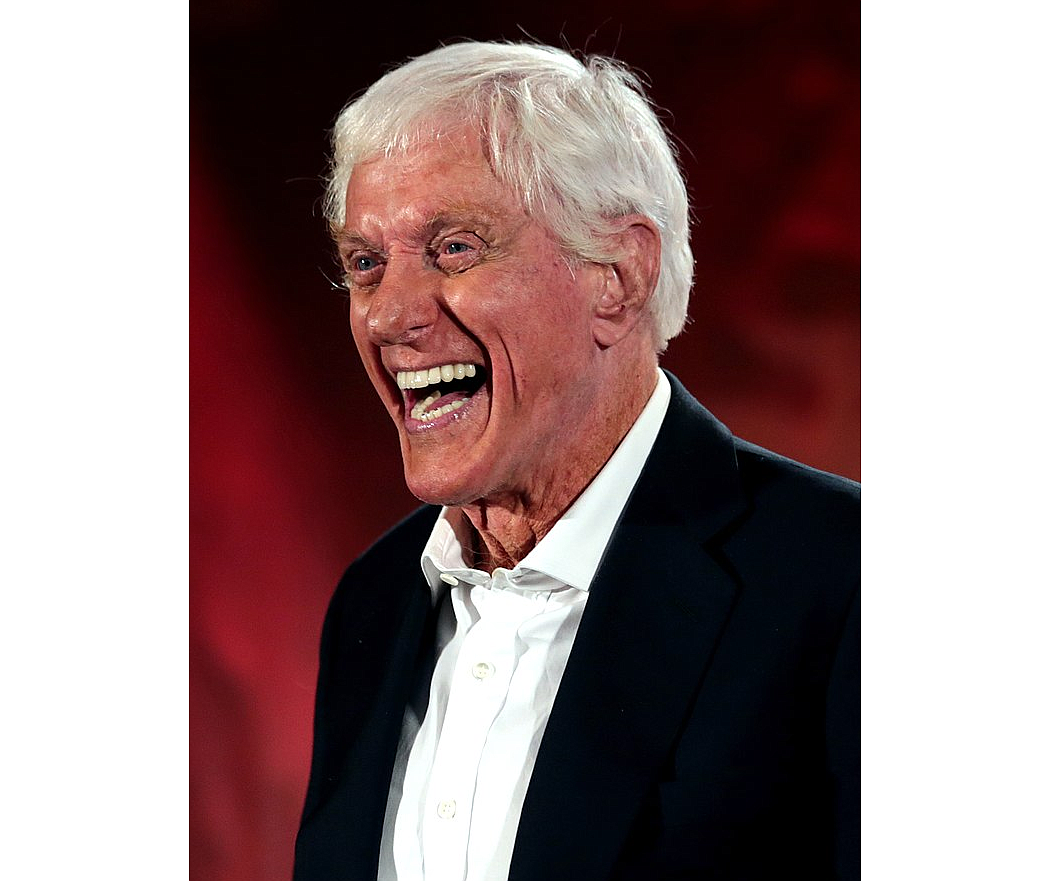 ---
The legendary entertainer Dick Van Dyke turned 97 on December 13. Spotted running errands that day, he quipped, "Well, if I'd known I was going to live this long, I'd have taken better care of myself!" In June of 2021 on CBS This Morning, he showed off his workout routine. He remarked, "…all of you guys out there, listen to me, I'm telling you, you can keep going. I'm still dancing and singing!" To mark the iconic song-and-dance actor's birthday month, Northwest Prime Time reruns an updated version of an article from 2018. 

Everyone should approach aging like actor-comedian legend Dick Van Dyke, who marked his 97th birthday on December 13. He works out. He also been known to dance through the local supermarket, singing ditties and smiling at everyone: basically, putting on a happy face for the world.

For nearly 70 years, Van Dyke has been delighting audiences. His lifetime of work was recognized in 2021 by The Kennedy Center. He was one of five artists honored that year for their immense contribution to American culture. His trophy table at home was already crowded with five Emmys, a Tony, a Grammy, a BAFTA, and a Lifetime Achievement Award from the Screen Actor's Guild.
In 2018, Dick Van Dyke appeared in the film, Mary Poppins Returns, which premiered shortly after his 93rd birthday. 58 years earlier, Van Dyke starred as Bert the chimney sweep in the original film, alongside Julie Andrews. Many didn't realize he also played a second role, that of the grumpy old banker. Van Dyke wanted to play the second role so much he told Walt Disney he would do it for free. "Actually, I had to give him $4000. I had to pay him to do the part!" exclaimed Van Dyke. In the new film, Van Dyke appeared as the banker's son, looking the same as he did all those years earlier.
"I got excited, of course, that there was going to be [a sequel]. My first question was: 'Can I be in it?' said Van Dyke about appearing in the film. More than 50 years after the original Mary Poppins premiered, Van Dyke famously apologized for his "atrocious" cockney accent in the original film, but after all these years believes he is off the hook. The stars of Mary Poppins Returns, Emily Blunt and Lin- Manuel Miranda praised Van Dyke. "He has more energy at 92 than I ever have in my life," said Miranda. They both declared what a joy and inspiration it was to have him on the set.

When Van Dyke was in his 20s, he gave serious consideration to becoming a minister. Instead, life took him into show business, which he says is like being a minister in a way. "I make people smile and laugh and feel good about life," he says. "That isn't bad."

He got his start as a radio announcer in the army during World War II. In 1955, he began hosting CBS This Morning in 1955. But it was his role in the 1960 Broadway musical, Bye Bye Birdie, (and later the film of the same name), that he considers his lucky break. He played the part of a struggling songwriter and credits it for getting him the role of a lifetime, the star of the Dick Van Dyke Show with Mary Tyler Moore.
In addition to Bye Bye Birdie and Mary Poppins, Van Dyke also starred in the Disney hit Chitty Chitty Bang Bang along with other films. In the 90s, he played a doctor and detective on television for eight seasons of Diagnosis Murder. For more than 20 years, he's been part of an A cappella group known as The Vantastix, featuring a bunch of "young guys" who perform with Van Dyke.
What's his secret to longevity? It's not only his exercise routine. In his book Keep Moving and Other Tips and Truths About Aging, he writes, "If I am out shopping and hear music playing in a store, I start to dance. If I want to sing, I sing. I read books and get excited about new ideas. I enjoy myself. I don't think about the way I am supposed to act at my age or any age."
Not that everything has gone perfectly for the show business personality. While filming Chitty Chitty Bang Bang, he suffered a serious injury on the set. His doctor told him he would be using a walker within seven years. It didn't happen. Van Dyke also admits to being an alcoholic for 25 years but gave it up in the 1970s. Years later he immediately quit smoking when he was told he had traces of emphysema scars in his lungs. Van Dyke's father died at the age of 76 of emphysema.

His father was a traveling salesman but was a jack-of-all-trades who played clarinet and saxophone in a band. He also played semi-pro baseball and once won a left-handed golf tournament. His mother lived to be 96. Van Dyke's younger brother, Jerry, was also a television star. They enjoyed joking with each other about getting older until Jerry passed away in early 2018.

Van Dyke, who lives in Malibu, California with his wife Arlene, has four children, four grandchildren and great grands. In his retirement years, Van Dyke's pleasures are simple. "Today I don't really worry about anything," he says. "It was a waste of time when I was younger and [now], what's the point?"

Getting older, he says, is not a prescription for acting old. His only real concern, he joked, is that he had term life insurance that expired when he turned 95. "Beyond that, it cuts off and there is no payout. I didn't realize this when I took out the insurance 50 years ago. Who figures they'll live to be 95?"

Dick Van Dyke says his friends in Malibu, some of them actors, want to know his secret for growing old and he answers them with a smile. "I haven't grown up. I play. I dance with my inner child and I do it every day. That's my secret."
In an interview with the Hollywood Reporter, Dick Van Dyke reflected on his life and longevity. Being active is the key, he said. "In my 30s I exercised to look good. In my 50s, to stay fit. In my 70s, to stay ambulatory. In my 80s, to avoid assisted living. Now in my 90s I'm just doing it out of pure defiance!" Watch the clip at 
Creative Until You Die
---