Volunteer Spotlight: Carol Goforth
Helping arts & heritage
December 17, 2022 at 11:50 a.m.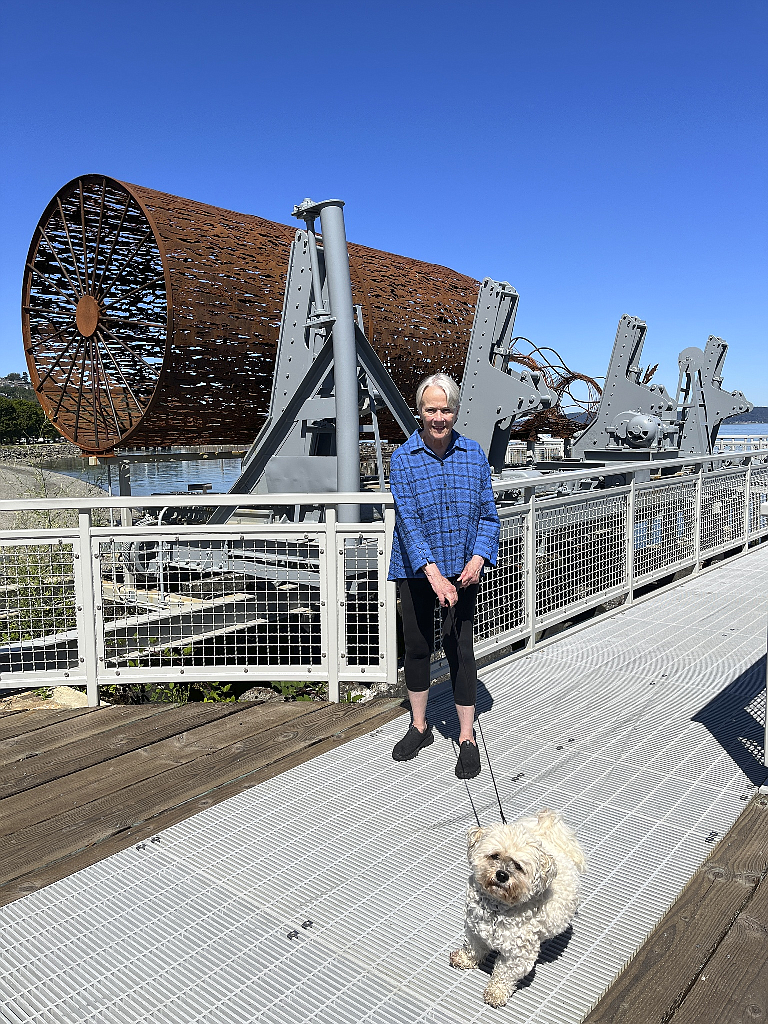 ---
As Carol Goforth walks her little dog Star along the Tacoma waterfront, she's paying closer attention than most folks to the park benches and signs. In her hand is a sheet of paper – a "park audit" – where she writes down things that could be improved. But in her mind is a landscape of future parks: potential signage, planned art works.

That's because Carol is a volunteer on the Metro Parks Advisory Council for Arts & Heritage, and for the longtime Tacoma resident it's been a fantastic way of getting to know Tacoma's parks and people in a unique way.

"This council has been perfect for me," Carol says as she makes her way to where the gigantic steel "Ghost Log" sculpture sits high over Dickman Mill Park, weaving stories of history and culture. "I've really enjoyed learning about all the parks and appreciate them so much more. And the council members and staff are wonderful."

With an art degree and career – including over 15 years as art director of Sunset magazine – Carol would seem to be a natural as a volunteer on an arts and heritage council. After retiring from the magazine, she moved from San Francisco to Tacoma and started volunteering, first with the Washington State History Museum and then for the board of Historic Tacoma. It was there that she found out about Metro Parks' advisory councils.

As a public agency, Metro Parks relies on advisory councils for valued community feedback. Councils exist for active lifestyles and community wellness, nature and environment, and business. And as an agency with a dedicated public art program (1% of every new construction project is set aside for art), Metro Parks really values input from its council for arts and heritage.

Council members volunteer to listen and help guide agency plans over a three-year term, giving honest feedback. And, like Carol, they're often the eyes and ears of a park. Members are given park audit forms to send feedback that guides maintenance and even programs. Carol now carries them whenever she and Star visit a park, noting anything amiss or needed and then letting staff know.

"If I know the council will be talking about a park, I try to visit beforehand," she says. "I've gotten to know so many Tacoma parks now, and the website has a wealth of interesting information about them."
But her most important job happens every third Wednesday night at the meeting.

"Okay, everyone, I'll start sharing my screen," says Claire Keller-Scholz, Metro Parks' planning and asset management administrator and the staff liaison for the group. "Here's the artist's proposal for our next commission."

As Keller-Scholz and City of Tacoma public art specialist Rebecca Solverson talk through the design, the council members listen carefully, asking questions and offering suggestions. Carol – who was on the panel to select the artist – likes the color of the tiles and asks about additional storytelling signage.

"I really liked being on the panel to select this artist," says Carol, who was also on the panel to choose Maria Jost as the mural artist in Point Defiance Zoo's Pacific Seas Aquarium. "And I love working with Metro Parks staff. They're all so helpful, thoughtful and attentive to the community."

The Arts & Heritage Council is currently looking for at least five new members, as Carol and several others are finishing their terms in December. Everyone is welcome, and members of underrepresented communities are very much encouraged to apply. You don't particularly need arts or heritage training – just an interest and a willingness to serve.

"Councils need between seven and 13 members, so we can take up to 11 folks for next year for Arts & Heritage!" says Claire Keller-Scholz enthusiastically.
Other councils are also seeking new members.

"After volunteering on this council I feel like I know what's going on at Metro Parks," sums up Carol. "I feel really included. You learn about Tacoma and its history, and you meet interesting people. I'm really grateful."
And after six years on the council, does Carol – or Star – have a favorite park?
"I love Dune Peninsula, of course," she says. "I even suggested they put up a sign about the prairie, and they did! And the restored Owen Beach is beautiful. But I also love Wapato Park, it's really special once you go inside. China Lake, which is so peaceful, like another world. And Titlow, so much variety with the forest, beach and lagoon. But really, I love all the parks, they're so attractive and well-maintained. I hope all Tacomans realize how lucky we are and enjoy our parks as much as I do."

JOIN A COUNCIL: Learn about Metro Parks' Advisory Councils and how to volunteer at metroparkstacoma.org/advisory-councils or check with your local city.
---