Bellingham lights the world's tallest Christmas tree on December 13, 1949
December 10, 2022 at 7:34 a.m.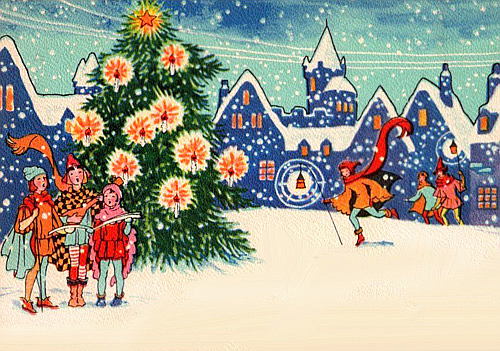 ---
...by Phil Dougherty / HistoryLink.org
---
For many years during the twentieth century, community boosters hosted "world's largest" contests where anything local that was grown or could be made in an extra-large size was billed as the biggest. These contests haven't disappeared entirely, but they lack the panache of earlier years: Chehalis claimed the world's largest strawberry shortcake in 1928; Burlington bragged it had the world's largest ice cream sundae in 1939; Long Beach forged the world's largest frying pan in 1941. With the dominance of the Douglas fir tree in Western Washington, it was only natural that Bellingham would participate with other Pacific Coast communities in friendly, informal, world's largest Christmas tree contests. Except sometimes the contestants tried to overreach.
World's Tallest Christmas Tree
In 1948 Bellingham's Jaycees hosted what they claimed was the world's largest Christmas tree, a 134-foot evergreen decorated with 800 colored lights. It was such a success that the next year they decided to top it off with a taller tree. They found one near Sumas, a nearly 154-foot-tall beauty measuring 55 inches around at its base. The tree was cut on December 4 with a rudimentary chainsaw. Chainsaws were new technology in 1949, but the loggers had one, a cumbersome machine that required two men to operate. They rigged cables from the tree to two smaller trees, as well as to several trucks and tractors, to control the tree's descent, and a large crane also helped lower it down.
The tree was too big for one logging truck. Workers chained it to two trucks, placed netting over its branches, and the drivers began the 30-plus-mile journey to Bellingham. Frank Aubel, driving the second truck, was unable to see through the maze of branches and had to be guided by two-way radio by the driver of the lead truck, Abner Ludtke. There were numerous obstacles en route, but the biggest one was the Nooksack River, which had to be crossed to get to Bellingham. The only bridge big enough to handle the tree and two trucks was in Ferndale, which required a longer route that added several miles to the trip.
The tree arrived in downtown Bellingham on December 6, and with Santa standing atop its trunk, was paraded along Holly Street that afternoon. It was gently deposited next to where it would be displayed in the middle of Railroad Avenue between Holly and Chestnut streets. Jaycee members spent the next few days decorating it with 1,000 lights, and topped it off with a 15-foot-tall lighted cross. On December 10, the tree -- now measuring a few inches shy of 153 feet as about a foot of its tip had broken off -- was raised using two cranes, 14 trucks, and plenty of cables. Three days later, its lights were turned on in a ceremony that was simultaneously covered by famed broadcast journalist Edward R. Murrow (1908-1965) in New York City. (Murrow had local roots, having grown up nearby in northern Skagit County.) At the appointed moment, he pushed a button in New York that flipped a switch in Bellingham and lit the tree. The city beamed.
In Portland, Oregon's leading newspaper, The Oregonian, had followed the excitement with bemused detachment. Before Bellingham found its tree, Los Angeles had declared that its 105-foot-tall Christmas tree was the world's tallest. The Oregonian was happy to announce that Bellingham had discovered a far taller tree, but surmised that Los Angeles would continue to claim its tree was taller. The paper exhorted the Californians in a December 3 editorial: "Sisters! Sisters! Your sister city of Portland, who chose not to compete in the tall Christmas tree wrangle -- though she could have won it hands down -- bids you put vanity aside and reflect that Christmas is as Christmas does" ("Tallest Christmas Tree?").
Or Not?
On December 16, three days after Bellingham lit its tree, The Oregonian announced that Portland's junior chamber of commerce had decorated a taller tree in the city's Laurelhurst Park. "Portland Boasts 'Highest Tree,'" crowed the headline, while the article claimed the tree was approximately 161 feet tall, and noted that it was taller than Bellingham's tree. However, the next-to-last sentence added that the height was an estimate and explained no had ever actually measured the tree. This was said to be scheduled. As the report circulated to other newspapers, not all of them picked up the word "estimate." For example, The Seattle Times just said that the tree was 161 feet tall. The Bellingham tree teetered on the edge of being dethroned.
Curiously, The Oregonian does not appear to have reported the findings once the Portland tree was measured, but The Seattle Times did. In a December 22 editorial titled "Poor Sportsmanship," the paper said that the tree was a paltry 136 feet, not even close to the Bellingham tree. Sniffed the Times, "Friendly competition between communities for this Christmas-tree fame is acceptable. But to make a travesty of the contest by putting forth unfounded claims is scarcely in keeping with the spirit of Christmas."
Humbled, The Oregonian published a picture on Christmas Day of a Christmas tree with the tongue-in-cheek title "Can This Be Highest Christmas Tree?" But the tree was only two or three feet tall. The caption revealed that the tree had flown from Portland to Honolulu on Pan American World Airways the day before, reaching a height of 26,000 feet.
The Bellingham Jaycees were skeptical they could find a taller tree in 1950 and decided not to try for a new record. However, civic boosters in Seattle did, and that Christmas they mounted a 212-foot-tall tree at the city's new Northgate Mall. The record still stands, though it's sometimes incorrectly cited as 221 feet.
Bellingham's tallest tree claim was bested by Seattle's Northgate Shopping Center one year later, when a 212-foot Douglas fir was lighted on November 24, 1950 (Northgate Center lights the world's tallest Christmas tree) 
---
Sources:
Dean Kahn, "Hauling World's Tallest Christmas Tree in 1949 No Small Feat for Bellingham Trucker Abner Ludtke," Bellingham Herald, December 22, 2014, website accessed November 21, 2020 (https://www.bellinghamherald.com); "Tallest Christmas Tree?" The Oregonian, December 3, 1949, p. 6, "'World's Biggest' Tree Lighted," Ibid., December 15, 1949, p. 20; "Portland Boasts 'Highest Tree,'" Ibid., December 16, 1949, p. 5; "Can This Be Highest Christmas Tree?" Ibid., December 25, 1949, p. 9; "Tallest Christmas Tree?" The Seattle Times, December 5, 1949, p. 18; "Portland to Light 161-Foot Tree; It's Still Growing," Ibid., December 16, 1949, p. 7; "Poor Sportsmanship," Ibid., December 22, 1949, p. 6; Matt Benoit, "In Late 1940s, World's Tallest Christmas Trees Put Bellingham on the Map," Whatcom Talk, December 13, 2019, website accessed November 21, 2020 (https://www.whatcomtalk.com/2019/12/13/in-late-1940s-worlds-tallest-christmas-trees-put-bellingham-on-the-map/).
This article is courtesy of 
Historylink.org
, the free online encyclopedia of Washington state history
---