Stay Safe and Independent in Your Home
August 31, 2022 at 6:32 p.m.

---
...by Lori Clary, Older Adult Fall Prevention Specialist Washington State Dept. of Health
---
"My wife fell in the shower and I couldn't get her up, so I called 9-1-1 for help!"
"I missed the last step as I was carrying my laundry downstairs and fell and broke my hip."
Statements like these are more common than people realize.
For older adults or those who work with or care for older adults, here's a wake-up call: people 60 and older are at risk for a fall at home. In fact, 49% of all injury-related deaths among Washington state residents 60 years and older are due to unintentional falls. Nearly  22,000 residents 60 years and older were hospitalized for a fall-related injury in 2020.
The good news is that falls are preventable; they are not a normal part of aging.   
To help older adults stay safe, independent, active, and fall-free, the Washington State Department of Health (DOH) has implemented a fall prevention program called
Finding our Balance, Prevent Slips, Trips & Stumbles
,
http://www.doh.wa.gov/findingourbalance
. DOH partnered with county fall prevention coalitions, fire & EMS agencies, hospitals & emergency departments, area agencies on aging, evidence-based exercise programs, community social organizations, and other fall prevention advocates on public education on how to reduce the risk of falling.  It takes a coordinated approach to address fall risks so that older adults can improve their health and well-being, and through community referrals and resources, safely age in place.
As an older adult fall prevention specialist at DOH, I've learned many older adult falls are avoidable by identifying and removing safety hazards at home. These hazards include poor bathtub and toilet access, dim lighting, slippery throw rugs, poorly placed electrical cords, and a lack of handrails.
Although addressing these fall risks may seem like common sense, many older adults might not be aware of the importance of addressing these hazards.  
The home safety checklist below can help you identify potential fall hazards in your home.  Some fire departments offer free home safety assessments.  
For older adults who may not have the resources to correct the hazards, your local Area Agency on Aging can connect you with services and resources to help you stay safe at home, including no-cost or low-cost options.
Another risk area is medications. Some medications, or interactions between medications, can increase your fall risk. As the Washington State population continues to age, the welfare of older adults is a concern, especially for adult children of older adults.  We're finding that this issue is really hitting home.
Here are four ways you can reduce your risk of falling at home and stay safe, active, and independent as long as possible:
1. Have your medications reviewed by a pharmacist or primary care physician – especially if you have multiple doctors prescribing medications.
2. Once a year, get your eyes checked and glasses updated as needed. Poor vision can increase your risk of falling.
3. Have someone do a home safety assessment to identify and address fall hazards.
4. Exercise regularly, with a focus on increasing strength and balance.
One of the things we've discovered is that when older adults fall, they tend to call friends or relatives, but they may wait hours or days to receive medical help. If an older adult has fallen and needs help they should call 911 immediately. Fire department personnel can respond within a few minutes to give appropriate medical attention.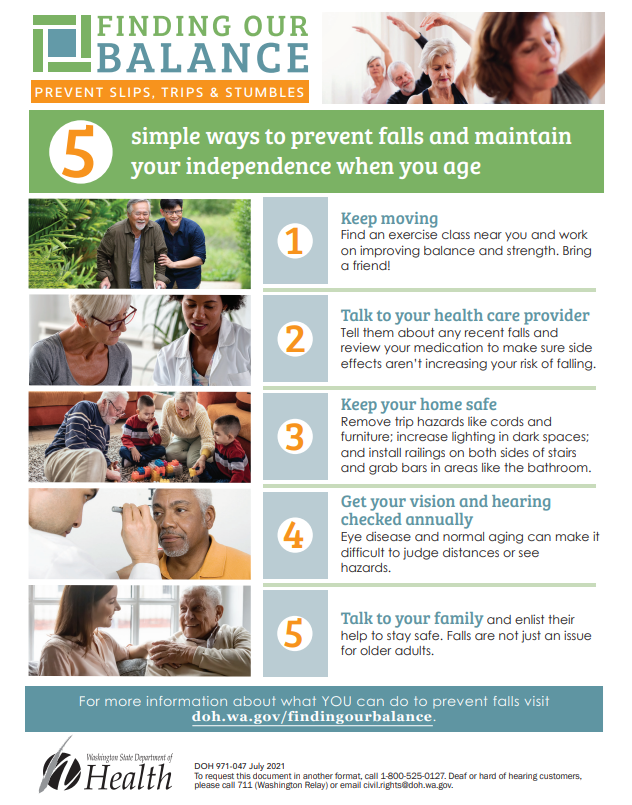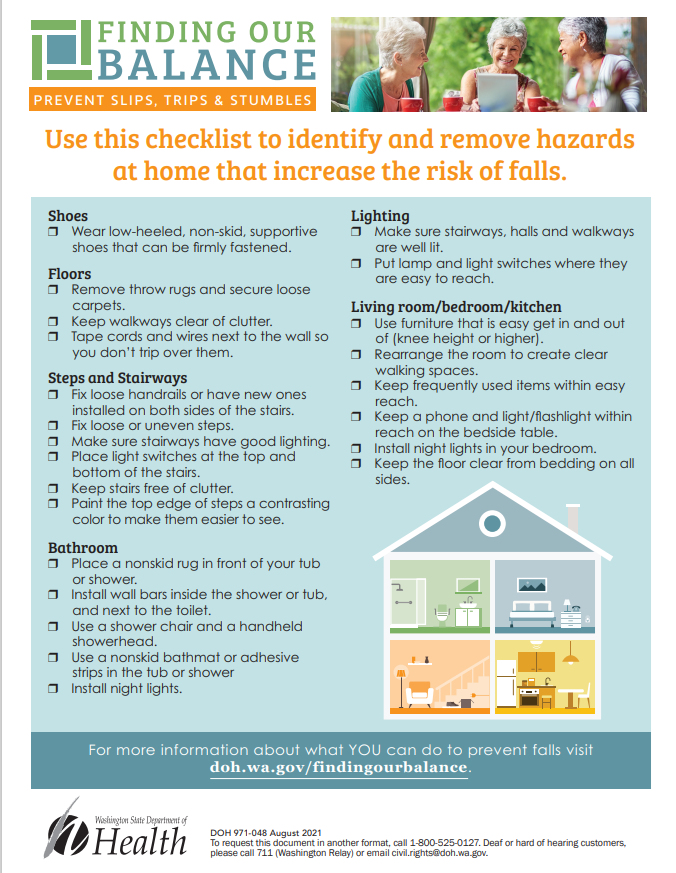 ---