Locals Seniors Share Words of Wisdom
August 20, 2022 at 8:53 p.m.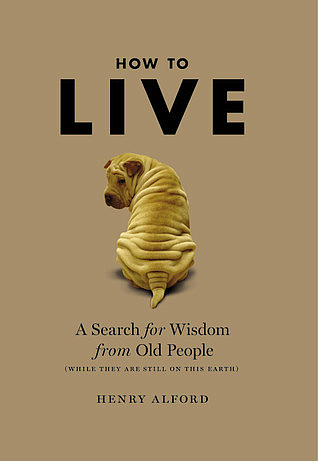 ---
While researching his book, How to Live: A Search for Wisdom from Old People (While They Are Still On This Earth), award-winning writer Henry Alford interviewed a wide variety of people over the age of 70 in an effort to deduce their hard-won wisdom.
Aging is a time of great self-mastery, said Alford. The people he interviewed were becoming more ambitious, wiser, and more wonderful as they age, he said. And scientific evidence shows that we do, indeed, grow wiser as we grow older.
While Alford was in Seattle, he was featured on KUOW (94.9FM). During the interview, KUOW invited listeners to share their nuggets of wisdom:
No matter how old you are, don't ever give up on something you think you'd like to do, jump right in and start to do it even if you ache all over. If you have a passion, follow it and be glad.
Be compassionate with yourself and others. Be grateful and let go of any illusions of control.
Don't wallow in regrets – adversity can be a friend. Keep a positive outlook and remember that even a kick in the rear is a step ahead.
Though moderation in all things is good advice, don't be too cautious in life – go for it, really live!
Exercise every day. Staying in shape physically is very important – it makes you feel good about yourself.
Family is important. Treat everybody as nice as possible and stay as humble as possible.
Watch your tongue and consider how your words affect others.
Thoughts on a long marriage: Wisdom is knowing what to overlook.
Have solid friends and faith, be money-wise and humble with lots of humor because life can't be planned for – you react to it.
Use your time wisely because you can't get it back.
Keep busy, read a lot, exercise, learn something new every day. Look out for people who might need a smile or a helping hand. When in pain, say 'this too will pass.' Enjoy your children and grandchildren. Don't give advice unless you're asked.
Laugh about your senior moments. Respect yourself and others, especially the elderly.
Life throws us so many spitballs, the more tools we have to deal with life the better, whether it be religion or art appreciation or secular wisdom.
Look at life and others through the lens of love.
Don't let physical incapacity change the way you relate to others or to life.
Keep intellectually active and enjoy what you're doing – do stuff that is stimulating and that you find fun.
To paraphrase Julia Child: There is no substitute for real butter – don't live your life by proxy. Be the star in your own movie.
This updated article originally appeared in the July/August 2009 issue of Northwest Prime Time, the Puget Sound region's online website celebrating life after 50.