A veggie family tree: Broccoli brothers, cabbage cousins and more
Winter in the Northwest can be warmed up with healthy veggie recipes
August 15, 2022 at 8:59 p.m. | Updated January 5, 2015 at 8:26 a.m.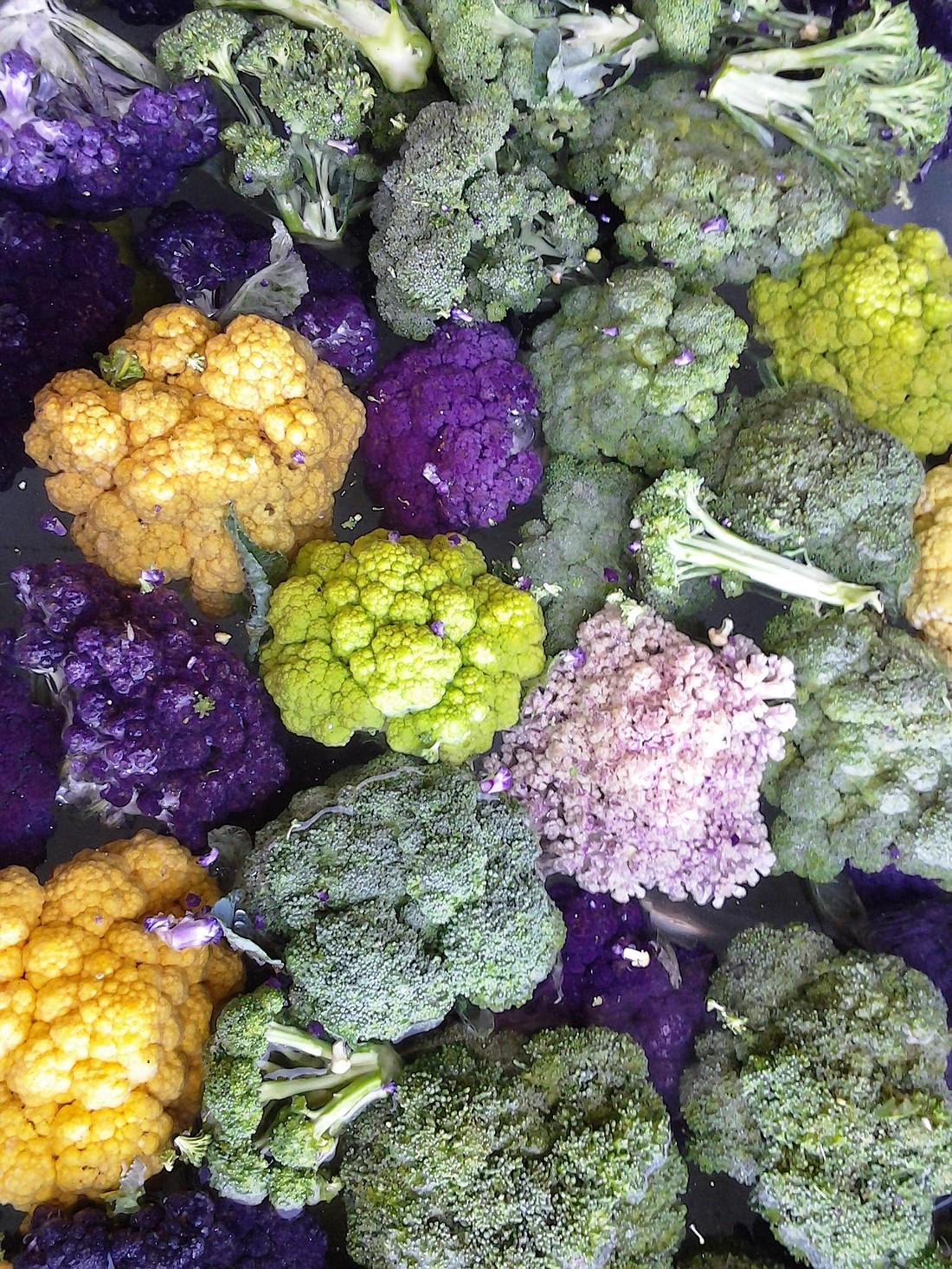 ---
---
Do you know what kale, broccoli, cabbage, kohlrabi and cauliflower have in common? They are all Brassicas, one of the most commonly eaten plant families around the world.
Brassicas are sometimes called cruciferous vegetables because the leaves of most plants in this family grow in opposite pairs and form a cross. You are eating Brassicas when you chomp down on radishes – those are the roots. When you eat cabbage, kale and arugula, those are the leaves. Broccoli and cauliflower are the flowers. Kohlrabi, bok choy and gai-lan (Chinese broccoli) are stems.
Here are some tips on how to buy a few of the most common varieties:
• Arugula, spinach, bok choy, mustard or turnip greens – choose bright green, crisp leaves.
• Turnips, rutabagas and other roots – buy firm, solid roots that are heavy for their size.
• Kohlrabi, Brussels sprouts, cabbage – look for tight heads/buds. For kohlrabi and Brussels sprouts, smaller is better.
• Broccoli, cauliflower – choose tender, firm stalks and tight buds. Cauliflower shouldn't have dark marks.
What's even better is this veggie family is high in vitamin C, A and K, and has lots of fiber. People who eat a lot of them have lower cancer rates. Preparing them with flavorful, low-salt recipes will make them heart- and kidney-friendly, too!
Patricia Hailey's Kale and Turnip Greens
A winning recipe from the 2008 Northwest Kidney Centers "Food for the Soul" recipe contest.
1/2 cup olive oil
1 pound kale, chopped
1 pound turnip greens, chopped (mustard greens work also)
1 onions, chopped
1 clove garlic, minced
2 tomatoes, chopped
Wash kale and greens thoroughly. Heat olive oil in a large skillet. Add onions and cook until soft. Add garlic, then tomatoes. Cook over medium-low heat, uncovered for 5 minutes. Meanwhile, chop greens. Lay greens over tomato mixture, cover with lid and cook for 15 minutes or until all greens are wilted.
Makes 10 servings.
Nutrient information (per ½ cup serving): calories: 57, carbohydrates: 8 g, protein: 2 g, sodium: 33 mg
Collard Greens and Rice
4 cups collard greens, leaves stripped off stems and coarsely chopped
2 slices bacon, diced
1 cup long-grain rice
2 cups low-sodium vegetable broth
1/8 teaspoon hot pepper sauce
1 tablespoon fresh basil, chopped
Over medium heat, sauté bacon in medium sauce pan until crisp. Add collard greens. Stir and cook for 1 minute. Add remaining ingredients, heat to slow boil. Cover and simmer until rice is tender, about 25 minutes. Remove lid, stir in basil, and cook until somewhat dry.
Makes 4 servings.
Nutrient information (per serving): calories: 221, carbohydrates: 41 g, protein: 8 g, sodium: 138 mg
Lemon Gai-Lan
1 pound gai-lan, coarsely chopped
¼ cup low-sodium vegetable broth
Juice of 1 lemon and grated peel
4 tablespoons butter or margarine
1 tablespoon fresh parsley, chopped
1 tablespoon Kafir lime leaf, chopped fine (optional)
Plunge gai-lan into large pot of boiling water until bright green and crisp-tender, about 3-4 minutes. Rinse with cold water until cool. Drain and set aside. In large skillet, over medium heat, combine broth and lemon juice. Bring to a boil and reduce liquid by half, about 4 minutes. Add butter and stir until smooth. Add gai-lan, Kafir lime leaf and lemon peel. Cook until just warmed, about 2 minutes, then sprinkle with parsley.
Makes 4 servings.
Nutrient information (per serving): calories: 106, carbohydrates: 1 g, protein 0 g, sodium: 138 mg
Broccoli with Hollandaise sauce
1 tablespoon olive oil
1 ½ pounds broccoli florets
2 egg yolks
½ cup butter or margarine
1 tablespoon lemon juice
½ teaspoon white wine vinegar
Dash paprika
Dash cayenne pepper
Cut broccoli into bite-size pieces. Put in fry pan and sauté with olive oil about 5 minutes, until broccoli turns bright green. Cover and cook about 5 more minutes. Meanwhile, place egg yolk and half the butter/margarine on top of a double boiler. Cook over hot, not boiling, water and stir until butter melts. Once mixture begins to thicken, add the remaining butter, stirring constantly. When all the butter is melted, remove top of pan from water and stir quickly for about 2 minutes. Gradually add wine vinegar, lemon juice, paprika and cayenne pepper, stirring constantly. Place pan over hot water again, stir sauce until thick, 2-3 minutes. Serve immediately over broccoli. If sauce curdles, quickly beat in 1-2 tablespoons of boiling water.
Makes 4 servings.
Nutrient information (per serving): calories: 105, carbohydrates: 10 g, protein: 6 g, sodium 50 mg
Red Cabbage with Apples
1 onion, coarsely chopped
2 tablespoons olive oil
¼ cup cider vinegar
2 tablespoons brown sugar or honey
1 green apple, cored and thinly sliced
1 small head red cabbage, coarsely shredded
In large skillet, sauté onion in oil until softened, about 5 minutes. Mix in vinegar and sugar. Add cabbage and apple. Bring to a boil. Reduce heat, cover and simmer until cabbage wilts, about 10 minutes.
Makes 4 servings.
Nutrient information (per serving): calories: 107 calories, potassium: 200 mg, sodium: 58 mg
Kale and Chard Egg Bake
4 cups fresh kale and Swiss chard, mixed
2 cups rice, cooked
1 cup cheese, cheddar or Swiss, grated
2 eggs, beaten
2 tablespoons butter or margarine, melted
1/3 cup milk
2 tablespoons onion, chopped
½ teaspoon Worcestershire sauce
1 teaspoon fresh rosemary and/or basil, chopped
Remove leaves from stems of kale. Chop Swiss chard finely. Mix all ingredients. Pour into greased baking dish. Bake at 350 degrees for about 30 minutes, until knife inserted comes out clean.
Makes 4 servings.
Nutrient information (per serving): calories: 347, carbohydrates: 31 g, protein: 15 g, sodium: 322 mg
Collard Greens
½ tablespoon olive oil
½ onion, chopped
3 cloves garlic, minced
1 large bunch collard greens, stems removed
1/8 teaspoon black pepper
½ teaspoon red pepper flakes
1 ½ cups low-sodium vegetable broth
2 tablespoons vinegar
Heat oil over medium heat. Add onions and garlic and cook until soft (do not brown). Add ¼ of the greens and toss with onions and garlic. When greens are wilted, add remaining greens in batches until all are added and wilted. Mix in black pepper and red pepper flakes. Add broth and bring to a boil. Reduce heat and simmer for 20 minutes or until tender. The broth should be almost completely reduced. Sprinkle with vinegar before serving.
Makes 4 servings.
Nutrient information (per serving): calories: 51, carbohydrates: 5 g, protein: 3 g, sodium: 35 mg
The information in this column is meant for people who want to keep their kidneys healthy and blood pressure down by following a low-sodium diet. In most cases, except for dialysis patients, a diet high in potassium is thought to help lower high blood pressure. These recipes are not intended for people on dialysis without the supervision of a registered dietitian.
[Katy G. Wilkens is a registered dietitian and department head at Northwest Kidney Centers. The 2014 recipient of National Kidney Foundation Council on Renal Nutrition's Susan Knapp Excellence in Education Award, she has a Master of Science degree in nutritional sciences from the University of Washington. See more of her recipes at www.nwkidney.org.]
---
---
Raft Horseshoe Bend for an up close and personal experience with this iconic landmark
Draw a circle around Page, AZ and you'll find numerous natural wonders. Among them is Horseshoe Bend, undoubtedly one of the most spectacular landscapes in the state. This near-perfect circular canyon, which is located in Glen Canyon National Recreation Area, was carved into the earth by the Colorado River and is a result of erosion. It was formed by water following its natural path of least resistance, however, in this case, the route was not a straight line, but rather a substantial 270 degree curve.
---
Remembering Bob Harmon
There are some people you first meet for an interview you just know you're in for a memorable treat. Bob Harmon was one of those people.
---
STAND UP FOR YOU
Medical Elder Abuse
"His curt response was, 'Well, that's how it's going to be.'"
---
KILLER BEES?
TERROR AT THE LAKE
"They'd still be swarming around us."
---
Boomerish!
"Writing Boomerish has been great fun"
---