Fruit cobblers are the best
Life is short, make dessert first
July 1, 2021 at 2:00 p.m.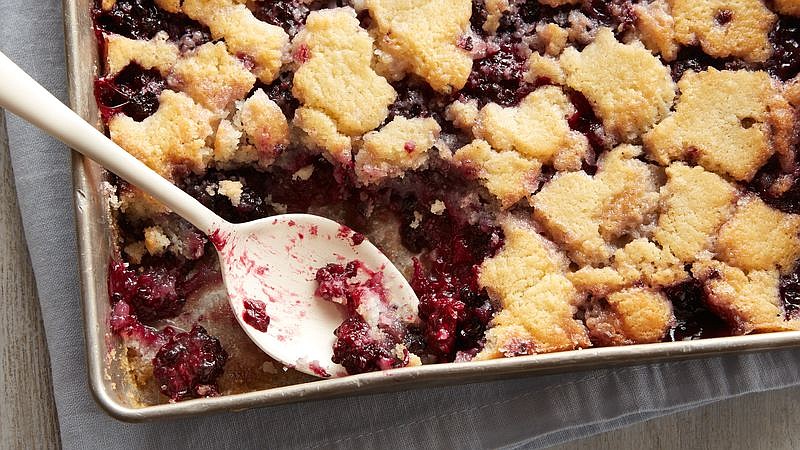 ---
By Katy Wilkens, MS, RD 
Nutrition and fitness manager, Northwest Kidney Centers
There is something very special about a baked fruit dessert. Nothing takes us back to our pioneer roots like a cobbler or a crisp. Fast and flavorful, these desserts were whipped up by cooks who were feeding lots of people and didn't have time to
fuss over a crust. These recipes are low in sodium and high in flavor.
What's the difference between a crisp and a cobbler? The topping on fruit crisps is usually not raised with a leavening agent, and it usually relies on oats and flour plus butter to give it a crunchy, toasted flavor. Cobblers have a biscuit-like topping that melts in your mouth. Try these two flexible recipes. Both allow you to use whatever fruit is in season, top it with a crunchy or biscuit-type crust and tailor the flavorings to your taste. 
Fast fruit cobbler or crisp
½ cup sugar, if using fresh fruit (Omit sugar if fruit is canned in syrup)
1 tablespoon cornstarch, flour or instant tapioca
1 teaspoon lemon juice or vanilla extract
4 cups fruit, choose one: fresh, frozen or canned peaches, blueberries, cherries, plums or blackberries
Cobbler topping: 
½ cup white flour
½ cup wheat flour
1 tablespoon sugar
½ teaspoon ground cinnamon
2 teaspoons baking powder (salt-free if available)
3 tablespoons butter
½ cup milk 
Crisp topping: 
1½ cups raw oats
1 cup flour (wheat, white or both)
½ cup brown sugar
½ cup melted butter
1 teaspoon cinnamon 
Preheat oven to 400 degrees.
For cobbler:
Mix together flours, sugar, cinnamon and baking powder. Cut in butter using a fork until well mixed and crumbly. Stir in milk. Set aside.
For crisp:
Mix together oats, flour, brown sugar, melted butter and cinnamon. Set aside. 
Filling for both cobbler and crisp: 
In saucepan, stir together sugar and cornstarch (or flour or tapioca). Add lemon juice or vanilla and fruit. Stir constantly and bring to a boil. Let boil one minute, pour into 2-quart casserole or glass cake pan.   
For cobbler:
Top fruit with large spoonfuls of topping, at least one per person you will be serving. Space between spoonfuls is fine; they will rise and fill in.
For crisp:
Sprinkle topping evenly over fruit.
Put a tray or piece of aluminum foil below dish to catch excess filling, which may bubble over. Bake about 25-35 minutes, until filling is bubbling and top is golden brown. Makes 6-8 servings. 
Nutritional information:
Cobbler:
With fresh fruit:
Calories: 220, Carbohydrates: 41 grams, Protein: 4 grams, Sodium: 54 milligrams, Potassium: 340 milligrams, Phosphorus: 173 milligrams
 With canned fruit:
Calories: 241, Carbohydrates: 47 grams, Protein: 4 grams, Sodium: 58 milligrams, Potassium: 347 milligrams, Phosphorus: 177 milligrams
Crisp:
With fresh fruit:
Calories: 361, Carbohydrates: 58 grams, Protein: 5 grams, Sodium 106 milligrams, Potassium: 150 milligrams, Phosphorus: 35 milligrams
 With canned fruit:
Calories: 379, Carbohydrates: 63 grams, Protein: 5 grams, Sodium: 110 milligrams, Potassium: 157 milligrams, Phosphorus: 39 milligrams

Want to learn more about Eating Well and Living Well? Katy G. Wilkens leads a team of registered dietitians that teach FREE nutrition classes at convenient times and locations around Puget Sound. The Eating Well, Living Well classes teach people how to eat healthier to slow the progress of kidney disease and postpone dialysis. Studies show that working with a registered dietitian can postpone dialysis for as long as two years. Learn more at www.nwkidney.org/classes.
 

[Katy G. Wilkens is a registered dietitian and department head at Northwest Kidney Centers. The National Kidney Foundation Council on Renal Nutrition has honored her with its highest awards for excellence in education and for significant contributions in renal nutrition. She has also been awarded the Medal of Excellence in kidney nutrition from the American Association of Kidney Patients.]