Sam Shepard's "True West" Provides An Explosion of Energy At Seattle Rep
January 25, 2020 at 3:07 p.m.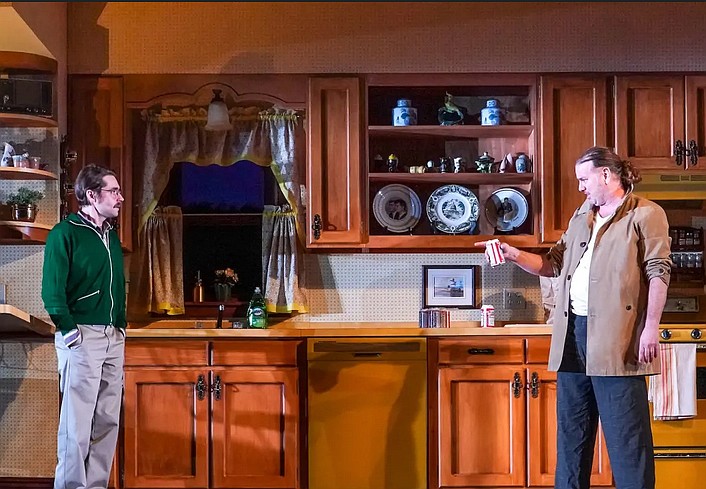 ---
---
Seattle Rep's latest offering True West is different from anything I have ever seen on stage. Although it's fairly violent and filled with physical conflict, the audience continues laughing throughout.
In the thirty-seven minute first act, we're introduced to Lee and Austin, two adult brothers who are house sitting for their mother in Southern California. Austin, played by Zachary Ray Sherman, is a nerdy screenwriter. Austin's brother Lee, played by Kevin Anderson, is a bullying drifter and thief who shows up at the house and immediately begins threatening Austin and his peaceful writing environment.
Later, Lee interrupts Austin's meeting with producer Saul, played by Brandon J. Simmons, and threatens Austin's deal with Saul. Then, the two brothers essentially switch places because Lee sells Saul on a completely different idea for a movie. The balance of the show is a chaotic argument between the two brothers until Mom shows up near the end.
By that time, the entire set has been seriously trashed. The diminutive Lori Larsen plays Mom perfectly, causing the brothers' chaos to abruptly stop for a while. Still, once she leaves, the fighting starts right up, and the audience continues to wonder if they should be laughing or concerned for the welfare of the brothers.
All in all, the Rep really turns live theater upside down with this show as it provides an entertaining look at a male relationship in a way that's pretty much no holds barred. True West is a classic show, but it stands tall as a contemporary piece on the edge of what is possible in live theater.
True West continues at Seattle Rep through February 16.
L. Steven Sieden is a writer, event producer and global futurist. His books include "Buckminster Fuller's Universe" and "A Fuller View, Buckminster Fuller's Vision of Hope and Abundance For All". He has been reviewing Seattle area theatre and live entertainment since 2012.