Village Theatre's "She Loves Me" Is a Charming, Beautifully-Staged Rendition of a Classic Musical
January 22, 2020 at 12:13 p.m.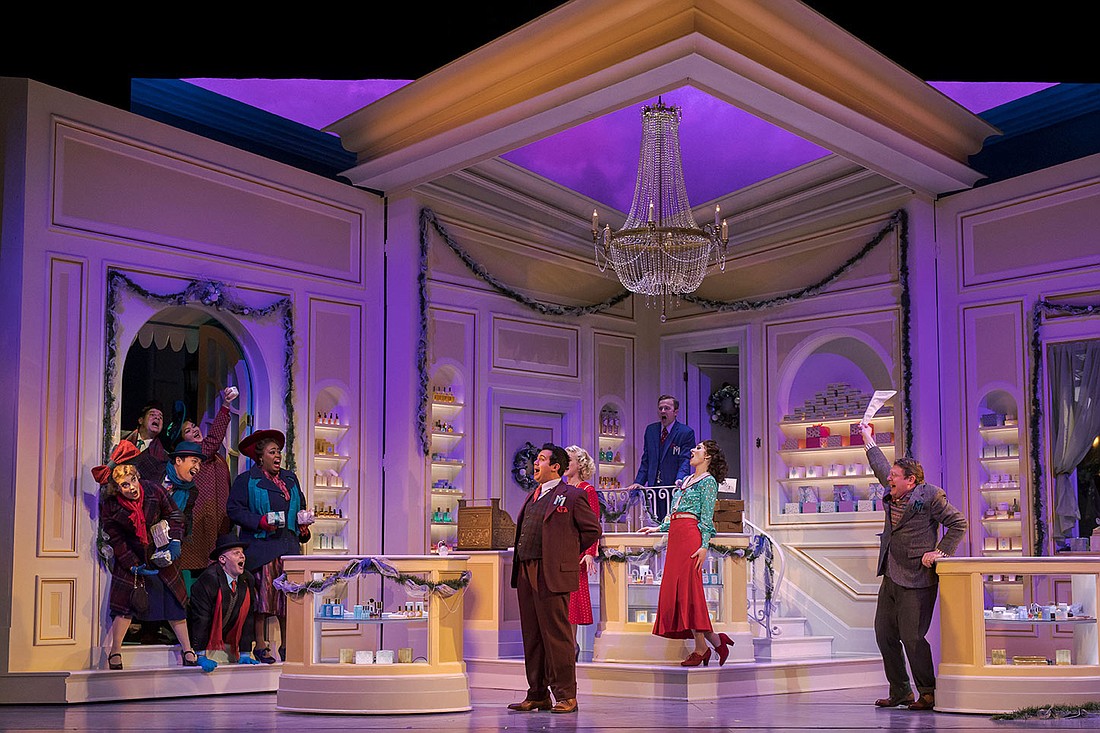 ---
---
Village Theatre's latest offering She Loves Me is probably the best live theater available to Seattle audiences today. With only 488 seats in their main theater, Village Theatre provides every patron with an intimate, full spectrum, visual and acoustic theater experience. Unlike some larger Seattle venues converted from movie theaters, Village Theatre provides patrons with a great space to experience live theater.
Add to that a cast dominated by experienced equity actors as well as staging and costumes that are truly magical, and you've got She Loves Me at its finest. From the opening overture to the closing curtain nearly three hours later, the cast of this show fills the stage with song, dance, humor and intimate moments worthy of the best romantic comedy.
And She Loves Me is a classic romantic comedy. Based on the 1937 play Parfumerie by Miklos Laszlo, She Loves You delivers the same quality and experiences as the RomCom movies You've Got Mail, In the Good Old Summertime and The Shop Around the Corner - all of which were based on Laszlo's play. Village Theatre's latest version tells the story with a panache and vibrancy that can be felt in the back row where I was sitting.
The visuals and staging are spectacular with a set that shifts seamlessly from outside the Parfumerie to inside as the shop opens like a dollhouse to reveal an almost magical interior. The actors don't miss a beat with great singing, dancing and humor. Of particular note are the two female leads Allison Standley as Amalia Balash and Taryn Darr as Ilona Ritter. Both sing and dance with a vibrancy that makes a mark every time they are on stage. Ms. Standley's Amalia is especially animated and noticeable as she hits and holds notes that seem beyond possible.
She Loves Me is a show that should not be missed, even if one has to travel "all the way from Seattle," something I continually hear. However, one nice thing about the theater in Issaquah is that parking is much easier to find and cheaper (usually free) than urban Seattle parking.
All in all, She Loves Me is great fun and a perfect date night experience. The only spoiler I will provide is that this show follows the 1960's mode of a long first act (90 minutes), which most of us don't handle well in a live theater setting.
She Loves Me continues at Village Theatre in Issaquah through February 23 before moving to the Everett Performing Arts Center for a run from February 28 through March 22.

L. Steven Sieden is a writer, event producer and global futurist. His books include "Buckminster Fuller's Universe" and "A Fuller View, Buckminster Fuller's Vision of Hope and Abundance For All". He has been reviewing Seattle area theatre and live entertainment since 2012.