AARP's "Movies for Grownups" awards
February 12, 2020 at 4:55 p.m.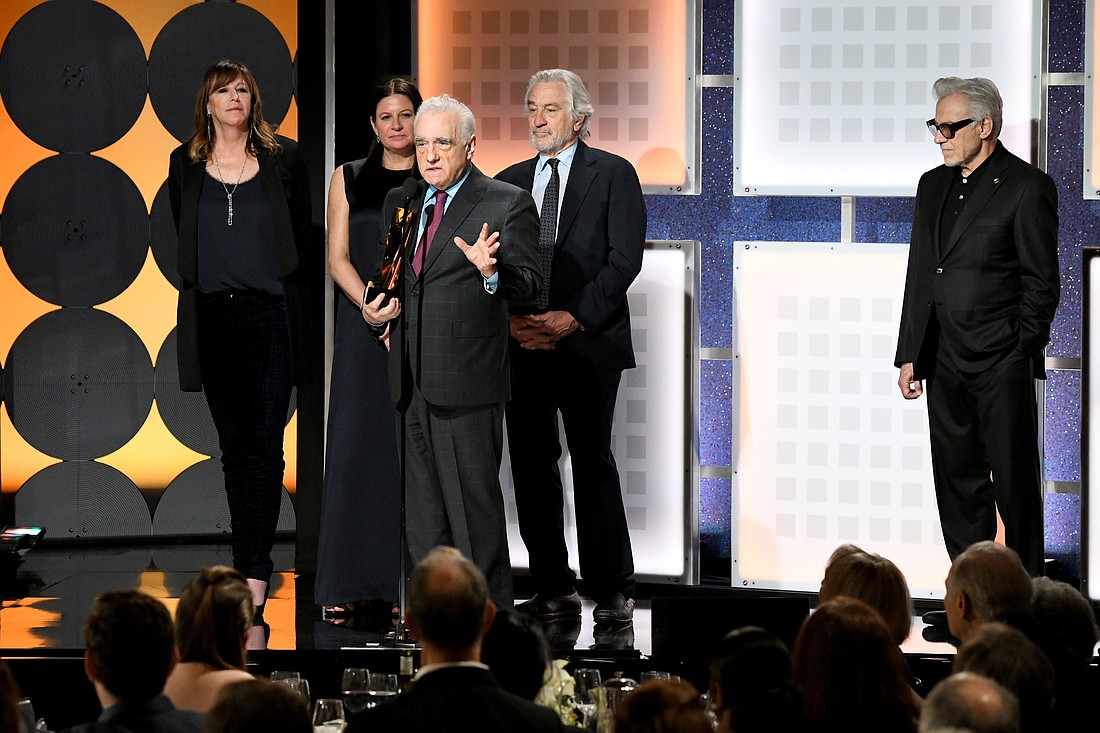 ---
---
By Maddie Smith
It's that time of year again. Cash in on your senior discount and make a beeline for the theatre because AARP revealed the winners of their annual 'Movies for Grownups' awards. Alternatively, streaming services like Netflix allow you to stream or download many of these movies and enjoy them from the comfort of your own couch. The awards included a broad range of categories to capture the attention of movie lovers far and wide. Here is a list of the winners:
Best Movie for Grownups: The Irishman
---
---
"The Irishman'' is a reflective film about aging members of the mafia. Acting with a little more grace than previously in his mafia career, protagonist Frank Sheeran, played by Robert De Niro, shares life lessons and relationships with mentors. De Niro costars with well-known mafia actors Al Pacino, as Jimmy Hoffa, and Joe Pesci, as Russell Bufalino.

---
---
Career Achievement: Annette Bening
From her role in Academy Award winning "American Beauty" in 1999 to her 2019 role in "Captain Marvel," Bening has not stopped acting. She has 35 feature films and several roles in television series under her belt. At the age of 61, Bening receives grownup awards for her impact on the film industry.
Best Actress: Renée Zellweger
---
---
Nominated for her lead role in "Judy" in 2019, 50-year-old Zellweger amazes viewers as Judy Garland. Past lead roles for Zellweger include Bridget Jones in "Bridget Jones's Diary" and Jane in "My Own Love Song."
Best Actor: Adam Sandler
---
---
Sandler stars in "Uncut Gems," performing a more serious than the familiar "Saturday Night Live" Sandler we all know and love. This sudden change in tone didn't stop the 53-year-old actor from knocking the role out of the park. Howard, Sandler's character, will have you sitting at the edge of your seat with his erratic actions and endless debt.
Best Supporting Actress: Laura Dern
---
---
Dern's role as divorce attorney Nora Fanshaw in "Marriage Story" earned her title of best supporting actress. Dern delivers a personable, witty and brutally honest performance. At 52, she lights up the big screen after her previous mesmerising role as Renata Klein in hit television show "Big Little Lies."
Best Supporting Actor: Tom Hanks
Hanks delivers a feel-good performance as Fred Rogers in "A Beautiful Day in the Neighborhood," doing the part justice. Hanks is a veteran in the film industry at age 63. He is well known for films like "Forrest Gump" and "Sleepless in Seattle" and will be starring as Ove in "A Man Called Ove," which was recently announced.
Best Director: Martin Scorsese
---
---
At age 77, Scorsese has a long history with directing mob movies with films such as "Mean Streets," "Casino" and "Goodfellas" under his belt. To deliver a new experience to his audience, Scorsese slows down the mobster action in "The Irishman" for the aging characters. The film clocks in at three and a half hours, and was nominated for 10 Academy Awards.
Best Screenwriter: Noah Baumbach
---
---
Baumbach's take on divorce evolved from his previous satire films. "Marriage Story" details the divorce of a stage director husband and an actor wife and the legal battle spanning the U.S. which follows suit. At age 50, Baumbach delivers a moving and relatable film loosely based on his own divorce.
Best Intergenerational Film: The Farewell
---
---
"The Farewell" is based on the experiences of director Lulu Wang. The protagonist visits her aging grandmother in China after she is suspected to have a terminal illness. Cultures collide between the American relative and Chinese family and the relationships that follow charm viewers in this family-oriented comedy.
Best Ensemble: Knives Out
---
---
"Knives Out" is another family-oriented movie, but with gothic undertones. After the patriarch of a family dies, the rest of the family tries to reveal who the killer is with an air of suspense. With a very valuable will on the line, family dynamics flare in this thrilling yet witty film.

Best Time Capsule: Harriet
Written and directed by Kasi Lemmons, "Harriet" artfully portrays heroine Harriet Tubman and her 14 trips through the underground railroad. Cynthia Erivo delivers an impactful performance as Tubman, from pioneer of the underground railroad to a leader for Union soldiers during the Civil War.

Best Foreign Language Film: Pain and Glory
---
---
Popular Spanish director Pedro Almodovar woos his audience again with his newest film "Pain and Glory." Almodovar shares a personal reflection on his life through lead actor Antonio Banderas. At age 70, Almodovar takes viewers through ailments related to aging, and down memory lane of the protagonist's childhood.
Best Documentary: Linda Ronstadt: The Sound of My Voice
---
---
Linda Ronstadt's radiant personality and soulful voice is remarked and reflected in her documentary created by filmmakers Rob Epstein and Jeffrey Friedman. Ronstadt's assorted repertoire highlights her artistic versatility and her personal relationships show her diverse dating history. A trailblazer for women in the music industry, Ronstadt dabbled in rock, pop, country, folk, opera and mariachi. Her album "Canciones de Mi Padre" remains the No. 1 best selling non-English album in U.S. history.
Readers' Choice: A Beautiful Day in the Neighborhood
AARP readers choose the beloved "A Beautiful Day in the Neighborhood," a tribute to Mister Rogers. The film touches on the dark aspects of human nature, as well as some of the wonderful aspects. Tying it all together with love, this feel-good film delivers nostalgic reassurance.

To see what AARP has to say about the winners and to view photos and commentary about the "Movies for Grownups" awards show, visit aarp.org.