Be a beach steward
Beach etiquette and clean up
September 11, 2019 at 5:00 p.m.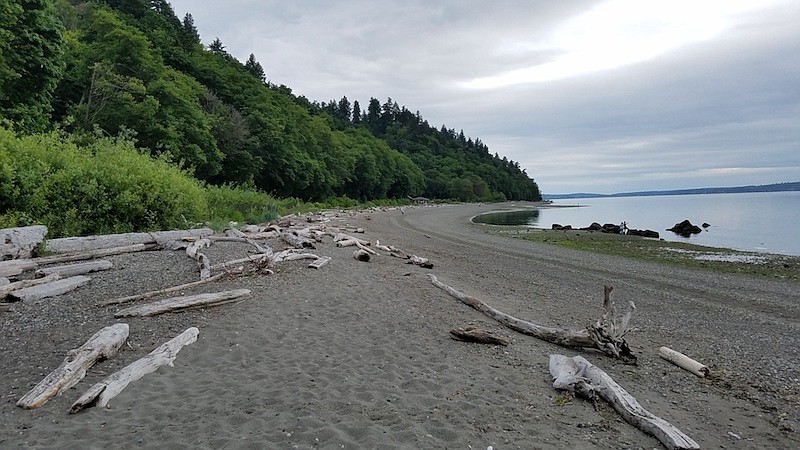 ---
---
The Environmental Science Center (ESC), based at Seahurst Park in Burien, encourages community members to take care of the environment we live in and to be proactive beach stewards. This means that when you take a stroll at your local shoreline, be careful not to damage wildlife and don't take anything away… unless it's trash!
"We want to help empower people to take care of their backyard, wherever that backyard is," ESC Community Engagement Manager Kharli Rose said.
When taking beach walks on the shore, ESC wants you to always be a STAR!
Step carefully: Be very careful when walking on the beach to not step on animals, their homes or eggs. There is so much life at your feet and each creature is an important part of the beach habitat, so make sure you watch where you step and don't trip!
Touch with two wet fingers: Marine organisms have wet bodies, so touching them with a dry finger can be very harmful. We must wet our fingers before gently touching organisms. Two fingers limits poking with one.
Ask people to come to the creature-- leave it there: Bend over to look at animals instead of picking them up. Let others know you have made a discovery and to come explore. Moving small animals is like you being picked up and set down in another country!
Respect the beach-- leave it as you found it: leave rocks and shells on the beach since they are homes for marine organisms. Leave organisms where they are found and keep all natural items in the park. The one thing we can take from the beach: TRASH!
(By the ESC.)
Animals that are already under stress when the tide goes out are then vulnerable to beachgoers; it is fun to be naturally curious, but be careful not get overexcited and harm the sea life by stepping on it or taking it. Be a steward by leaving shells and glass where you found them rather than taking them home as souvenirs. Additionally, do what you can to educate others on beach etiquette.
"Unless you're taught why and how you can be a better steward, you just don't know," Kharli said. "People generally care about the animals and [the environment]."
---
---
Rather than collecting shells, bring a trash bag and litter stick or gloves next time you go for a stroll on the beach. Collecting litter from shorelines reduces the chance of contaminating the water and harming sea life. The ESC plans regular beach cleanups to get the community involved in reducing the amount of trash on our shores.
The next cleanup is on Saturday, September 21 from 2-4pm at Seahurst Park in Burien. The ESC will provide materials such as litter sticks, trash bags and gloves. Volunteers of any age can register to help out at www.envsciencecenter.org/international-coastal-cleanup/ (Call 206 248-4266 for more information).
---
---
One thing to keep in mind while cleaning up is the moon snail, disguised as trash. They may look like litter, but are living animals! Moon snails and their sand collars are rubbery-feeling rings that may look like the end of a plunger, but are actually living snail castings maturing before they break apart and grow on the beach. Learn about more protecting local beach creatures at ESC's fall lecture series throughout September and October at www.envsciencecenter.org/events/protecting-our-watershed-series.