A trip to Chelan
Beautiful views and a variety of activities attract vacationers to Chelan and Manson
September 3, 2019 at 12:00 p.m.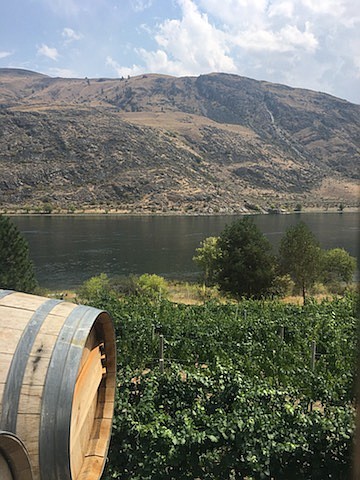 ---
---
The cities of Chelan and Manson offer an eventful getaway weekend or week, ideally in the spring and summer, but enjoyable any time of year. From the south side of Lake Chelan, through downtown and winding around north of the lake toward Manson, visitors settle into timeshares and hotels, grab lunch and dinner al fresco, ride jet skis and taste local wines.
I've been visiting Chelan regularly since as early as my memories begin. As a child, I would look out the car window at the end of our road trip and see acres of fruit orchards and vineyards. They cover the hills in patches, along with neighboring resorts, snow cone stands, shoreline, a water park and more. My parents have vacationed in the area since 1985; starting in 2002 when I was five years old, we look forward to our week as a family in the summertime sunshine at Lake Chelan Shores.
Places to stay: Lake Chelan Shores resort (www.lakechelanshores.com, 509 682-4531) is close to both downtown Chelan and Manson and has several pools, a boat launch, playground and tennis courts.
---
---
Grandview on the Lake (www.grandviewonthelake.com, 509 682-2582) is another lake-front option that offers a variety of condominiums and rooms. Visitors on a budget look toward Apple Inn (www.appleinnmotel.com, 509 682-4044), located at the edge of downtown and next to the traditional Apple Cup Cafe (www.applecupcafe.com, 509 682-5997). Campbell's Resort and Restaurant (www.campbellsresort.com, 509 682-2561) is highly rated and well known in the area since 1901.
Stehekin: Fifty miles up the lake from the city of Chelan and only accessible by boat, plane or hike is the community of Stehekin. With a population of less than 100 permanent residents and no cell phone service, visitors will find themselves blissfully out-of-touch while exploring this secluded pocket of the North Cascades. They spend their time fishing, on nature walks, sampling local art and food, and chatting with locals. I visited Stehekin in 2010 when my cousin, who spent some of her childhood growing up in Stehekin with my aunt, had an art show displayed for the week. We stayed in a small cabin (lacking locks, a commonality for the teeny town), took walks to swim in the ice-cold river and to the Stehekin Pastry Company to eat sticky buns. I even got to see a black bear in our cabin's front yard! Check out www.stehekin.com or call (888) 682-4584 to learn more about taking a trip to the other end of the lake.
Places to eat: Lakeview Drive-In, (www.lakeviewdrivein.com, 509 682-5322) which changes hours based on season, has been a regular stop for many locals and visitors craving juicy cheeseburgers or creamy milkshakes and fries since 1957. Right off of Manson Highway and overlooking Lake Chelan from the east, Lakeview is packed around lunchtime and all throughout the weekend. The burger joint neighbors a boat-launch; watching the boaters maneuver in and out of the water is a great past time while waiting for your food.
For a laid-back atmosphere with good drinks and American-classic food, locals visit B.C. MacDonald's (509 682-1334) on historic Woodin Avenue. After dinner, customers buy ice cream cones from a small parlor just off the entrance of the restaurant.
Plentiful pizza places scattered throughout Chelan include long-time Company Creek on Manson Highway, Local Myth, Troy's, and the small chain, Westside Pizza on Woodin Avenue.
Marcela's Cocina Mexicana (www.marcelascocinamexicana.com, 509 682-4754) is another long-time favored restaurant in downtown Chelan. Marcela's serves a variety of classic Mexican food and drinks in a relaxing and comforting atmosphere.
Activities:
Explore downtown: Off of Woodin Avenue and between Columbia Street and North Emerson Street, visitors shop in a variety of small boutiques and local businesses. Riverwalk Books (www.riverwalkbooks.com, 509 682 8901) is one of the shops that stays busy in an ever-growing seasonally-tourist town. Another classic is The Shirt Shop (www.theshirtshopchelan.com, 509 682-5789), where customers can buy customizable souvenir clothing, generally reading 'Lake Chelan' on the front or back.
---
---
A block down from Woodin Avenue, visitors and locals stroll along the Riverwalk, an approximately 1.5-mile path surrounding and crossing the Chelan River. Down this short trail, walkers reach a view of the Lake Chelan Hydroelectric Project, a historical concrete dam first built in 1892 to maintain the level of the lake and generate power for Chelan County.
Visitors can learn more about the history of the city at the Chelan Museum (www.chelanmuseum.com, 509 682-5644) and Lake Chelan Historical Society, located at 204 and 206 E. Woodin Ave. Events occurring throughout the year can be found on the historical society's website, www.historicchelan.org/events-menu/
Wineries: Regardless of where in Chelan or Manson you end up, you will find a winery to enjoy, generally on property alongside the grapes grown for those very wines. Wine tastings are generally four to six sips of whites and reds for $5-10, often waived with a bottle purchase. Cideries are a new addition to wineries in Eastern Washington; hard apple cider is fermented similarly to wine with a slightly lower alcohol content.
---
---
Lake Chelan Winery (www.lakechelanwinery.com, 509 687-9463) is not only popular for their award-winning wines, but now for their award-winning ciders and tasting room. More popular wineries located off of Highway 150 include Vin Du Lac Winery (www.vindulac.com, 866 455-9463), Cairdeas Winery (www.cairdeaswinery.com, 509 687-0555) and Benson Vineyards (www.bensonvineyards.com, 509 687-0313). Take a scenic drive north on Highway 97 (about 15 minutes from downtown Chelan) to visit Rio Vista Wines (www.riovistawines.com, 509 682-9713) on the Columbia River.
Farmer's markets and street fairs (seasonal): Wineries, fruit orchards, farmers, local artists and more set up shop at seasonal farmer's markets in downtown Chelan. Find fresh eggs and produce, fruits and jams, jewelry and pottery, paintings and more in Chelan at the corners of South Emerson and East Wapato Streets on Thursday evenings from 4-7pm, late May through late September.
Picnic in the park (seasonal): Watch the lake sparkle in your peripheral vision on your way north up Highway 150 and just past the city of Manson. Stop for a picnic at Willow Point Park, (165 Willow Point Road, Manson) where visitors walk down a set of stairs to a field of grass, separated from the lake by a rocky, yet sandy shoreline. Lakeside Park (105 E Johnson Ave, Chelan) is a similar, more accessible option on the opposite side of downtown Chelan, where the parking lot borders a grassy park and leads to a longer, mostly sandy beach.
Boating (seasonal): Whether you have your own boat or rent one from one of the many boat rental facilities downtown and in Manson, a daytime or sunset trip on the water can be relaxing and/or filled with swimming and watersports such as wakeboarding and inner tubing for active groups.
---
---
From speed boats and pontoons to jet skis, kayaks and paddleboards, water vessels scatter across the surface of Lake Chelan as far as the eye can see. Check out Lakeshore Watercraft and Boat Rentals (www.chelanjetskis.com, 509 682-2222) on Woodin Avenue or Shoreline Watercraft and Boat Rentals (www.shorelinewatercraft.com, 509 682-1515) which has multiple locations throughout Chelan and Manson.
Scenic drive or hike (seasonal): An uphill drive on Chelan Butte Road takes travelers to panoramic views of the lake, river, valleys and mountains... for those who are brave enough. Narrow, twisting roads up steep inclines lead past the Chelan Butte trailhead to a scenic lookout. Heading west out of town on Highway 97 for about 1.5 miles, turn left onto South Millard Street and continue onto Chelan Butte Road as long as you wish, or about 4 miles to the ultimate viewpoint. The extra-adventurous athletes use the lookout as a jumping off point for hang gliding or paragliding long distances. For more information about driving up, hiking up or flying away, visit www.wta.org or www.summitpost.org and search for 'Chelan Butte,' or visit www.flychelan.com.
Eastern Washington is a variety of small, captivating and friendly towns to explore and learn about. No matter the time of year, the length of your stay or your budget, there is plenty to see and do in Chelan and Manson. From hiking to golfing and bowling to lounging on a sunny beach, everyone can find their fun in Chelan.