Paul Magid: Founding member of the world-famous Flying Karamazov Brothers
Everyone's favorite juggling and comedy troupe returns to Seattle in September
September 1, 2019 at 12:00 a.m.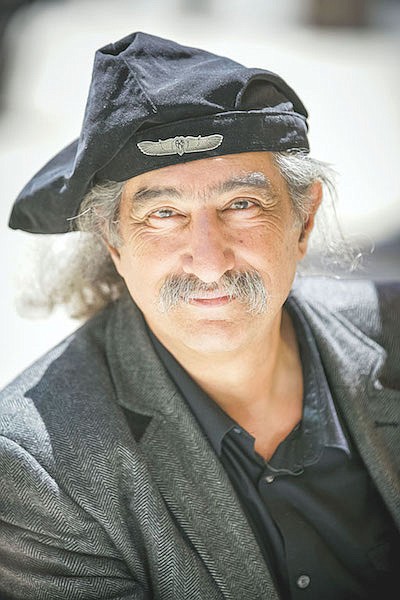 ---
---
---
Paul Magid's legions of fans may know him better as Dmitri, founding member of the globe-trotting Flying Karamazov Brothers—jugglers extraordinaire famous for physical comedy and theatrical silliness.
After a seven-year hiatus from Seattle, the Flying Karamazov Brothers, in partnership with Port Townsend's NANDA (self-described juggling ninja acrobats), once again perform in Seattle for 19 shows beginning on September 19.
Strong Local Ties
Paul Magid was born at Seattle's Virginia Mason Hospital and lived in Seattle for seven years before being whisked away to California by his parents.
"But I never agreed that we had moved to California and I came back whenever I could," declares Paul. Growing up, he spent every summer in Seattle with his grandparents. He recalls idyllic summers fishing with his grandfather. "I just loved it."
After traveling the country and the world, Paul eventually found his way back to the Northwest and now calls Port Townsend home.
Strong Family Ties
Paul's ancestors were Sephardic Jews—exiled from Spain in 1492 but welcomed into the Ottoman empire, including Turkey. Paul's maternal grandparents moved from Turkey to the United States, settling in Seattle because it has the third largest community of Sephardic Jews in the country. Paul feels a deep connection to his roots. His grandparents, who spoke five or six languages, didn't speak much English, so Paul grew up learning the Sephardic language, Ladino, considered one of the endangered languages of the world.
Paul's father was born in Poland of Ashkenazi Jews. The family escaped to the United States just before World War II, though his relatives were not so fortunate. His father, an endocrinologist instrumental in the development of dialysis machines, fought for the United States in the war that killed so many of his family members in the Holocaust.
Paul's father became a doctor specializing in research while maintaining a busy medical practice. "I used to go on house calls with my dad," says Paul, who describes his father as all about helping people. "He, along with another physician, were Cesar Chavez's doctor; he also volunteered at the Haight-Ashbury drug clinic." The Magid household was steeped in educational and community pursuits. "Mom was passionate about art history and our Spanish past."
Academics have always played a part in Paul's life, even as theater caught his interest in high school—an interest that stayed with him as he went on to the University of California Santa Cruz. "I was accepted into several other universities but wanted to stay close to my parents because my father had cancer." Paul graduated as valedictorian with a major in English Literature and Muslim Studies.
"I originally thought I was going to be an academic of some sort and I continue to study history quite a bit," says Paul. He teaches classes on the legal and historical aspects of land rights and is one of the more knowledgeable people in the country on the subject.
His two daughters continue the academic tradition. "They are both fantastic and unbelievably smart. One is a journalist in Baghdad. The other just graduated from Columbia. She is clerking with a law firm in New York and plans to focus on children's rights and immigration. I am super happy with them," states the proud father.
Strong Silliness Ties
His academic bent aside, theatrical performance intertwined with Paul's academic life in college. He and his friends started juggling in the dorms. The group became so well-regarded on campus that they opened for a theatrical production.
"Our show went better than the play we were covering," says Paul. "People really seemed to like it. We started performing more around college and went on to perform at fairs and on the streets."
The performers proved to be so successful that they were able to "quit the dumb jobs we all had to have to pay for college because we could go out on the streets and make way more money. It was wonderful!"
The group's iconic title, the Flying Karamazov Brothers, came about when one member was reading the famous book at the same time as the troupe was looking for a new name. Paul describes a fateful encounter: "We were hitchhiking on our way to perform at the Spokane World's Fair in 1974 and were picked up by a young woman in a VW van. Her name was Mary Sullivan; she was the niece of Ed Sullivan. Our group had been going by our last names, not very evocative. Getting picked up by Mary seemed very portentous and we decided to change our name to the Flying Karamazov Brothers." The book is full of dark, passionate people with distinct personalities, and the juggling troupe created a silly, circus version on that theme.
By 1975, the "Brothers" had created an hour-long theatrical evening and had also developed a stellar reputation for their ability to entertain and wow a crowd. The aim became to perform on Broadway. "In 1983 we got there!" exclaims Paul. They went on to perform on almost every continent in the world.
The Flying Karamazov Brothers are famous for amazing juggling tricks, music, theatrical adaptations, vaudeville-style variety and just plain silliness. One of their well-known tricks was called "The Gamble," where they juggle any three objects provided by the audience (the sillier or more difficult the better) and selected by audience applause. If the juggler can juggle all items for ten throws each, he receives a standing ovation. If not, he receives a pie in the face.
The group has appeared in the film The Jewel of the Nile, on Seinfeld, Mr. Roger's Neighborhood and national talk shows. Paul is set to star in a Miramax Film, Silent Retreat. When he spoke with Northwest Prime Time, he was preparing to rehearse for the Seattle show, and then leave the same night on a red-eye to upstate New York to work on the film. "I think it will be really funny," he says of the movie. But his schedule is "completely insane!"
New Old Time Chautauqua
---
---
Another fateful encounter happened early in their career. "We were at the Oregon Country Fair, a wild, beautiful fair out in the woods. We had so much fun, but then it was over in three days," remembers Paul.
"We started thinking about what we could do to hang out together more and do something good for the community at the same time." Paul's friend, Max Gail of TV's Barney Miller fame, was working on a documentary about Chautauqua, an institution from the late 19th and early 20th century that traveled the country providing adult education and entertainment to rural America. "I started reading about it and thought we could revive the tradition," says Paul.
The New Old Time Chautauqua was founded in 1981 by the Flying Karamazov Brothers and Dr. Patch Adams (the medical doctor and clown devoted to bringing laughter into the healing process). Every summer, the all-volunteer troupe stages live free entertainment and educational workshops to diverse rural communities across the country with the intention of inspiring creativity and supporting local service groups. The Chautauqua is one of the non-profit partners sharing proceeds from the Flying Karamazov Brothers' upcoming show in Seattle.
On Retiring...or Not
Paul has been active with the Flying Karamazov Brothers in one form or another for over 45 years. "All the other original players have retired, and here I am working with people half my age," says Paul of the members of NANDA, who are performing with him in the upcoming show. "They grew up on the Flying Karamazov Brothers as kids; it's really wonderful that way. But I think everybody ages differently. Giving up prematurely just because I'm getting older doesn't work for me. I know I'll keep going to the very end!" He recalls early in his career meeting a vaudeville performer who, at 85, could outperform the energetic Paul. "Juggling is incredibly good for you," he explains.
He points to an Oxford University study showing that the best discipline to keep the brain elastic is juggling because it involves concentration, eye-hand coordination, and is a challenging physical and mental activity. "It doesn't matter if you're a good juggler or not," he points out. "The study showed that juggling is the number one activity to combat Alzheimer's! Five minutes a day, that's it," he adds. "You'll see tiny improvements and it's super fun. I guarantee you that anyone can juggle. It is really beneficial."
With no retirement in sight, Paul maintains his active lifestyle: performing, directing, teaching, spending time with family and traveling to Italy, where he maintains a second home. "I direct shows in Europe; they know me more as a director rather than a performer over there," says Paul.
Still, this international traveler always looks forward returning to his home in Port Townsend on the bluff overlooking the Strait of Juan de Fuca. Taking out his boat into the Salish Sea harkens back to those long summer days spent fishing with his grandfather. Despite his far-flung ways, Paul Magid remains a Northwesterner through and through.
The Flying Karamazov Brothers' Club Sandwich
---
---
A re-staging of the hit comedy Club Sandwich returns to Seattle after seven years. The film-noir-like adventure features a gaggle of high rolling juggling millionaires in search of an ancient legendary treasure. The theatrical production is complete with signature Flying Karamazov Brothers' physical comedy, vaudeville, dance, music and, of course, world-class juggling.
"We have one bit where we play a marimba while tap dancing, singing with bells on our heads, playing harmonicas and chewing gum at the same time," laughs Paul. "It is incredibly difficult and incredibly stupid! If you want to see a great evening that's loads of fun, stuff you won't see anywhere else, come to Club Sandwich," invites Paul.
He is pleased that the production presents Port Townsend solidarity and talent in one show. NANDA, with whom Paul is performing, grew up together in Port Townsend. The show was written in Port Townsend, rehearsed in Port Townsend, funded by Port Townsend investors, the tech crew is from Port Townsend AND the bar will serve drinks fermented and distilled in and around Port Townsend!
Club Sandwich opens at Seattle's Broadway Performance Hall (1625 Broadway) on September 19 and runs through October 6. Tickets: $45-$65. For more information, call 360-385-0519 or to purchase tickets visit www.fkb.com.